Founded in November 2020 by contemporary African art specialist, social entrepreneur and philanthropist Joseph Awuah-Darko, the Noldor Artist Residency is Ghana's first independent arts residency and fellowship program for contemporary African artists. Set in Accra's blooming Labadi district, the residency is dedicated to providing the tools for the contemporary artists from Africa and its diaspora to develop themselves creatively, while ensuring and fostering a fruitful exchange between them. For its inaugural artist residency, Noldor welcomed the emerging Ghanaian artist Emmanuel Taku.
Noldor is currently going through the expansion of its existing programming and warehouse spaces, introducing new senior and junior fellowship programs. In its newly renovated 700-square-meter warehouse spaces, Noldor will welcome its first senior fellow, prominent Ghanaian artist Gideon Appah and inaugural junior fellows, emerging Ghanaian artists Abigail Aba Otoo and Joshua Oheneba-Takyi, who will be working alongside Appah.
We had a chat with Joseph Awuah-Darko to learn more about the residency and its expansion. In an exclusive Widewalls interview, he talks about the mission of the residency, the challenges of inaugurating this project amidst the pandemic, the expansion, the support they provide to artists, Ghana's art scene and much more.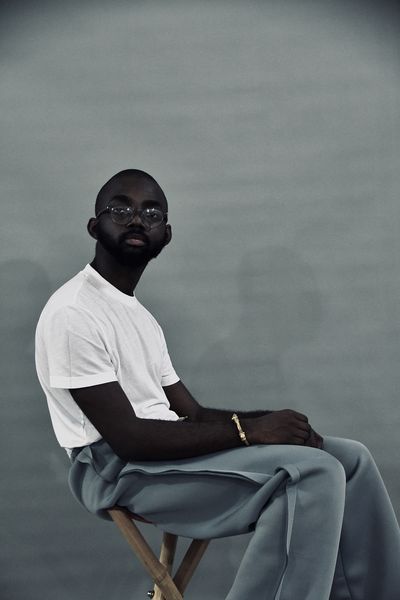 The Noldor Art Residency
Widewalls: The Noldor Artist Residency was inaugurated in November 2020 as Ghana's first independent arts residency and fellowship program for contemporary African artists. How did the residency come to be, and what is its mission?
Joseph Awuah-Darko: The origins of the Noldor Artist Residency stem from when I came back to Ghana from London on a COVID-19 repatriation flight. Upon arrival and noticing that the pandemic had exacerbated the dire socio-economic situation for artists throughout Ghana, I realized that I had to play a more active role in providing sustainable infrastructural support for African contemporary artists within the local ecosystem.
The mission of Noldor is to serve as a pillar of support for emerging practitioners to develop their practice – and that was a primary drive for the founding of Noldor and remains one of its key missions.
Widewalls: How challenging was it to setup such an ambitious undertaking amidst the global pandemic?
JAD: One of the major limitations experienced during the pandemic was the implemented distancing that came with not being able to physically visit artists' studio. The pandemic was a real impediment in getting to interact physically with an artist's work, which sometimes posed an issue.
But platforms like Instagram which largely democratized access to artists' work served as a huge asset to me and that is where I discovered Emmanuel Taku as our pilot artist-in-residence.
A "nurtured" eye for talent and deep appreciation for art meant that I could learn what I wanted and needed to know in the frame of Noldor about an artist's practice, merely through engaging virtually – and a physical encounter and visit of Taku's studio soon followed.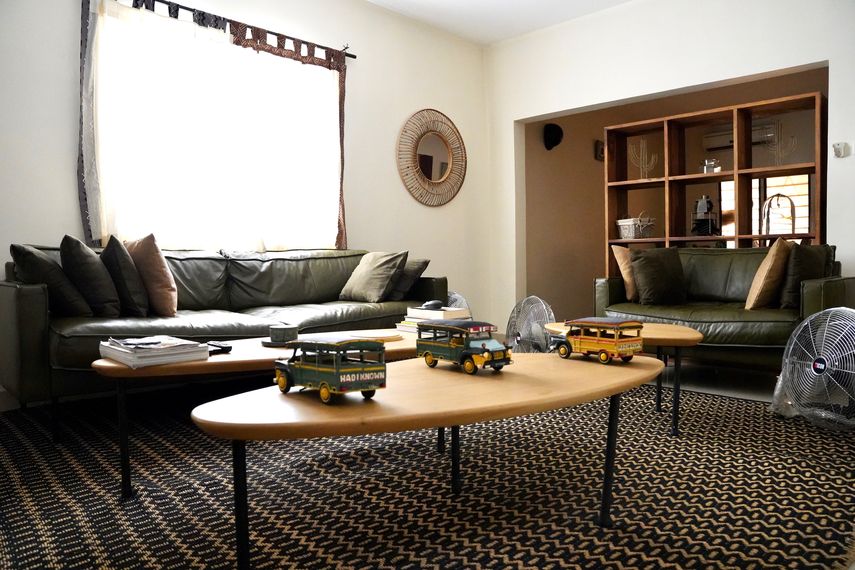 The Recent Expansion
Widewalls: Noldor is currently going through an expansion of its existing programming and warehouse spaces. What can you tell us about the venue of the residency?
JAD: One of the most intriguing things about the astonishing U-shape 700-square-meter enclave we inhabit is essentially that it used to be a pharmaceutical factory, until the military coup in 1979. And it has felt really special in our extensive refurbishment process to find and be able to upcycle the Art Deco furniture and preserve post-colonial architectural elements of the building which are quite charming and rooted in Ghana's political and cultural history.
Widewalls: Noldor positions itself as a thriving artistic ecosystem dedicated to nurturing artists' creative process. What kind of support can emerging artists expect from Noldor and how does the application and selection process work?
JAD: So as far as our support, for our Junior Fellows at Noldor: during their one year tenure, we offer a monthly stipend, provide all the material needed to create their body of work, ranging from canvases, to acrylic paints and whatever else might be needed. We also provide them with access to our designated double-volume warehouse space and the Junior Fellow wing of the Noldor Fellow Studio, offering them a private recluse environment to build on their practice. Junior Fellows are also given access to mentorship organically through access to and contact with Senior Fellows and established artists within the local artistic community.
There was a beautiful moment at Noldor where Serge Attukwei Clottey had a very engaging interaction with our Junior Fellow Joshua Oheneba-Takyi – the sense of mentorship truly materialized in that moment.
Widewalls: Noldor will soon welcome its first Senior Fellow, the celebrated artist Gideon Appah, who will spend a year at the newly completed Noldor Fellow Studio. How did this collaboration come to be and how will Appah contribute to Noldor's mission?
JAD: It is important to note that as a collector, I have collected Gideon Appah's work for some time and grown to become great friends with him. During his mentorship of Emmanuel Taku, Gideon and I had spoken about the significance a change of environment could have on his subsequent body of work and the desire he had to be surrounded by other artists in a space like Noldor which encourages comradery, mentorship, creative collaborations and sharing. That is how this opportunity was born!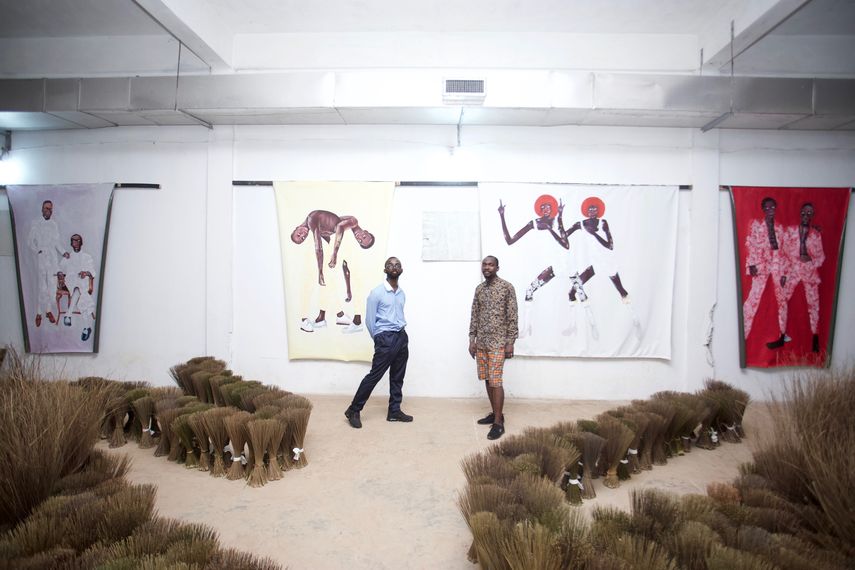 The Art Scene in Ghana
Widewalls: Could you tell us something about Ghana's art scene? How do you think the residency will contribute to its further development?
JAD: Ghana has always seemed to produce the cream of the crop as far as booming practitioners and creatives – from Gideon Appah to Emma Prempeh and Amoako Boafo.
But I think that for a long time there has been a dearth of infrastructural support for Ghanaian artists to truly rise beyond the esteemed but very few commercial galleries here in Accra (ADA \ contemporary art gallery and Gallery 1957). I am glad that luminaries like Ibrahim Mahama have developed really important spaces like the SCCA in the North of Ghana (Tamale), and I think that we are really beginning to see more institutions like Noldor continue to play a key role as custodians of Ghana's art scene.
Nubuke Foundation, founded by my dear friend Odile Tevie, is no exception to this phenomenon with her brilliant new "Nubuke Extended" structure which has already held so many dynamic exhibitions.
Widewalls: How do you see Noldor further grow and evolve under your guidance?
JAD: Under my guidance as Director at Noldor, I aspire to consolidate Noldor's program to really holistically address the needs of the emerging artists we seek to support. Part of this will also involve a movement to deepen our involvement within the Ghanaian ecology through developing our educational and research wing at Noldor which will be led by Rita Benissan, our Cultural Curator at Noldor.
Local engagement is a cause I am really passionate about and which I feel is the best way to sustain a true sense of communal spirit around the meaningful work we do.
Featured image: View of the Noldor Artist Residency, Labadi, Accra. All images courtesy of the the Noldor Artist Residency.