When Franklin Delano Roosevelt made his famous and celebrated speech about human freedoms in 1941, soon after his postulates of freedom were visually interpreted in four paintings, including Norman Rockwell's Thanksgiving. The author of this paining made the remaining three as well, titled Freedom of Speech, Freedom of Worship, Freedom from Fear, while what is now widely known as Thanksgiving painting was originally named Freedom from Want. Norman Rockwell was educated at National Academy of Design in New York and later at Art Students League, where he was thought by Thomas Fogarty, George Bridgman, and Frank Vincent DuMond. His first illustrations were published in St. Nicholas Magazine, Boys' Life (the Boy Scouts of America publication), and other youth publications of the time. After moving with his family to New Rochelle, Rockwell started working for The Saturday Evening Post and during the course of 47 years produced over 320 original covers for this magazine. His best known series of illustrations are - Saying Grace, Willie Gillis, Rosie the Riveter, The Problem We All Live With, and the Four Freedoms. Art historians situate his work in Regionalism and American Scene Painting movement.
Although Norman Rockwell was primarily an illustrator, his Four Freedoms series are among the best known paintings in American history, held today in the Norman Rockwell Museum in Stockbridge, Massachusetts. The paintings were produced for The Saturday Evening Post, and published in 1943 while the Second World War was still raging in Europe. Thanksgiving painting or Freedom from Want is perhaps the most reproduced one among them, showing a family gathering for Thanksgiving Day. The idealized representation immediately struck cord with American public, and was subsequently replicated on posters and post stamps together with other paintings from the series. The magazine received over 25,000 requests for reproductions of the series from the public, while The Office of War Information requested 2.5 million sets of posters for their war-bond drive. By the end of the war 4 million posters were printed.[1]
Norman Rockwell's Thanksgiving painting received mixed criticism over the years, but this fact didn't undermined the influence the painting had, and still has on American popular culture. For this year's Thanksgiving we return to this iconic painting to observe its importance today, what sets of interpretations it provoked and still provokes, and how it pairs with contemporary circumstances in America.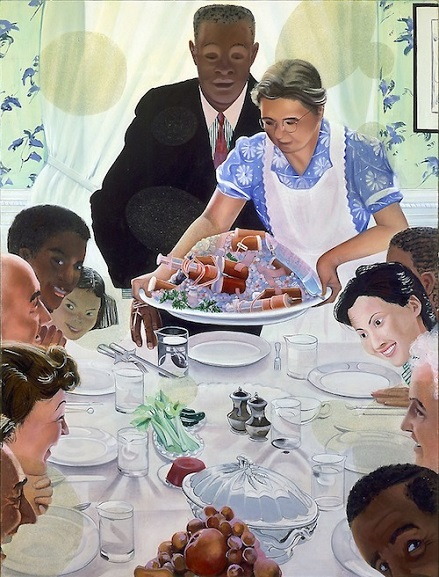 Freedom from Want and the Second World War
The acceptance and praise of the Norman Rockwell's Thanksgiving came as the outcome of the specific historical circumstances and dominant cultural models of the time when it was created. The illustration was published in 1943, in time of general hardship - the Second World War was in its full swing, and American troops were actively engaged in Europe. Inspired by Roosevelt proclamation of freedoms Norman Rockwell created visually simplified illustrations of these freedoms that would be understood by every American. His depiction of a nucleus family gathered for the celebration of Thanksgiving, appealed to the public who found in it the depiction of American ideal and dream that was defended in Europe. In concord with the Roosevelt speech, it was titled Freedom from Want, emphasizing "the capacity of people to free themselves from all kinds of want – physical, emotional, and even spiritual."[2] It also tapped into the spirit of Thanksgiving when family members gather to express thankfulness for things and blessings in their lives. Pointed out by numerous critics, Norman Rockwell painting expresses unity and abundance as ideals and hope for a post-war world.[3]
The Four Freedoms - Franklin D. Roosevelt
From Freedom from Want to Freedom to Share
In Freedom from Want Rockwell depicted friends and members of his family. His wife is in the painting, as well as the family cook Mrs. Thaddeus Wheaton. Other figures were photographed and painted in the scene later, and include nine adults and two children. Raising the image to the status of iconic depiction of American family celebration and giving it a title reflective of general values, set the stage for criticism that came with the overall changes in American society. Progressive movements of the post-war period influences a general re-thinking of the idealized status of white, middle-class Protestant family as the generic, and proposed the re-reading of Rockwell's work along the gender and racial lines. During the Cold War period the painting was hailed as the representation of American values, the ideals of prosperity and freedom, while other issues were sidelined in dominant discourses. The exclusiveness of the family was later problematized in Frank Moore's Freedom to Share from 1994, which closely follows the form and spatial structuring of Rockwell's original. The main difference between the two, however, is in the presence of racially and ethnically diverse figures, with turkey being substituted for syringes, pile of pills, medicine bottles, and IV drip bag. These changes allude to the necessity of a more inclusive image of contemporary America, but also to sickness as a specter haunting every family gathering.[4] Today, the painting similarly can be criticized for its exclusivity. The society riddled with racial tensions, xenophobia, and the mistrust for institutions can hardly found its mirror in an idealized image of a family bliss. This, however, has not stopped popular culture to widely reference the painting in different media, from cartoons, as in Disney's Lilo and Stich, where the image of an Alien Thanksgiving appears at the end, or The Simpsons, to Muppet Show, and different films and TV shows, including Modern Family sitcom.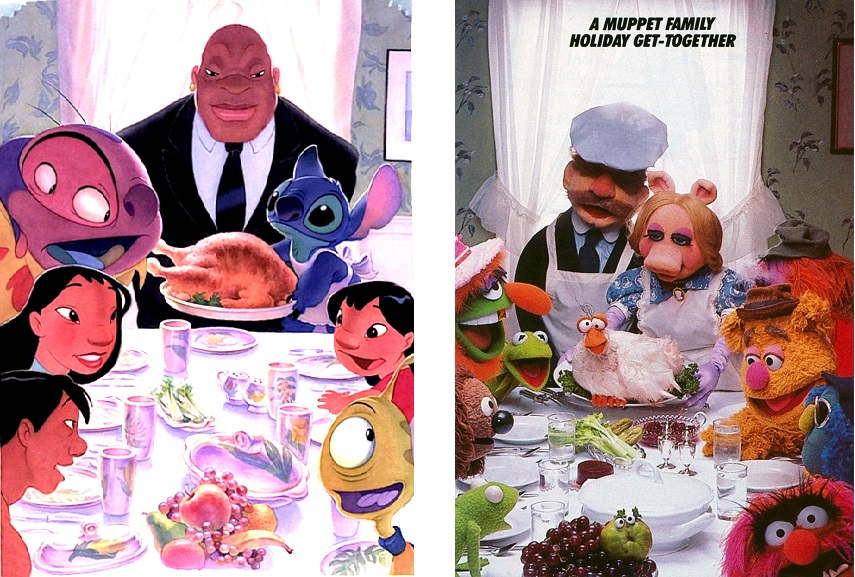 Norman Rockwell Thanksgiving - Substituting Cynicism with Tenderness
Social reality of over the last several decades changed drastically in the US and around the world. The Norman Rockewll's Thanksgiving painting has gone from being considered an idealized representation of a desired nuclear American family to a much criticized reproduction of all-white and exclusive Protestant middle - class family gathering. However, there are still voices that defend the painting and find in it the reproduction of emotional disposition and attitude that should be embraced today more than ever. Over the years social and cultural understandings plagued the Norman Rockwell'Thanksgiving with criticism. However, the image endured and was replicated and reimagined in numerous pop cultural forms, from magazine covers, where it all started, to comics, cartoons, TV shows and featured films. Impossible to untwine from contemporary societal coils, the painting remains an iconic image of American tradition, social practices, and familial ideal. In recent years, the attempts to reestablish its significance and the significance of Norman Rockwell art in general has been put in motion, and perhaps an interpretation of the painting by a New Yorker journalist following the retrospective of the artist's works can shed some light on today's significance and appeal of this work. As the author explains, Norman Rockwell is "Mark Twain-like observer of human folly who is continually saved from cynicism by a tender heart."[5] Perhaps that is the quality Rockwell tries to emphasize, and to point out to its presence in all of us -"even today as we the people still stumble between cynicism and tenderness, Rockwell encourages our allegiance to the latter."[6] However, this somewhat whitewashed understanding of the painting does not vindicate it from ideological and historical layers it is encumbered with. Indeed, only in combination of such understandings and interpretations could historical significance and an enduring interest in this work be situated and explained.
References:
Hennessey M. H.,  Knutson A., (1999), Norman Rockwell: Pictures for the American People, p.102.
Duggan B.,

What Is Norman Rockwell's Thanksgiving Picture Really About?

, bigthink.com [November 23, 2016]
Rosenkrantz, L., (2006), A Norman Rockwell Thanksgiving, web.archive.org [November 23, 2016]
Halpern R., (2006), Norman Rockwell: The Underside of Innocence, p. 160.
Smith D.A., (2013),

Thanksgiving, art, and Norman Rockwell

, blogs.baylor.edu [November 23, 2016]
Ibid.
Featured images: Norman Rockwell - Freedom From Want, 1943; Norman Rockwell - Freedom From Want, 1943, detail. Image via wikimedia.org. All images used for illustrative purposes only.