Is there a better way to conclude a full year of successful exhibition programming and enter the next than with a true celebration of artistic freedom and vivid imagination? The surreal imagery of the illustrious young artist Nosego seems like a perfect choice and you'll be happy to know that the impressive line of Nosego's recent works is coming to Italy. The Electric Breeze exhibition scheduled for the last week of November is the first Italian solo show for Nosego, the artist from Philadelphia recognized internationally for his colorful phantasmagoric representation of animals. The exhibition will be hosted by the renowned Galleria Varsi in Rome.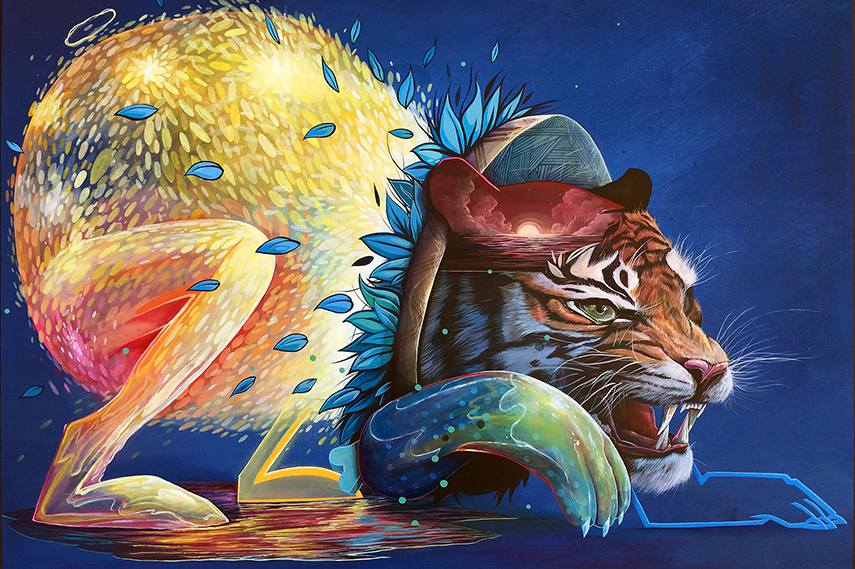 The Magical World of Nosego's Characters
When asked about his art, Yis Goodwin who goes by the moniker Nosego, stated that he paints what the kid in him would approve of. That sense of wonderment, honesty and unrestrained flow of imagination is something that is rarely seen it today's art world and Nosego is among those artists who did manage to translate that spontaneous child-like ingeniousness into the beautiful works of art. Just because his inspiration stays close to the unaffectedness of a childhood vision it does not mean that his works are oversimplified. On the contrary, complexity of compositions, energetic use of colors, deep reflection and powerful graphic style are some qualities that make Nosego's art so authentic and captivating for the beholders. Phantasmagorical animals and whimsical characters that roam his oeuvre are both familiar and estranged, grotesque and beautiful at the same time.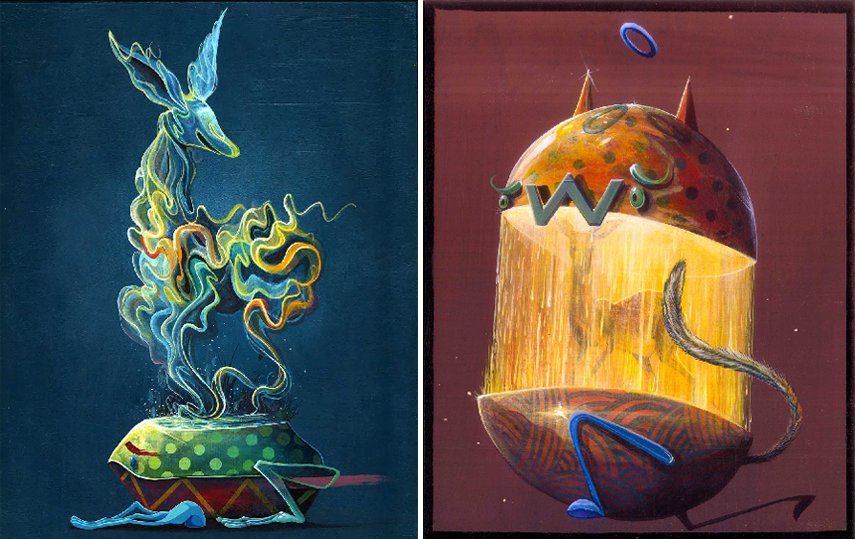 The Art of Nosego – Imaginative Explorations of Nature
Looking at those artworks, which will be on display at Galleria Varsi for the Electric Breeze exhibition, we can notice a slight turn from Nosego's previous works. The unexpected combinations of visual elements are still here, but unlike those older pieces that feature imaginative dissections of animal figures and assemblages of juxtaposed patterns, new paintings bring a more organic compositional approach. The natural harmony is presented through the intricate blend of imaginary animals and magnificent dreamlike landscapes. The surreal scenery and poetic vision of Nosego open a timeless and magical world between memories and imagination where nature is caught in its peaceful state, a place where contrasting elements exist without conflicts.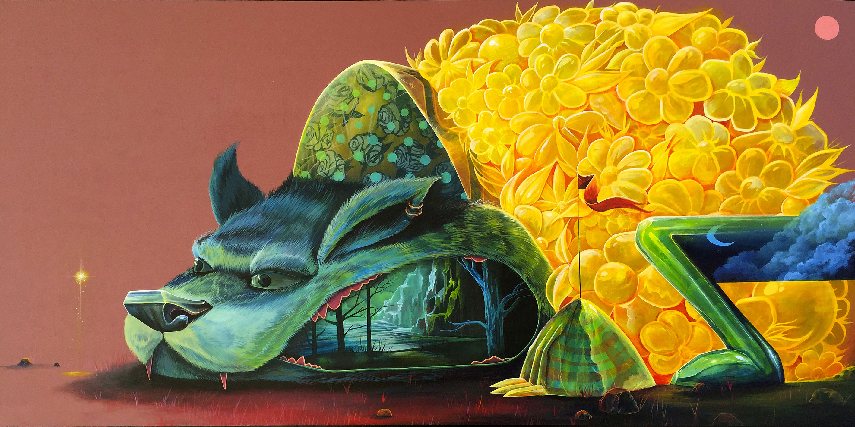 Electric Breeze Exhibition at Galleria Varsi
The fantastic imagery of Philadelphian artist will certainly help in waking that inner child that hides in each one of us behind the layers of logic, rationality and pragmatism, inherent to our adult lives. The imaginative works by Nosego in his Electric Breeze solo show will be on view from November 27th, 2015 through January 10th, 2016 at Galleria Varsi in Rome. The opening reception is scheduled for November 27th from 6.30 pm.
To explore the magical world of art sign up for My Widewalls for free!
Featured image: Nosego - Electric Breeze exhibition flyer, detail. All images courtesy of Galleria Varsi