This past weekend saw the opening of the inaugural edition of Nuart Aberdeen, the city's first ever street art festival. Organized by the people that have been successfully running Nuart festival in Stavanger for over 15 years now, and in collaboration with locally based Aberdeen Inspired and Aberdeen City Council, the event gave the locals a rich and eclectic insight into the breadth and depth of this global phenomenon.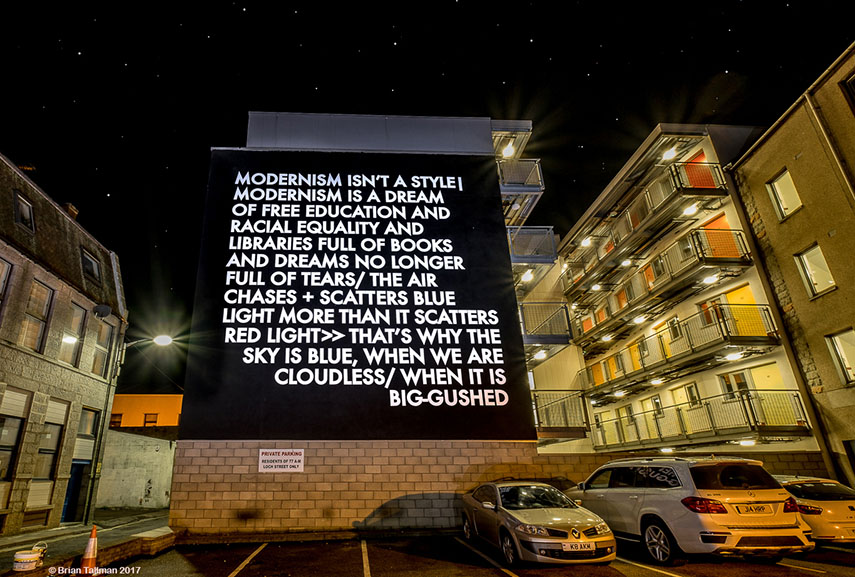 Nuart Aberdeen 2017
Nuart has been one of the oldest and most respected street art festival out there. Held annually since 2000, the festival transformed Norway's oil capital into one of the world's street art Meccas. With the entire town breathing the art, enjoying and respecting the work that has been put up there, their friends from Aberdeen wanted to try and organize a similar event in Granite City. The result was Nuart Aberdeen, a successful project that resulted with series of site-specific paintings, installations, interventions, and temporary exhibitions at venues across the city.
For this project, a successful formula used in Norway was applied to Scotland's oil capital - providing a platform for international street artists, but also local and national artists who wish to showcase their work. The idea is to create an inviting environment in which locals would rethink their relationship with the urban environment and understand its potential and possibilities. By bringing the works of some of the world's finest exponents of street art right to their doorstep, the project is hoping to inspire and motivate them to explore their city as well as take part in its beautification. Challenged by Aberdeen's rich history and cultural heritage protection laws, the organizers found enough prominent walls and spots for their artists to create and showcase the work.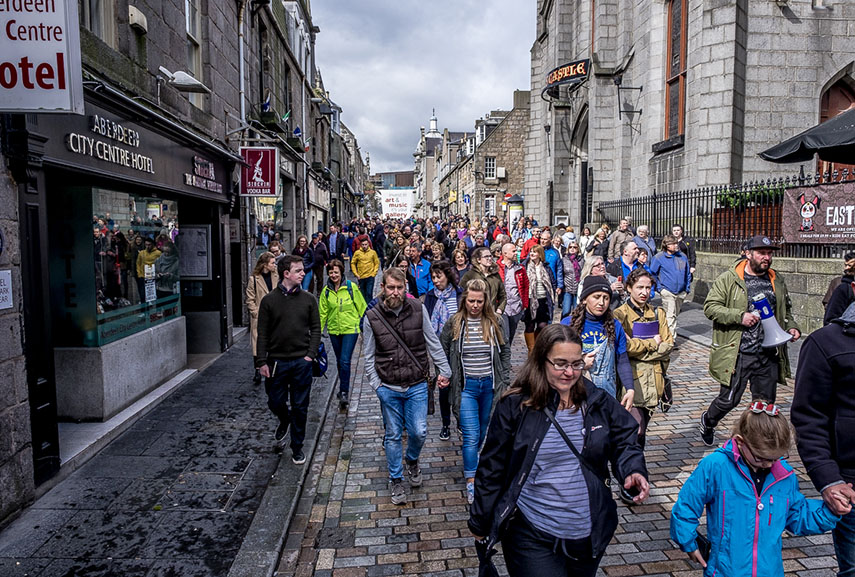 Embellishing the City
The festival produced countless big and small works through the city. From large facades to lonely alleys, Aberdeen got a noteworthy collection of fresh urban art in all it's diversity - German art duo Herakut created a large mural on the Abeerdeen Market building, that quickly became the new landmark of the city. Speaking of large scale works Polish M-city painted a large commentary on city's dependence on oil industry, Scotland-born Robert Montgomery wrote a modernist poem that invites for better future, while Portuguese Add Fuel composed a striking design using local tiling iconography. Australian Fintan Magee painted a diptych mural that speaks against the world-wide trend of wall building, and Norwegian Martin Whatson created one of his signature pieces that mixes monochrome stencil works and colorful, graffiti based freehand elements. The other artists created more smaller scale interventions through the city - from Alice Pasquini's mid-size freehand works or smaller stencil pieces, Julien de Casabianca's large pasteups, all the way to Jaune's small stenciled garbage men, Isaac Cordal's small plaster figures scattered on facades through the city, or Nipper's interactive installations that directly invite viewers to get involved in the movement.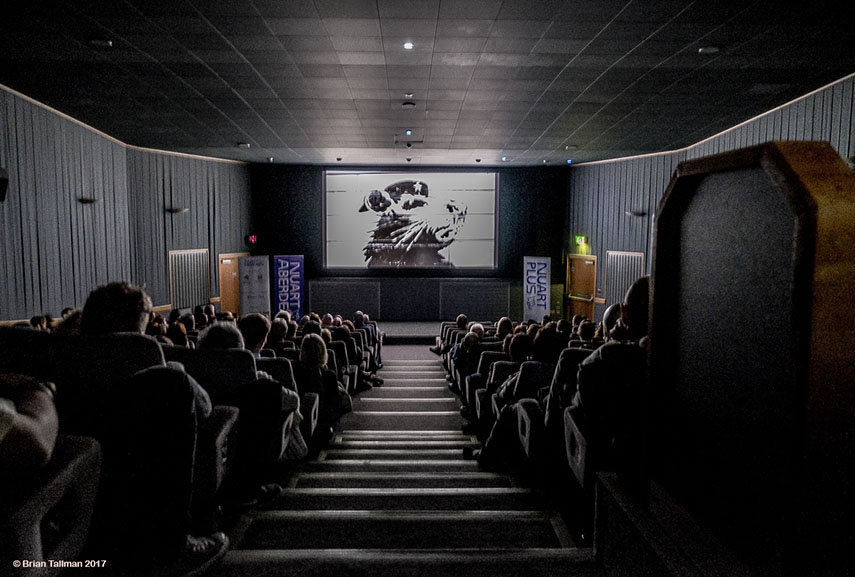 The Program
In addition to physical art production, the participants and locals were taking part in Nuart Plus program, which consisted of film screenings, artist presentations, panel debates, workshops, exhibitions and more, as well as creative workshops in public space such as Street Printing or Chalk Don't Chalk. The success of the festival could be seen on every corner of the city during the Easter weekend - from individuals armed with cameras, families and small groups following the event's maps, all the way to organized street art tours that had over 300 people following the guides at times.
Photo credit by Brian Tallman.