One of the world's most premier street art festivals, Nuart has been hosting an annual gathering of artists, academics and curators in Stavanger, Norway each September for the past 15 years. After a glorious debut in Aberdeen, Scotland last year, the festival returns to the city this April for yet another strong edition.
Developed in collaboration with Aberdeen Inspired and Aberdeen City Council, Nuart Aberdeen 2018 will bring together an impressive roster of 12 international artists to the Granite City – Bordalo II, Bortusk Leer, Carrie Reichardt, Dr. D, Elki, Ernest Zacharevic, The Glöbel Brothers, Hyuro, Milu Correch, Nimi and Rh74, Phlegm, and Snik.
A new international platform, the festival is aimed at presenting the most interesting and relevant Street art of its time, but also at activating and inspiring an emergent scene. Local, national and international artists will have an opportunity to showcase their work through a series of site-specific murals, installations interventions and temporary exhibitions.
This year's theme of the festival revolves around the concept A Revolution of the Ordinary, attempting to reclaim art as an everyday practice and experience.
The festival will be accompanied by a conference program, film screenings, walking tours and workshops over four days. The students of Grays School of Art and NESCOL will have an opportunity to practice two different styles, techniques and modes of artistic expression related to street art - sign painting and stencil making - through workshops with artists Ciaran Globel and Elki.
Nuart Aberdeen 2018
A Revolution of the Ordinary
Based on the theme A Revolution of the Ordinary, Nuart Aberdeen will examine a parallel world of non-institutional art and culture in order to bring art back to the people. The movement of Street art has reclaimed and broadened the term "art" and "artist" to include practitioners who were not privileged with art education.
Taking a proactive stance in the democratization of art, the festival aims to act as a catalyst for individual and community development, agency and positive change.
As Martyn Reed, Director and Curator of Nuart, explains, the words "art" and "artist" are normally associated with art historical cultural biases, dilemmas, fears, and stereotypes further maintained by the traditional art establishment. The art world tends to promote artists "as extraordinary and somehow closer to God the creator, when in fact most artists are just like you and me: working class people with working-class concerns who get up at 8 a.m. and work until 5 p.m., and like a drink or two on a weekend".
A broadening and more inclusive definition of the terms 'Art' and 'Artist' breaks down the elitism in visual art culture by challenging the notion that only a select few people with special talents and understanding can participate in its production and only the moneyed and cultural elite should own and define it
As he explains, the very existence of street art reflects these tendencies for exploring and promoting alternatives to the prevailing status quo.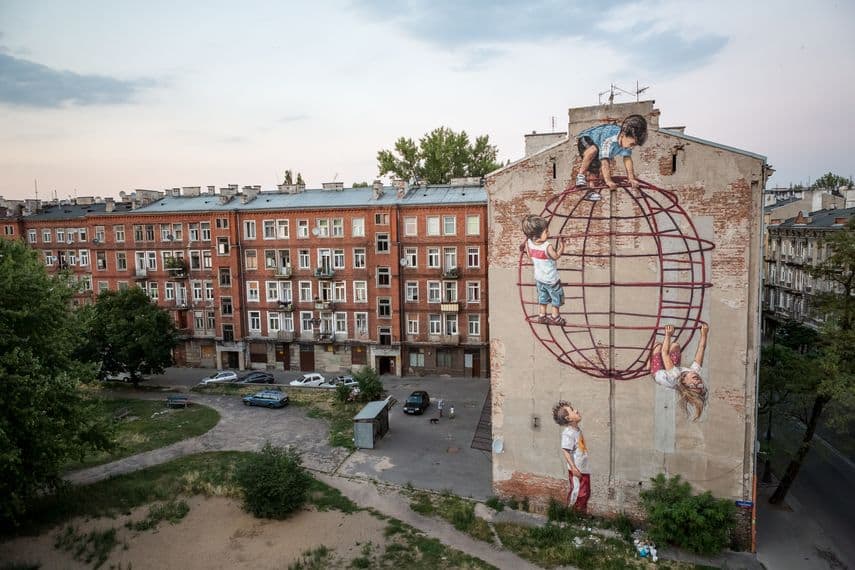 Bordalo II, Bortusk Leer, Phlegm and Dr. D
Leading the line-up is a Portuguese artist Bordalo II who has already participated in Nuart Festival in Stavanger in 2015. Using various discarded objects, Bordalo II creates murals that depict animals that are possibly perishing to the effects of such waste existing in their natural habitat. As Nuart 2015 in Stavanger was one of the best experiences he had, he is looking forward to reuniting the team once again.
I've already started researching Scottish wildlife and nature, and am looking forward to producing something unique for the people of Aberdeen this April.
The self-proclaimed pioneer of 'art-comedy', Bortusk Leer has a unique philosophy to his practice: Cheer Up You Bastards. Dedicating to putting a smile on people's faces, he creates playful, brightly colored paintings and paste-ups that distract the passers-by from the seriousness of life.
An artist and muralist from Britain, Phlegm draws his environment into the narrative. His striking and highly detailed subjects do not leave anyone indifferent. Depicting built-up cityscapes with castles, turrets and winding stairways, his surreal illustrations could often be found in run-down and disused spaces.
The British artist Dr. D is known as a 'subvertiser'. Working with the cut and paste technique, he aims to mimic the scale and visibility of advertising to create a mischievous mode of social commentary. Commenting on current affairs and social debates, he aims to create meaning in our urban environment.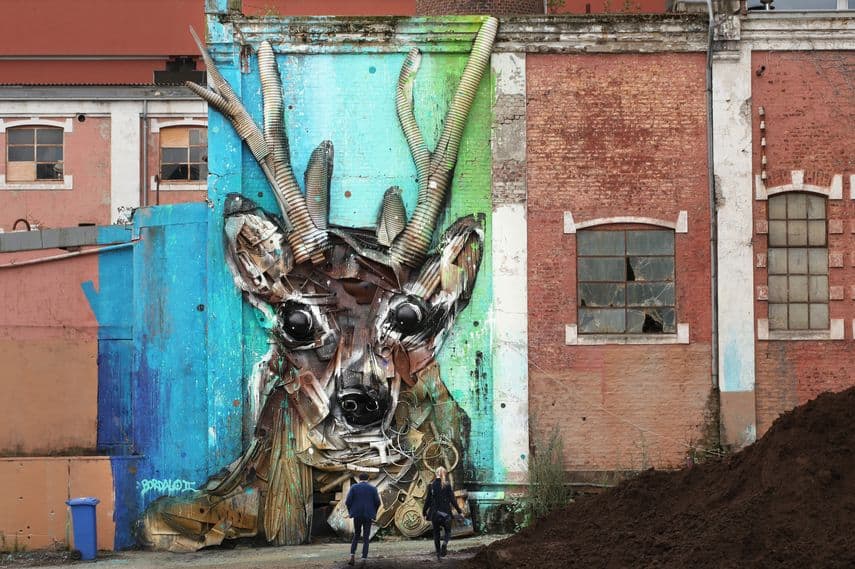 Milu Correch, Nimi and Rh74, The Glöbel Brothers and Hyuro
A graffiti artist from Argentina, Milu Correch creates large-scale murals and imagery that construct a world without limits or written codes. Finding inspiration in literature, movies and comics, she dissects aesthetic and moral certainties with acute irony.
A Norwegian street art duo, Nimi and RH74 have already worked together on several Nuart projects to date. A South African-born and Bergen-based artist, Nimi experiments with a variety of techniques, medium and creative processes to create work that blurs the line between political satire and Romanticism. A Stavanger-based artist, RH74 combines urban and fine art in her figurative and portrait works.
A Glasgow-based duo comprised of artists Ciaran Glöbel and Conzo Throb, The Glöbel Brothers are known for taking a contemporary approach to the old tradition of sign painting. In their works, they combine manual skill and draughtsmanship with the use of technology that has revolutionized the way in which hand rendered lettering can be achieved.
Conzo and I are excited to bring some colour and tongue-in-cheek humour to the Granite City. Nuart Aberdeen is a great addition to the European street-art scene and we are delighted to have been invited along to represent the native end of the artists' roster.
The Argentinian artist Hyuro is best known for her murals, paintings and drawings, focused on the visual expression. In her painterly compositions, she combines vernacular depictions of femininity with socio-political undertones. Addressing prevalent social and political issues in her work, she questions both individual and collective identities and the conditions of freedom.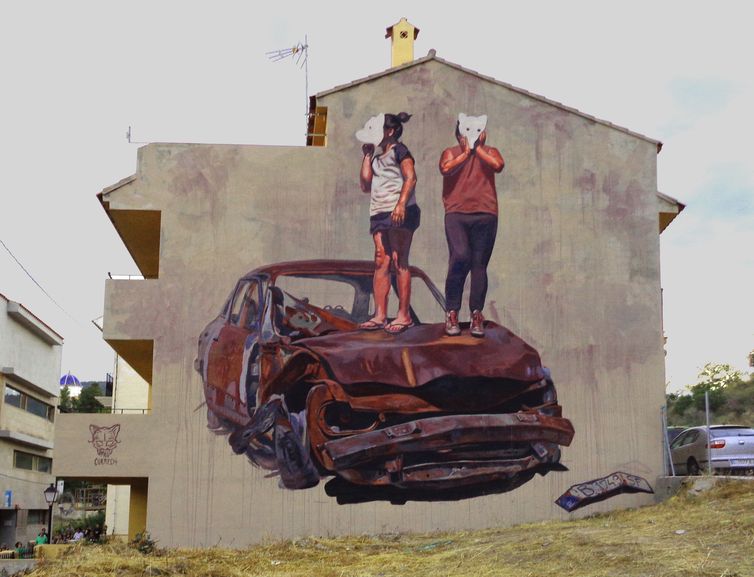 Carrie Reichardt, Ernest Zacharevic, Elki and Snik
A self-titled craftivist, Carrie Reichardt creates intricate, highly-politicised works of art, using techniques of muralism, mosaic and screen-printing, that blur the boundaries between craft and activism. In collaboration with children from four local schools, Reichardt will adorn the streets with the images and stories plucked from the city's historical archives. She is looking forward to exploring the rich heritage of Aberdeen.
My work is usually produced site specifically with a focus on people's history in order to shine a light on the stories that for one reason or another are forgotten over time. I can't wait to see the public reaction to these stories and also to work with local schoolchildren to highlight various elements of Aberdeen's proud history.
Ernest Zacharevic, also known as ZACH, describes himself as "a fine artist who prefers to work on the street." A Lithuanian-born artist based in Penang, Malaysia, he is known for the emotional impact and interdisciplinary nature of his work. Fusing the physical world with his imagination, he creates works that are realistic but creative. Recently, the artist took part in the Splash and Burn project which aims to raise awareness about widespread deforestation and destruction in Indonesia resulting from the palm oil industry. As part of the project, he created an 'SOS' land art installation, carved into half a kilometer of palm oil forest.
The Glasgow-based artist ElKI has developed a unique, photorealistic style using hand-cut stencils. He continues to produce work with reference to numerous subcultures associated with street art, graffiti, sneaker and DJ culture with the occasional nod to Scottish heritage.
A British artist duo, Snik is known for the high level of detail in their work. In their bold and striking works, they aim to highlight the detail of a single moment. Their ethereal compositions combine realism and fantasy with the theatrical play of light and shadow to depict characters suspended in time.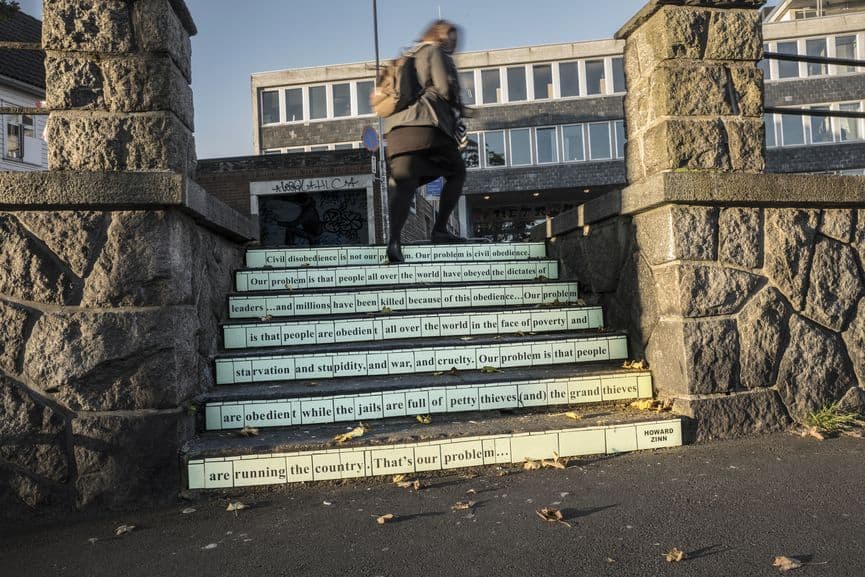 Nuart Aberdeen 2018 - A Street Art Festival
Nuart Aberdeen 2018 will take place in Aberdeen, Scotland between April 12th and April 15th, 2018.
The Sign Painting Workshop with Ciaran Glöbel will take place on Saturday, April 14th, from 11 a.m. to 5 p.m, while the Stencil Art Workshop with ElKI will take place on Sunday, April 15th, from 11 a.m. to 5 p.m.
For more information, visit the official website of the festival.
Featured images: Hyuro, 2017. Courtesy the artist; Snik, 2018. Courtesy the artist; Phlegm, courtesy the artist; NIMI and RH74, 2017 © Brian Tallman; Glöbel Bros, courtesy the artist; Elki © Jon Reid; Dr. D, courtesy the artist; Bortusk Leer, 2018 © Brian Tallman. All images courtesy of Nuart Aberdeen.