Norwegian center of the oil industry, Stavanger, is currently hosting its 15th edition of legendary Nuart festival. And while the official program starts on September, there is couple of new works that have already been finished. So, straight from the streets of Stavanger, we have the photos of freshly finished pieces by Ella&Pitr, Pejac and DotDotDot.
Ella&Pitr created world's largest outdoor mural to date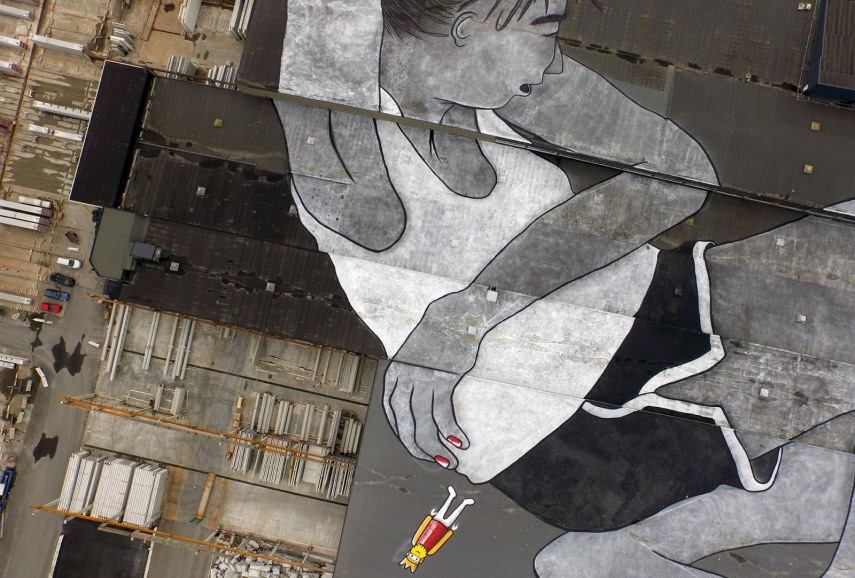 Ella&Pitr – The World's Largest Mural
One of the first works that was finished, happened to be the world's largest outdoor mural to date, painted by Ella&Pitr and their army of assistants. In only four days, the crew finished working on a 21,000m2 rooftop piece titled Lilith and Olaf. Placed on the top of Block Berge Bygg's facility in Klepp, just outside Stavanger, the piece is inspired by the info that Norwegian king Olaf was born close to the place where the piece was created. Best seen from the air, the mural can be seen when flying in or out of Sola airport in Stavanger.
Shortly after finishing the monster piece, Ella&Pitr got back to creating more traditional size works. For their second mural, they quickly painted a lovely piece on a typical local house that shows an elderly woman cramped inside a house. Cleverly using as much surface as possible on the two sides of a small structure, they created a very simple but effective sense of depth and dimension with this work. Using minimal color palette that matches the neighboring houses, they created lovely patterns and polka dots on the dress of their lonely character.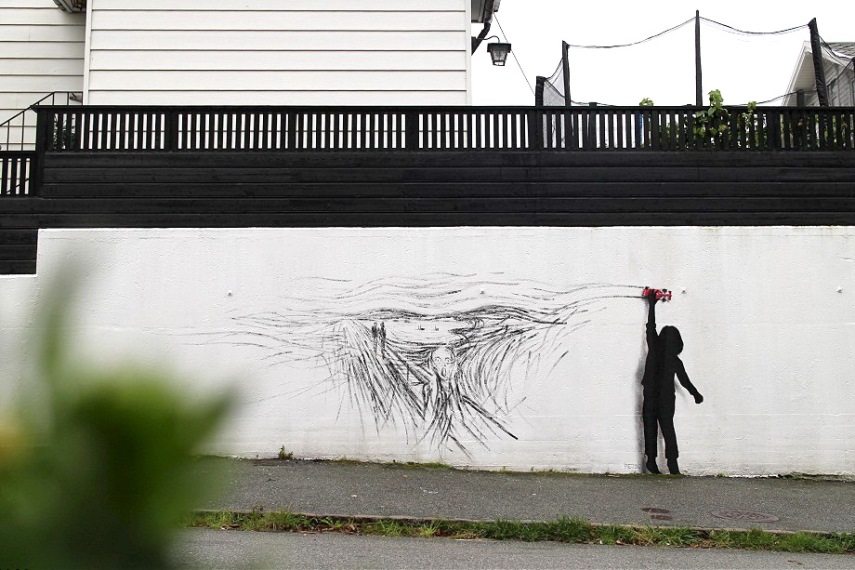 Pejac and DotDotDot
Painted for Nuart festival 2015, Spanish artist created a tribute to legendary Norwegian painter, Edvard Munch titled "Drift". The Scream image was already used in urban and street art, but Pejac once again manages to add his touch and take an original approach in creating the piece. By using an actual wheel from a toy as a brush, he painted an image of a little boy carelessly playing with his little car and creating the infamous masterpiece with wheel marks. Once again, Pejac is very simple, yet super effective and original. By using unconventional creating technique and mixing the familiar imagery vs simple visual illusion, he creates another gem on the streets of Norwegian center of the oil industry.
Finally, Norwegian artist Dot Dot Dot, a regular participant at Nuart, was one of the first to finish his work for this year's edition. This time, he painted a large portrait of Johnny Rotten, singer of the legendary Sex Pistols. The artist showed the punk icon with a traditional Norwegian knitted trapper hat, replacing his recognizable colorful hair with a locally familiar head accessory. With minimal use of colors, basing his work on black/white contrast, the Norwegian artist accented the punchline of this effective large work.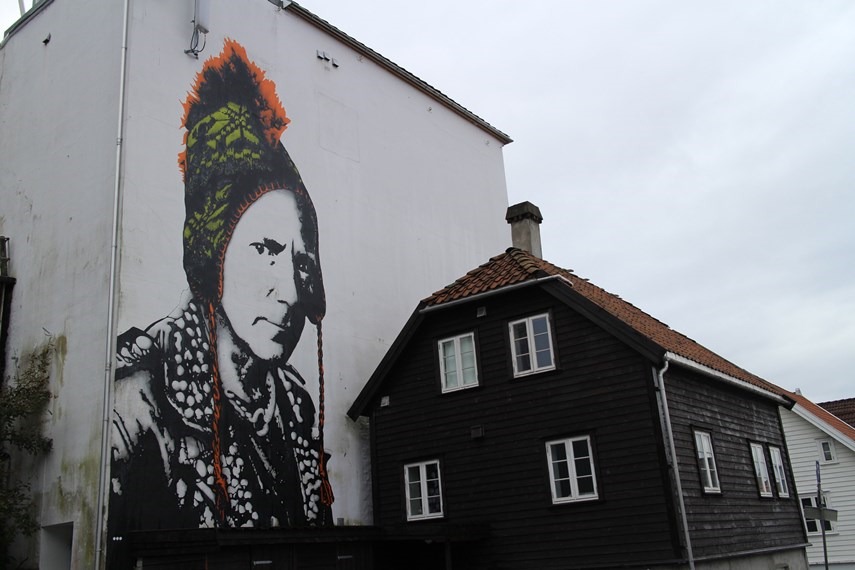 Nuart Festival 2015 - Opening
The following couple of days Stavanger will be the European center of urban and street art, with discussions, debates, seminars happening on daily basis. On September 3,2015,  the grand opening of the festival is planned with a ´Outsiders In´ group exhibition at Skur 2. This will be Norwegians largest exhibition of that kind and it will feature works from the leading international artists such as Banksy, Barry Mcgee, Jose Parla, installations and performances by the local artists, works of young, emerging artists, as well as the works from the participants of this year's festival.
If you want to be informed about amazing street art from Nuart 2015, sign up for My Widewalls for free!
Featured Images:
Ella&Pitr
Ella&Pitr - Lilith and Olaf
Pejac