Ever since the emergence of performance art, nudity has been employed to create a variety of narratives. Even though the naked body allows for a wide range of readings, nude performance art has often been practiced by feminist artists to raise important questions about gender politics, reclaim women's subjectivity, separate the nude from sexual desire, or challenge certain attitudes towards female bodies or accepted body image standards.
The nude female body continues to be a frequent image in cultural feminist performance art, with many artists insisting that it is somehow outside the system of representation that objectifies women, free of the culture's imposed constructs and constrictions.[1]
In an attempt to join the fray, the Swiss conceptual artist Milo Moiré has repeatedly revealed her body in public as part of performances that have been often labeled as provocative and controversial. With continuous efforts to connect the women's rights activism with artistic expression, Moiré has decided to place her body in the center of her practice.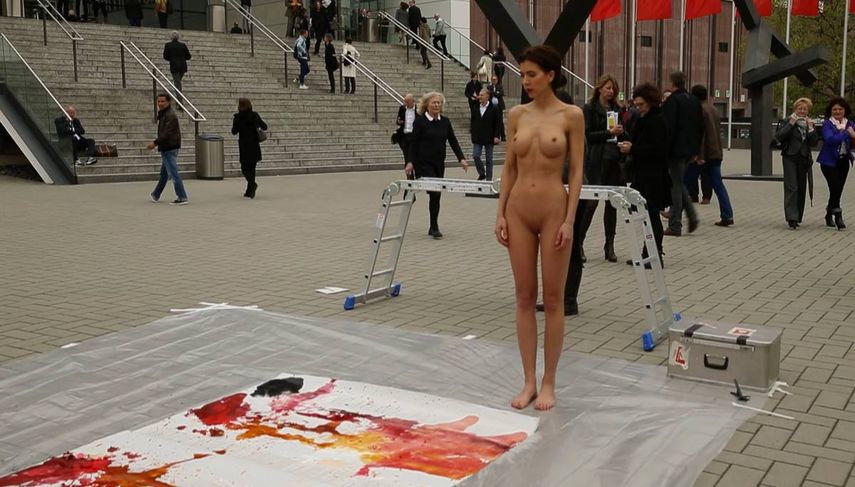 The Practice of Milo Moiré
Whether walking around the museum naked with a baby in her arms, riding naked on a bus, encouraging random pedestrians to touch her intimate parts, or laying painted eggs from her vagina onto a white canvas, the artist and muse Milo Moiré has managed to stir controversies with each of her staged happenings.
Having studied cognitive and neurosciences and graduating with a degree in psychology, Moiré has decided to implement this knowledge of the human psyche into her art. Her work is inspired mainly by sexuality and it explores the moral distance that people commonly take when dealing with explicit sexual scenes. For her, people are a part of the performance, being responsible for their behavior in that moment. As she explains, she makes use of naked skin "as an ambivalent sign of bareness, of the contempt for exposure rooted in culture, collective vulnerability and as a symbol of the universal longing for closeness".[2]
A self-professed protege of Marina Abramovic, the artist claims she uses nudity as a vehicle for equality and her sex as an original source for creating. She aims to question the thought diktat of everyday life by breaking existent taboos and transforming the behavior accepted as self-evident into an artistic language of images. Yet many wonder if these performances are a sense of commercialized exhibitionism, an act of subversion and provocation, pornography, or something else.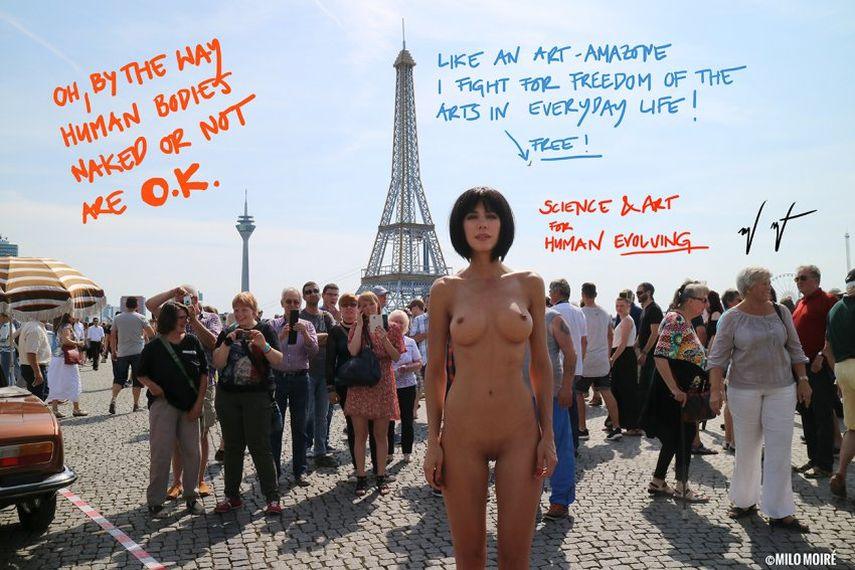 Art or Pornography?
The artist and her pieces have been receiving a lot of mixed responses from both critics and audiences. Jonathan Jones from The Guardian described her art as "absurd, gratuitous, trite and desperate"[3], while Jess Denham in The Independent saw it as "the latest desperate effort to shock in the name of art." Some even wonder if this is art or porn.
Intentionally or not, Moiré has placed her art on thin ice between the two. The artist claims she uses her naked body to make a powerful art statement, yet she sells 'uncensored' photos and videos of her work in pornographic detail through her website Unlimited Muse.
It seems that truly transformative experiences don't come for free. She argued that what you are being charged for is to see her body parts, and compared it to a peep show. On the other hand, she once stated that "there should be no limit to art" and "death is the only limit" she accepts.
The Twelve Muses Calendar
Milo Moiré and Feminism
The artist has often described her work as fighting for "women's rights" or "sexual self-determination". Working in the tradition of performance art, which has been strongly political and often feminist, Moiré is hardly the first women to expose herself to tackle a variety of issues concerning the naked female body.
The artist Rachel Rosenthal exposed her own body in Bonsoir, Dr. Schon! in 1980 to point out its flaws which she could not reconcile with her more complimentary attributes, while Karen Finley tried to revise the power balance in traditional pornography by representing her body as subordinate to her own will. Moiré sees herself as critiquing the sexualization and fetishization of women, but she may actually be contributing to it.
When emphasizing "the creative power of femininity", she somehow assumes that because of their anatomies, women are automatically "feminine" and that their creativity is somehow essentially different from that of men. In her piece Mirror Box Show where she invited random pedestrians to touch her intimate parts, she explains that "the consensual nature of sexual acts becomes a symbol here" and that she has "taken the liberty of showing female desire, thus giving women a sexual voice". Consenting to be objectified does not make the objectification go away, nor does it create "sexuality" or a "sexual voice", whatever that might be. The roles do not become reversed, and the woman remains the object.[4]
On the other hand, it's hard not to analyze her performance in terms of body politics, standards of beauty for women, and issues of self-image/self-esteem.[5] While it's not a crime to be good looking, Moiré's body type implicitly legitimizes its exposure in the performance space according to the dominant culture's standards. By showing off a notably hairless, modelesque body type according to magazine stereotypes, she's not doing any favors for female artists in general. She's unintentionally affirming male-defined standards for acceptable display.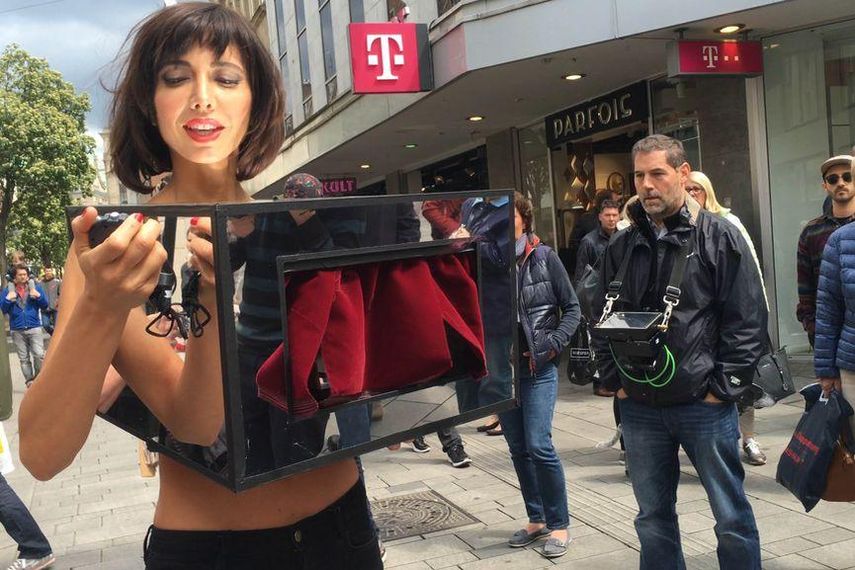 The Shock Art
The world of contemporary art can be impenetrable for many artists, and it might be difficult to get attention or recognition. Some would say that Moiré is just another attention-craving narcissist who hatched out a strategy for making a splash in the art world.[6] As she said it herself in an interview, "in our society there is a constant noise and we live under pressure, so only the "loud" becomes visible."[7]
It seems that achieving fame in the world of performance art requires courting controversy in increasingly heavy-handed ways. On the other hand, are Moire's performances radical at all and can this type of art still shock us? As Jonathan Jones from The Guardian stated, "anywhere but an art gathering, this would be regarded as a satire on modern cultural emptiness."[8]
Scroll down for all Milo Moire nude performance art pieces!
PlopEgg
One of Moire's most famous performances is PlopEgg No. 1 performed at Art Cologne 2014. It was a bizarre work of action painting that involved dropping of paint-filled eggs from the artist's vagina onto a canvas. Filled with oil or acrylic paints, plopped eggs formed an abstract imagery in the form of versatile stains of strongly saturated colors. In the end, the artist folded a canvas, creating a symmetrically reflected picture that resembles a Rorschach test and a womb. Moire referred to the practice as a meditative art birth performance: "To create art, I use the original source of femininity – my vagina".
Featured images: PlopEgg Painting, via pinterest.com; PlopEgg Painting, via vimeo.com
The Mirror Box Show
One of her most recent performances was Mirror Box Show performed at Amsterdam, Dusseldorf, and London as an attempt to comment on sexual equality and the idea of consent. She stood in public squares with her genitalia or breasts placed inside a mirror box, and invited people with a megaphone to embrace her intimate parts with a loving touch for 30 seconds. Both men and women answered the call, and the inside action was recorded and promoted on Youtube, Vimeo, Facebook and the artist's website. The performance in London got the artist arrested for public indecency, and she stated that her arrest was indicative of the UK's Brexit debate.
Featured images: Mirror Box Show, via damnmagazine.com; Mirror Box Show, via ohfree.net
The Script System
The performance The Script System was performed in 2014 during the most significant art fair in Basel – the Art Basel. Inspired by script theory of cognitive psychology, she went in public completely naked with written words all over her body where the shirt, pants or a jacket were supposed to be. She claimed that lacking an outer shell of clothes, the human body regains its ability to communicate without the distractions of money, fashion, ideology or even time. The reaction of the public was an integral part of the performance. She tried to purchase the ticket for Art Basel, but she was refused the entry until she puts some clothes on.
Featured images: The Script System, via pinterest.com; The Script System, via bianca-ariel.blogspot.com
Naked Selfies
In 2015, Moiré debuted the Naked Selfies performance where she posed nude with visitors outside of the Swiss fair. She did the same performance later that year in front of the NRW-Forum museum in Düsseldorf, Germany and the Eiffel Tower in Paris, where she got arrested. Using a remote-controlled camera mounted on a tripod to snap selfies with eager museumgoers and passers-by, she created selfies that "caricature the pop-cultural mass phenomenon of self-portraits in social media." "Through this physical, bodily interaction between me as a self-exposing avatar and the people wanting a selfie, I want to establish a point of contact between the real and the digital revelation of intimacy," she stated.
Featured images: Naked Selfies, via alrincon.com; Naked Selfies, via alrincon.com
How Little Abstraction Can Art Tolerate?
In celebration of the exhibition The Naked Life in the LWL Museum of Art and Culture, Moiré walked around the museum naked with a nude baby in a performance titled How Little Abstraction Can Art Tolerate? As the artist explained, herself and the baby became a part of the exhibition simply due to their nakedness. Her goal was to challenge the fundamental attitudes towards abstract and figurative art, as well as to challenge others to reflect on familiar forms of perception in a direct confrontation with live nude art. Yet, visitors to the museum in Munster weren't that impressed.

Featured images: The Naked Life, via cowboyzoom.com; The Naked Life, vimeo.com
The Protest Performance in Cologne
After the New Year's Eve incident in Cologne in which around 100 women were sexually assaulted, Moiré joined the public outrage with a nude performance that spoke against the violence against women. She stood on the square outside Cologne's world-famous cathedral for around 20 minutes with a sign reading: "Respect us! We are not fair game even when naked!!!". In her statement, the artist explained that she stood for women's freedom to move freely and their emancipation. She emphasized that a naked woman should be equally respected as the clothed one.
Featured images: The Protest Performance in Cologne, via thescotishsun.co.uk; The Protest Performance in Cologne, via blogs.spectator.co.uk
The Split Brain
Inspired by the book by the American neuroscientist David Eagleman Incognito: The Secret Lives of the Brain, Moiré created a piece of video performance art that explored the non-conscious brain and all the machinery under the hood that keeps the show going. Created with the help of P.H. Hergarten in Duesseldorf 2013, the video shows the artist wearing nothing but a golden mask and strolling around the snowy city, as well as weeping in the bathtub. As she stated, "The true face does not exist! The mask reveals the struggle of the hidden faces."
Featured images: The Split Brain, via milomoire.com; The Split Brain, via dionisopunk.com.
Fluid Ecstasy
Fluid Ecstasy is an artistic underwater video work by Moiré's created by her boyfriend and photographer Peter Palm on the island of Mauritius. Lasting around six minutes, the video is supposed to be filled with a naïve sexuality and to reveal "surreal, grace-filled perspectives on the female nude…beneath the surface within the concealing element of water [where] nothing remains concealed". Swimming around naked, the artist tried to document the prenatal state of becoming in the form of a visual metaphor. The water is supposed to symbolize the peaceful and comfortable environment of the womb prior to our birth, and flippers serve as a reference to the metamorphosis from fish to Homo sapiens.
Featured images: Fluid Ecstasy, via monopol-magazine.com; Fluid Ecstasy, via pinterest.com
Dildomobil
With Dildomobil, Milo Moiré is transforming a normal bicycle into sexually charged art by placing a bright red dildo instead of the bike seat. According to the artist, this new performance pays homage to female sexuality and cycling. For almost an hour, she drove naked with her self-made lady seat through the busy promenades of Düsseldorf. "A woman can have an orgasm anytime, anywhere!," says Moiré, believing that it is her duty to put sexuality and especially female art in the foreground.
The original length video (30 minutes) can be seen here.
Featured image: Milo Moire - Dildomobil. Courtesy Peter Palm.