Dissecting the bodies of living beings, Nychos brings us closer to the symbolic insight into the nature of life. His x-rays, anatomical analyses and studies may appear a little gruesome at first, but the second glance already riveals all the magic of Nychos' fantastic drawing. His characters are only observed to their core, while none of them is portrayed in any negative state of spirit. Their honest, naive expressions testify to their lives, showing what one dog, wolf, or a chicken are really like. All the San Francisco residing street art lovers are already aware of the treat coming their way - a solo exhibition by Nychos, opening tomorrow at the Fifty24SF Gallery. Titled Street Anatomy, the show will represent the best visual analytic as depicted by the Viennese creative, complemented with a series of pop-up murals around the city.
Street Anatomy is scheduled to open on April 18, 2015 at Fifty24SF gallery.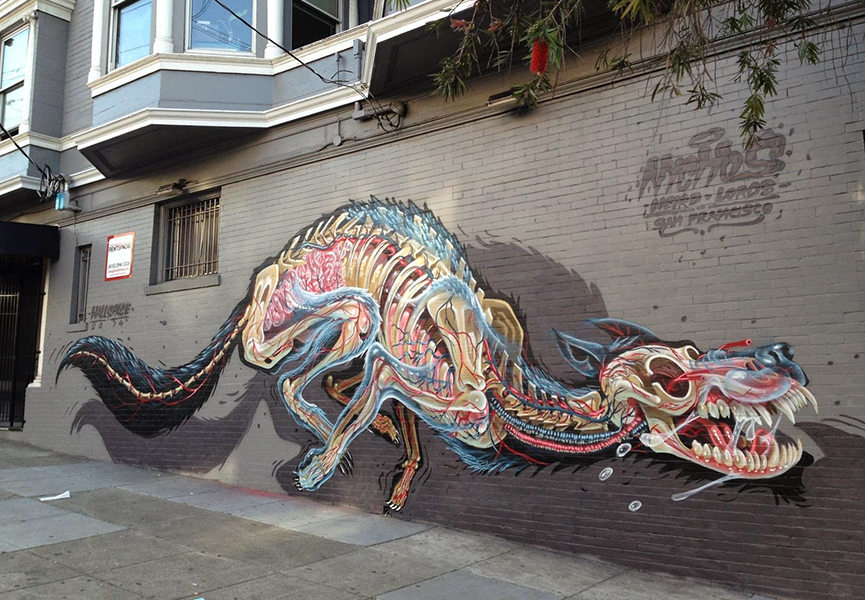 San Francisco Murals
Nychos' expression is arbitrarily called REM style, which is the acronym of Rabbit Eye Movement, a street art space in Vienna founded by the artist in 2005. The artist has been on the road for a year now, leaving his visual mark across the globe, including the giant tiger mural painted in San Francisco in 2013 on Geary Street between Jones and Taylor. His most recent SF mural is X-Ray of a Wolf, executed on the famous cross section of Haight and Ashbury Street. The new mural was curated by Chris Shaher for Wallspace, and supported by Fifty24Sf Gallery and Montana Cans.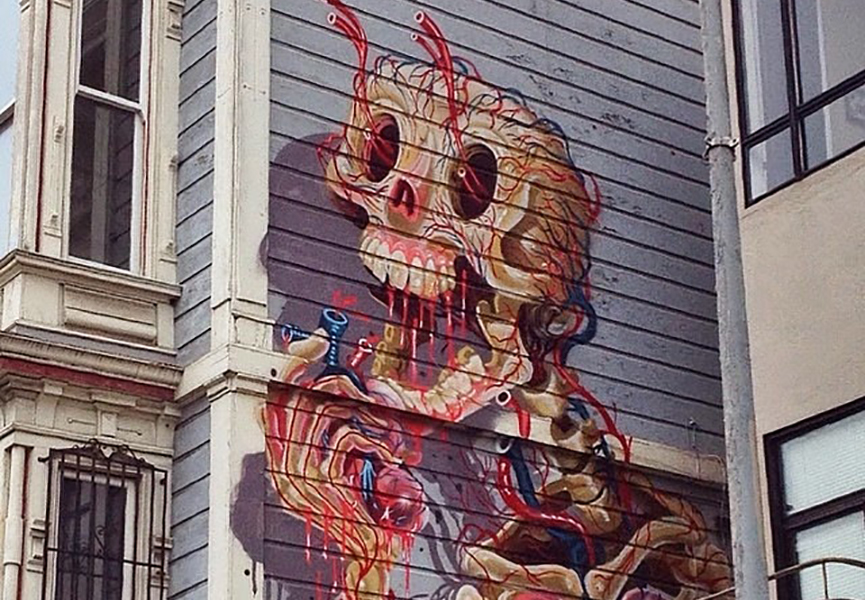 Nychos and REM
In the recent years, the recognizable  street art has been evolving into perfected dissected representations of animals and people, as his international fan base keeps growing. He has become not only a well known street artist, but also an influential figure on the scene, as his gallery Rabbit Eye Movement became a functioning assembly of creatives gathered from all over the planet. The spirit and energy of REM will once again be transferred to San Francisco, promising to leave an even more lasting mark.
Rabbit Eye Movement
Rabbit Eye Movement or REM is a Vienna based street art concept space. Established in 2005 by Nychos, the entity expanded into its own art space in 2012, when the team started operating as an agency full time. They focus on a wide pool of global urban creatives, of which many have backgrounds in illustration. The agency brings together artists, creatives, provides them with work platform, and establishes connections with brands, enabling the production of unique lines. The space has so far been cooperating with Andrea Wan, Cone, DXTR, Flying Fortress, Frau Isa, HRVB, Shue, Look, Low Bros, Rookie, Sobekcis, Vibes, Vidam, many others and, naturally, Nychos.