It's not surprising to see the word Dissections in a same sentence with amazing Austrian urban artist Nychos. He grew up in a hunting family. Getting confronted by the anatomy of dead animals at an early age and being a 1980s kid with an interest for cartoons and heavy metal – all of these ended up being some of the ingredients which inspired him when he started graffiti and painting at the age of 18. Later on, Nychos became known for his huge, technically outstanding pieces in the urban environment as well as several gallery exhibitions. For all those true art lovers from Zurich and around, great news: Kolly Gallery is organizing Nychos exhibition. The show is entitled Translucent Fear.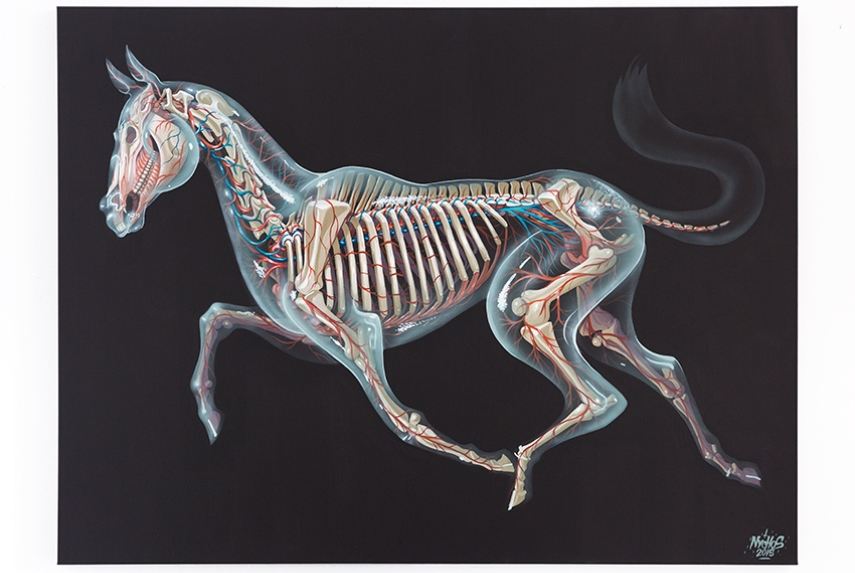 Nychos – Dissections
Nychos was born in Styria, Austria, and he is probably one of the most recognized Austrian urban artists today. His trademark style is focused on the reinterpretation of dissected motives combined with colorful outlines. However (at least for someone), he is best known as a founder of Rabbit Eye Movement, which originally started as a street art concept. Rabbit Eye Movement connects and promotes a network of artists, both national and international, and many with a background in illustration. Located in the heart of Vienna, the Rabbit Eye Movement Art Space is now a full time gallery and agency dedicated to pushing the same movement that created it. In 2013 he had solo shows in Detroit (Inner State Gallery), New York (Mighty Tanaka) and Turin (Galo Art Gallery), besides traveling the world, painting in over 15 different cities and participating in Art Basel Miami Beach, Pow Wow Hawaii and many other events. In 2014 he had two solo shows in San Francisco (Fifty24SF) and Singapore (Mighty Jaxx) amongst a set of festivals, events, conferences and fairs.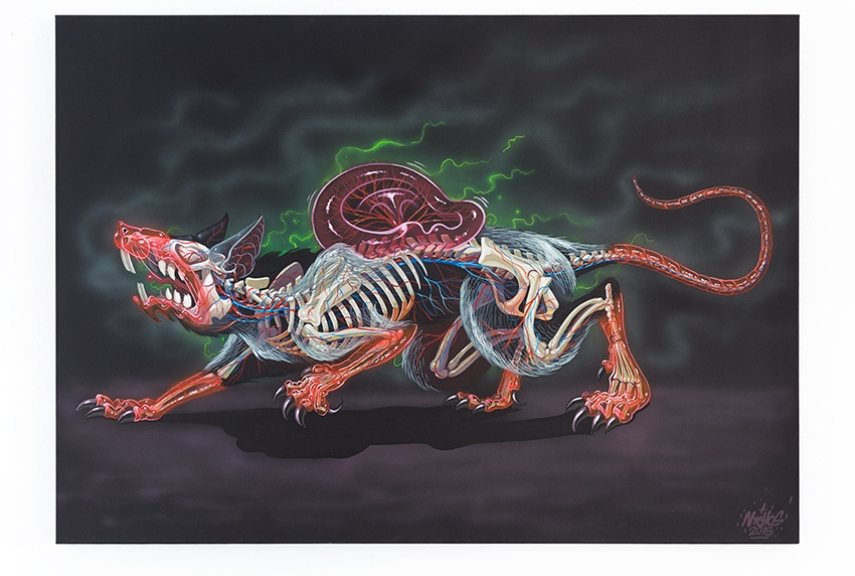 Translucent Fear
As we already mentioned, Nychos is also passionate of anatomy. At night, he paints along the canals in Vienna. The day, he spends his time at the Natural History Museum to improve his knowledge in the field (and he even has an annual pass). To get the desired rendering, Nychos must compose his paintings as follows: first he draws the bones, and then he fills the background in black. He can now paint the different blood vessels and the nervous system. The last step is the translucent color, this step leaves him no room for error and the application must be perfect from beginning to end. Finally, he completes each proposed canvases: in fear.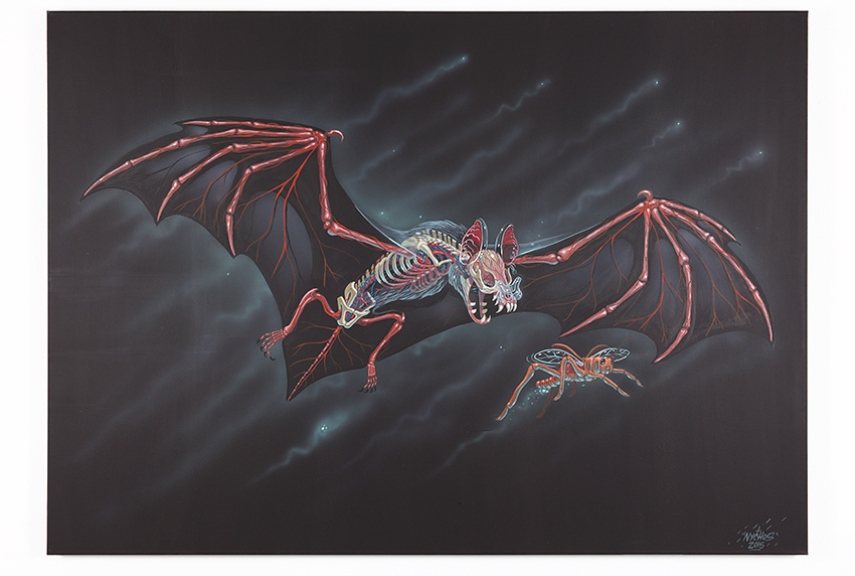 Nychos Exhibition at Kolly Gallery
The Kolly Gallery, that was opened in 2014, is dedicated to promoting the graffiti and street art universe in Zurich, cosmopolitan city known for its international artistic influence. Therefore, this amazing art space is a perfect place for Nychos' exhibition. The show entitled Translucent Fear will be on view from October 22 until November 22, 2015, at Kolly Gallery, in Zurich.
If you want to be informed about the latest developments in the world of urban and street art, sign up for My Widewalls! It's free of charge!
Catalogue for Nychos Exhibition
Nychos Price List
Featured Images:
Nychos - Translucent Loup
Nychos - Screaming for Vengeance
Nychos - Eagle Head
All Images courtesy of Kolly Gallery.