Remember all that fun art you would randomly see on the street? (Spoiler alert: it's not Banksy.) Or maybe those colorful birds composed of little triangles? Now you can see the works of both these artists hanging on the walls of a gallery - an art space called Le Cabinet d'Amateur in Paris. The urban artists in question are Oakoak and Bulbe, both coming from Saint-Étienne, and the street is their playground, a place where their imagination meets the urban environment in a very entertaining way.
The Cheerful Oakoak
The artistic adventure of Oakoak began almost ten years ago, in 2006, when he chose to express himself on the walls, sidewalks and the street. What he does is simple, yet clever: he plays with cracks, holes, broken architecture elements, fences, trees, buildings, houses, you name it - all those elements that we never really cared for, but now we do; because Oakoak transformed them and gave them a new, fun identity that almost always has to do with something familiar. Making references to the world of video games, television, popular culture in general, or the artist's own creations that fit in perfectly, the art of Oakoak has only got one goal: to entertain. Hardly anyone ever stayed indifferent to his face-making fire hydrants or wasn't intrigued by the ninja turtle coming out of the sewer.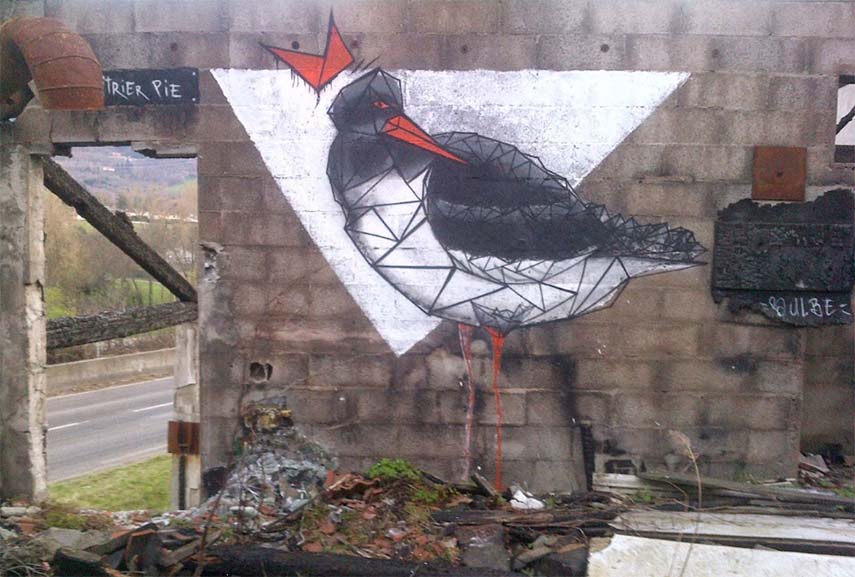 The Art of Bulbe
While Oakoak only goes by his nickname, for Bulbe we know the real one: Pierre Tarraquois. For this artist, the triangle is the base of all his abstract and figurative creations. Through a repetition of geometric shapes and studies of color, Bulbe depicts elements of nature, animals, birds, looking fragile yet powerful in their masterful execution. His art reminds us of nature's eternal presence, regardless of man-made structures trying to sometimes suffocate it. Because of his precise pieces, he is sometimes called "the Picasso of street art". Aside from his artistic practices, Bulbe also does workshops and lectures about graffiti, educating different audiences of its importance and meanings.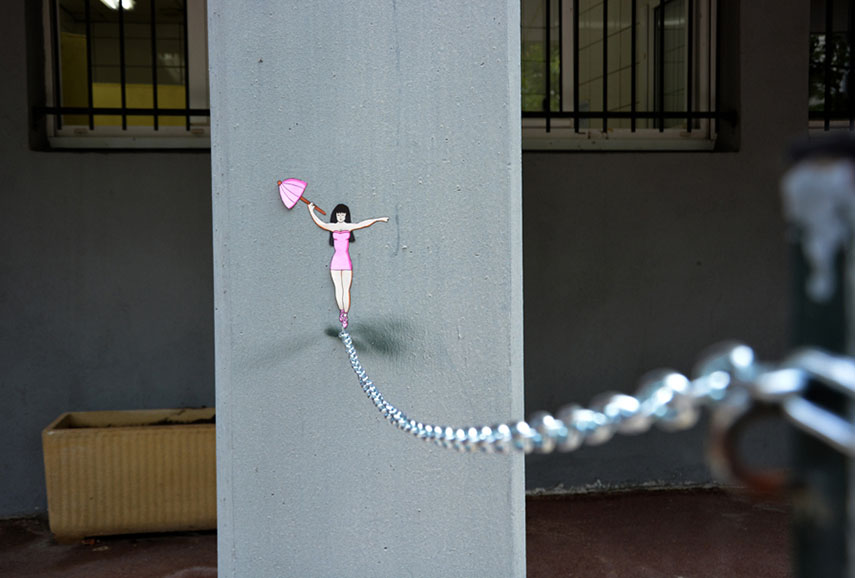 Le Cabinet d'Amateur Exhibition
The art of Oakoak can be seen in a number of countries. He collaborated with some international colleagues, such as The Wa and Fra Biancoshock. The first book of his works was published in 2011, while his first exhibition was held in 2012. Bulbe studied art at the University of Saint-Étienne. Since 2011, he has been creating an ongoing series of paintings and drawings. This is the first time Le Cabinet d'Amateur hosts the exhibition of these two artists. Objets trouvés…, the joint exhibition of Oakoak and Bulbe will be on view at Le Cabinet d'Amateur in Paris, France, between May 7th and 22nd, 2015. The opening will be held on May 7th at 6pm.
Sign up for My Widewalls and enjoy the best of street art!
All images courtesy of Le Cabinet d'Amateur.