I don't know if I have ever told you, but I don't know to paint. Or to draw. Or to do anything with a pencil, apart from writing. This is probably the biggest reason why I'm not an artist, and why I am a journalist. However, I often scribble and doodle, especially when I'm on a telephone, or at the meeting. And sometimes, when I'm not trying to sketch something particular - you know, the usual, a house, a flower, a tree - I scribble something that might look serious. Perhaps it's Rorschach all over again, but sometimes in those scribbling I see the beginnings of a quality work. Then, of course, I try to amend that and add something else, and, obviously, ruin it completely - haven't I told you I don't know to draw? Yet, there are people that can draw and paint - they are called artists, but that can also notice that SOMETHING in everyday scribble that is everywhere around us. And French street artist OAKOAK is just that type of artist: who knows to paint, who notices unfinished scribbling all around him, and who has the brilliant imagination that is not afraid to use. And visitors of Vertical Gallery in Chicago will be able to see those talents at OAKOAK's first solo exhibition at the United States.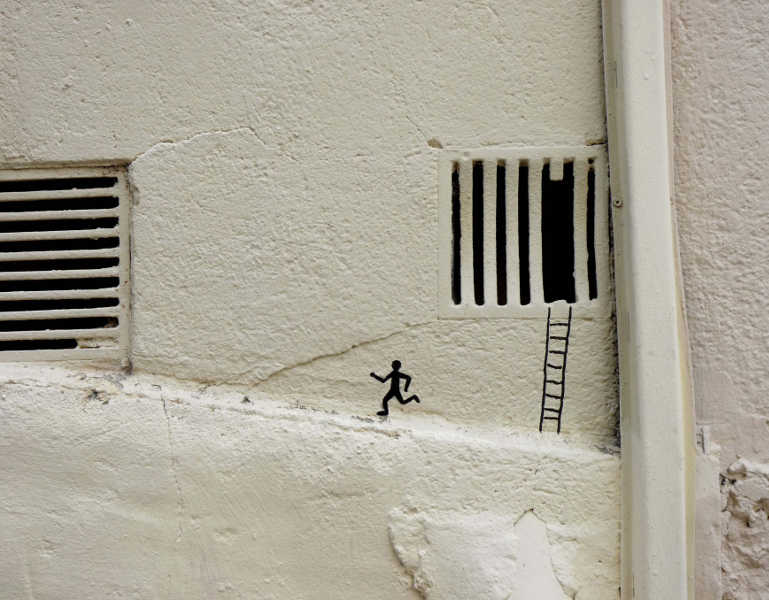 OAKOAK: An Eye for Details and Incredible Imagination
When you look at OAKOAK's street art and street art interventions, you cannot fail to notice what an exquisite eye for details this artist has. Not only that, this is accompanied with a great sense of humor and unbelievable imagination. For instance: there you are, walking down the street, and you see a beautiful tree with violet flowers. If you are not too busy, you will not miss this site, as it is a lovely site, indeed. However, OAKOAK sees much more in this - where you see a branch packed with violet flowers, he sees the hair of Sideshow Bob from The Simpsons, so, it is only natural for him to draw the rest of his head. Or, the other example: you see two pieces of wood that are barely linked with an obtuse angle between them. And that is all that you will ever see watching this scene, until OAKOAK shows his skills and imagination - what are two pieces of wood for us, for him is a bed for snoring Homer Simpson with some donuts lying on top of his big stomach (OAKOAK loves The Simpsons, wouldn't you agree?).
Street Art Just for Fun
The funny thing is that OAKOAK is not a full-time artist. Actually, he is untrained in art, and works full-time at the office in his home town St Etienne in France, as the ordinary employee. Yet, he is a true street artist in his soul, doing whatever he can to make St Etienne look better. In his own words, he wants for his home town to look nicer, since it was an industrial city with many coal mines - with "awkward aspects, ideal for art". Also, which is that SOMETHING we've mentioned, he says that he "sees shapes everywhere, and wants to realize them". For this French artist, the street is a true source of inspiration and fun, fun that other find on a basketball court, or a football field.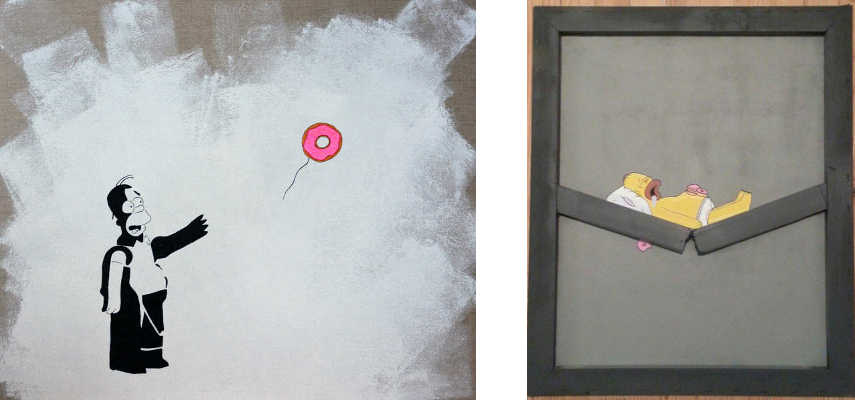 OAKOAK Exhibition - Where and When
So, from all we've said, it is obvious that we think that OAKOAK's exhibition at Vertical Gallery in Chicago (1016 N. Western Avenue, Chicago, IL 60622) you definitely don't want to miss. French artist's first solo show in the U.S. will open on October 3rd, and it will be open throughout the whole month of October, until October 31st.
Sign up for My WideWalls for FREE and be up-to-date with contemporary and street art.