Ever since the ancient times, political figures have been a great artistic inspiration for artists across the globe. Long-lasting or ephemeral, portraits of famous politicians and state leaders have had an immense power in the shaping of the public opinions, honoring and criticizing the people chosen to lead the masses. In modern history, political figures often enjoy a celebrity status and this phenomenon has resulted in some of the most iconic imagery of political heroes. However, beyond the world of propaganda posters, there is a completely new field of artistic possibilities when it comes to tributes to politicians nowadays and proliferation of imagery depicting 44th US president is the best example. Since the iconic HOPE poster and his first presidential campaign, Barack Obama has been a favored subject of many artists who have been envisioning the President in various ways. Whether it is celebratory of his work, critical, satirical or inexplicably weird the depicting of his likeness is creative beyond measures, and in the following paragraphs, we will take a brief look into some interesting examples of Obama-inspired artworks.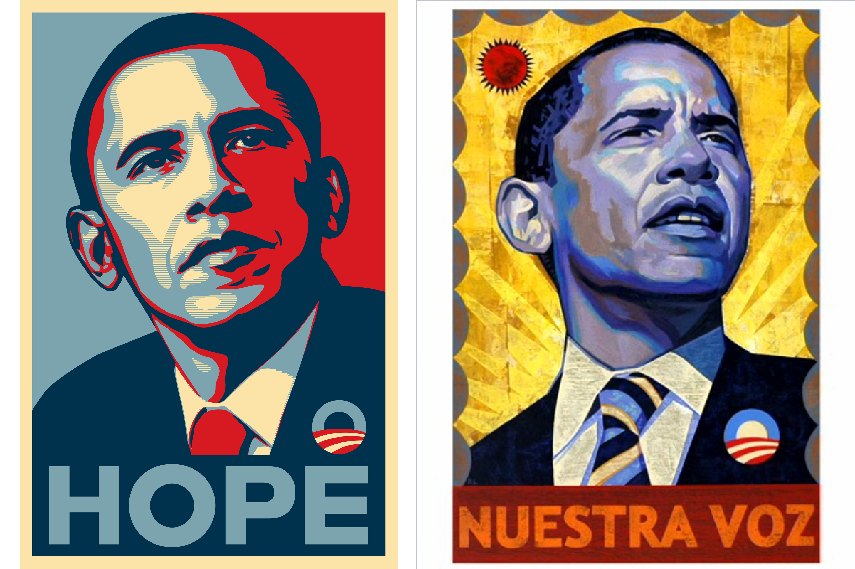 First Iconic Posters
We cannot start our story without going back to the good old days of Obama's first presidential campaign and the best-known representations of his figure. The stenciled portrait of Barack Obama in red, blue and beige, designed by Shepard Fairey is the best-known and most iconic portrait of the 44th president of the US. The poster was released independently but it gained approval of the official Obama campaign and in the years to come, it became the most memorable symbol of Obama's journey to the White House. The other iconic work was the poster titled Nuestra Voz created by the Mexican artist Rafael López, which was selected as one of the official posters at Artists for Obama in 2008. The success of the initial artwork fueled the decision to choose López for the re-election campaign in 2012 when he created another poster depicting the president in an effort to win the Latino vote in key swing states. The heroic representations of the commander in chief done in a classical propaganda style were particularly common in early years of Obama's presidency, but in years to come Obama's likeness saw various interpretations that moved away from the world of politics, focusing on Obama as a popular culture icon.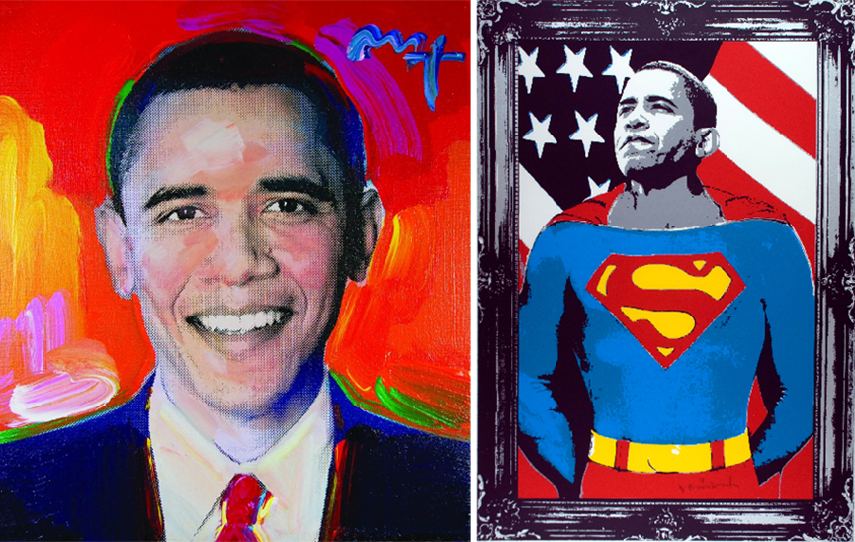 Barack Obama - Pop Art Superman
Another great work that went viral in 2008 was a portrait fusion of America's 16th and 44th presidents Abraham Lincoln and Barack Obama created by Ron English. At the time when artists and the public were focusing on Obama's blackness, the image of Abraham Obama offered an unspecified racial fusion of the two figures underlining political parallels between the two figures. The placement of Abraham Obama pop art posters, pasters and stickers in public spaces across America by Ron English and his fellow artists also became a subject of a documentary and an art book. The pop art take on the presidential figure was also characteristic for several works by Thierry Guetta aka Mr. Brainwash who imagined Barack Obama as a Superman dressed in Clark Kent's costume standing in front of American flag. Mr. Brainwash also created a Barack Obama/Marilyn Monroe hybrid adding a humorous note to the presidential likeness.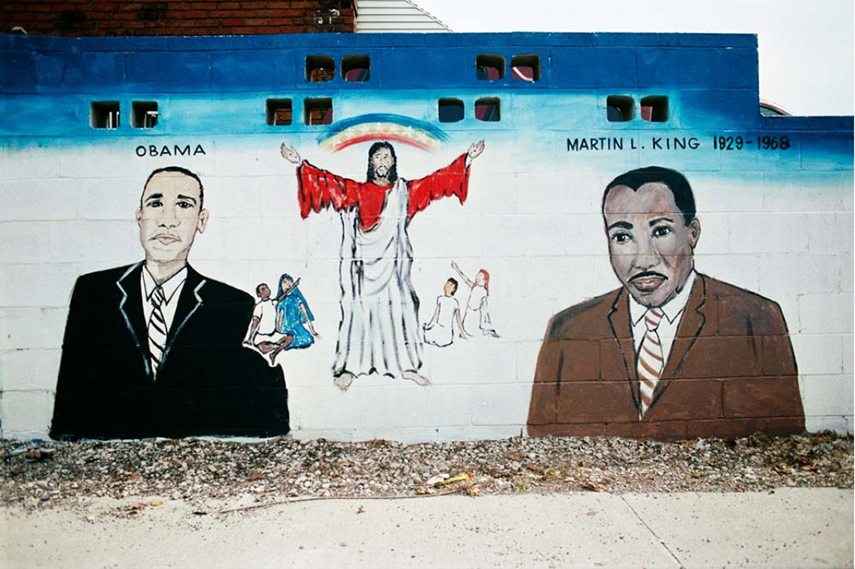 Honoring the African-American Heritage
We can't talk about the works portraying Barack Obama without focusing on the big part of the artistic production that uses the image of the first African-American president to open the questions about racial inequality and collective history in the United States. This is best seen when it comes to public art. Ever since Obama won the elections in 2009, the murals with his portrait have been popping up in various communities across the US. New York-based photographer Camilo Vergara who has been photographing country's poorest neighborhoods since the seventies started documenting Obama murals across the country and analyzing how people perceive the US president in various communities. Interested in the way artists portrayed black history on the walls of their communities Vergara sees the rise of Obama murals as part of the prolongation of the Civil Rights history and tradition of public works memorializing African-American achievements. In African-American communities, Obama's portrait often appears next to ones of Martin Luther King or other black activists and leaders. The idea of Obama's racial heritage has also been explored in various fine art projects in relation to racial conflicts and identity issues. Some interesting examples are the work of Chinese artist Kirk Ke Wang, David Driskell and Curlee Raven Holton, to name a few.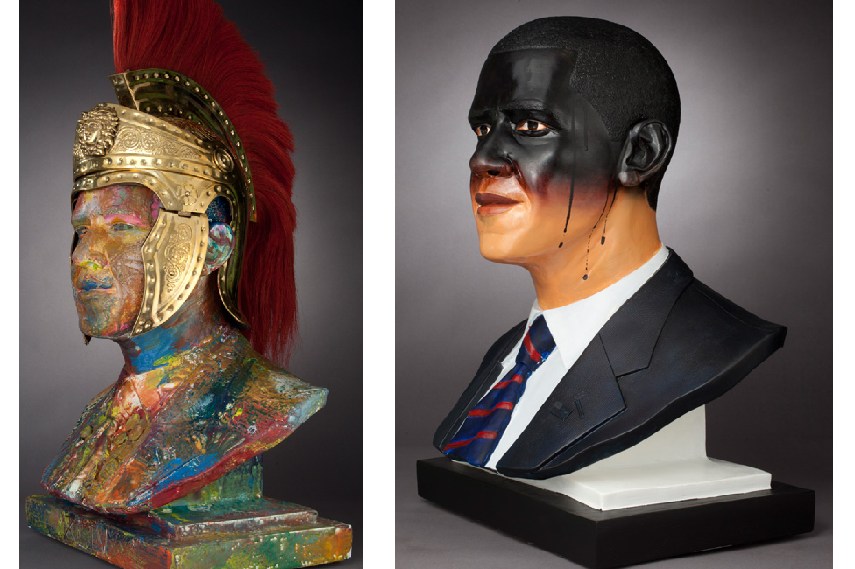 Visions of Our 44th President Exhibition
The biggest collective project dedicated to the celebration of Barack Obama's historical significance as the first African-American president was certainly the group show hosted by the Charles H. Wright Museum in Detroit in 2012. For the exhibition Visions of Our 44th President, 44 contemporary African-American artists were invited to paint 44 busts of Barack Obama, giving their views on Obama's presidency and American history. The exhibition that gathered so many artists coming from different backgrounds resulted in a plethora of interpretations from various points of view. From Preston Sampson's vision of Barack Obama as a Roman legionary to Tatyana Fazlalizadeh's question whether Obama was black enough, artists engaged in a dialogue with history to unveil some interesting aspects of Barack Obama's persona. Nevertheless, the line of the ambitious project centered on Obama does not stop here.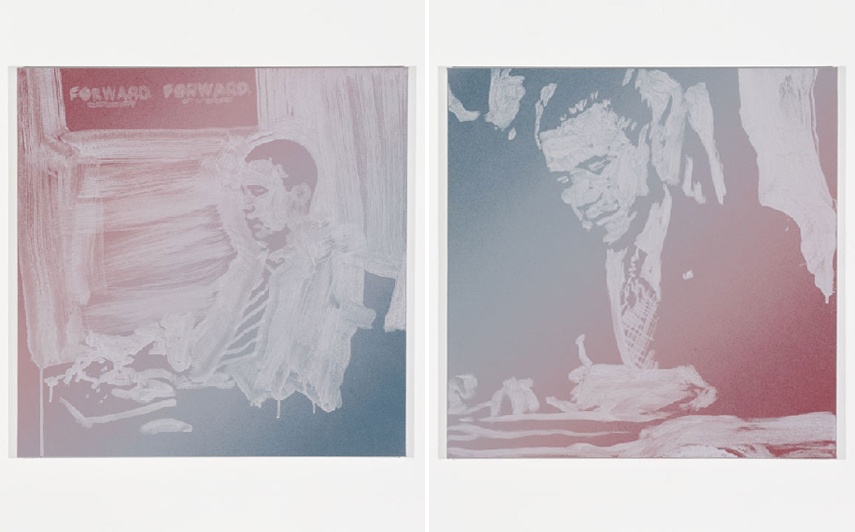 Obama Chronicles in the Work of Rob Pruitt
Every day since Obama's presidential inauguration in 2009, the artist Rob Pruitt has painted a small portrait of the president depicting a scene from his private or public life. New York-based artist started painting Obamas portraits as a way of expressing the optimism following Obama's win, and even though some of that enthusiasm wore off Rob Pruitt continues to work on his series. In 2015, the Museum of Contemporary Art in Detroit hosted an exhibition featuring 2,300 of Obama paintings, a large part of the monumental project which will finish after Barack Obama leaves the White House. All the paintings are executed on a red and blue background with white paint, following the flag symbolism, and the painting collection is meant to function as a monument to Obama, capturing his presidency in its entirety. In 2012, Peter Max painted Obama's portrait in 44 different ways but Rob Pruitt work is by far this is the most comprehensive homage to Barack Obama's work in the oeuvre of a single artist.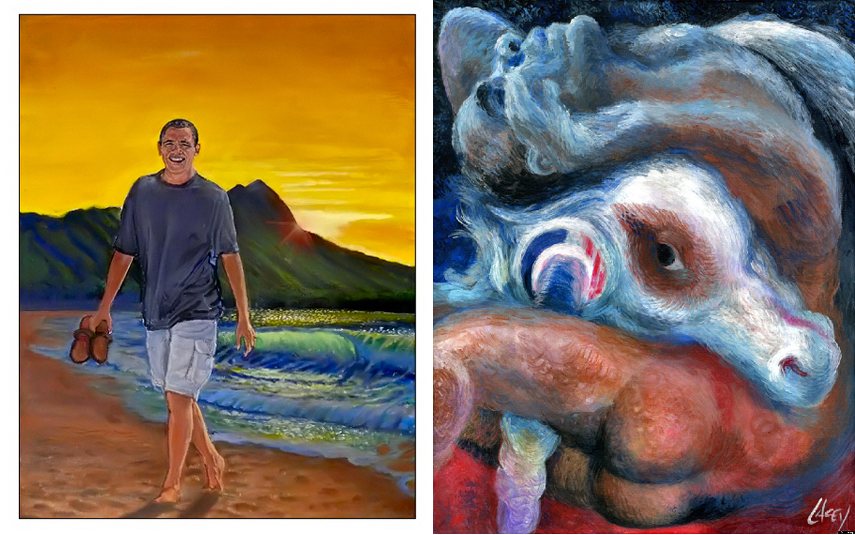 Unexpected Interpretations
And we've just couldn't finish the feature on the art of Obama without mentioning some bizarre and unexpected portrayals. We've seen that Barak Obama is an everlasting fascination for many artists in the US and overseas, but there are those creatives who really let their imagination run wild when it comes to interpretation of presidential persona. American artist Ron Keas is one of the most prolific Obama portraitists, and in his body of work there are some quite unusual tributes to the President of the United States. From the oil painting of Barack as a basketball player to baby Obama and the First Family, Ron Keas unveils the various facets of Obama's identity. However interesting and imaginative Keas' vision of the President is there are some examples that go even further, showing the bizarre scenes with Barack Obama in the main role. One of those works is certainly the painting by San Francisco artist Jason Heuser famous for his sci-fi and history mashups who depicted Obama as a lion rider with a lightsaber and a crossbow. However, if this is not quirky enough for you and you want that Obama magic brought to a completely new level, we should finish our feature with the weirdest Obama-inspired artwork of all times. Dan Lacey, a self-proclaimed "Painter of Pancakes" created several portraits of Barack Obama among which are the erotic paintings featuring naked Obama intertwined with a body of a unicorn. After seeing this artwork you can rightfully claim that you saw everything there is in the genre of Obama portraiture and we won't judge if you decide to take a rest from the internet for a while. All jokes aside, there have been some magnificent works of art dedicated to Obama's likeness over the last eight years and we'll have to wait and see if the next president will be equally inspiring for the artists.
Featured Images: Ron Keas - Election Night via huffingtonpost.com; Kirk Ke Wang - Black, White and Colors, 2012; Jason Heuser - Obama Riding a Lion. Photo via artstation.com; Eagle Avenue at 163rd St., S. Bronx, 2013. Photo by Camilo Vergara via smithsonianmag.com; Ron English - Abraham Obama. Photo via songsinenglish.com