In 2008, Barack Obama became the first African-American President in US history. In 2017, two African-American artists were chosen to paint the portraits of the presidential couple for the very first time.
In 2018, the National Portrait Gallery in Washington, D.C. had the honor of unveiling them - the newly commissioned paintings of Barack and Michelle Obama, by Kehinde Wiley and Amy Sherald, respectively.
While Wiley's depiction of America's 44th president has him seated in a garden-like environment, the former First Lady's portrait painted by Sherald shows her posed against a light blue background, in a lavish white dress.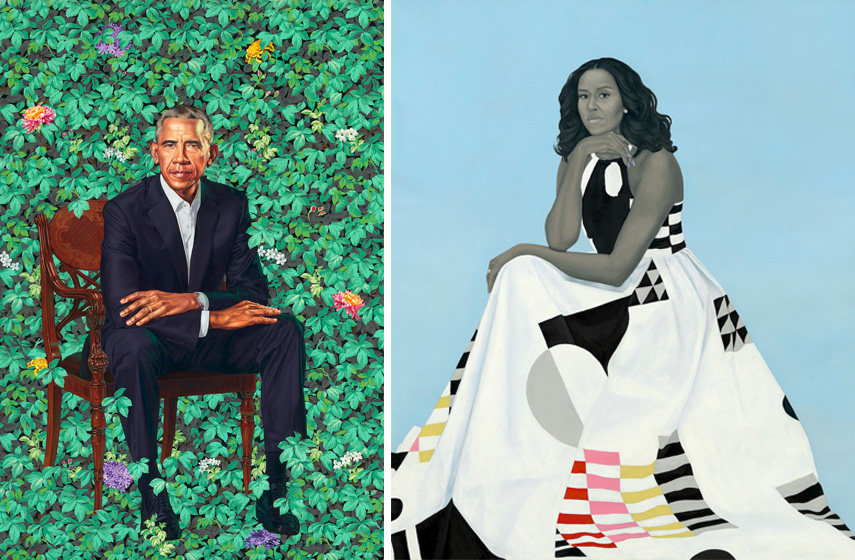 Barack Obama by Kehinde Wiley
Kehinde Wiley is a renowned American artist, known for his life-size paintings of young African-American men, dressed in hip-hop style yet depicted in the manner of Old Masters, resulting in glossy, crisp artworks.
His portrait of Barack Obama has the President dressed in a black suit with an open-necked white shirt, sitting with his arms crossed on his lap. While all this may be quite traditional when it comes to presidential portraits, everything else is not - Mr. Obama's expression is one of almost irritated man, surrounded by greenery and flowers.
The flowers, however, are not just any flowers - there are jasmine stands from Hawaii, his birthplace; the African blue lilies, representing Kenya as the birthplace of Obama's father; chrysanthemums, the official flower of Chicago, as this is where Barack Obama went to law school, met his wife, and started a career in politics.
Michelle Obama by Amy Sherald
Much less famous and quite a different painter from Wiley, Amy Sherald focuses on African-American portraiture, because there is so little of it in the Western art history. Her painting starts with realism, but ends with a kind of abstraction, using shades of gray for skin color and geometric forms to depict bodies.
Sherald's painted Michelle Obama seated against a field of light blue, wearing a not so expensive looking, yet sophisticated dress. Designed by Michelle Smith's label, Milly, it is imbued with the aforementioned geometry, patches of color suggestive of African textiles.
It is almost as though it is the dress that's the protagonist of the painting and not Mrs. Obama, whose expression evokes decisiveness, and seriousness.
Obama Portrait Unveiling at the Smithsonian's National Portrait Gallery
Unveiling at the National Portrait Gallery
The official portraits of Barack and Michelle Obama by Kehinde Wiley and Amy Sherald were unveiled at the Smithsonian's National Portrait Gallery on February 12th, and are a part of their collection's 50th anniversary.
Indeed, the "America's Presidents" display was opened to the public in 1968, featuring portraits of all chiefs of state, while the collection of First Lady portraits is still incomplete.
The newest additions to the portraits surely stand out, both in style and the way they have now turned the unveiling to a proper, grand ceremony.
All images used for illustrative purposes only.