It's always compelling to see two artists collaborating but it's even more compelling when those artists are representatives of different branches of art. Such collaborations often prove to be extremely fruitful. Artists exchange creative energy and provide their own interpretation of it. In this case the indie-rock band Interpol served as inspiration to its street art counterpart. Shepard Fairey took matters into his own hands an created an astonishing mural that accompanies the songs, history and name of Interpol.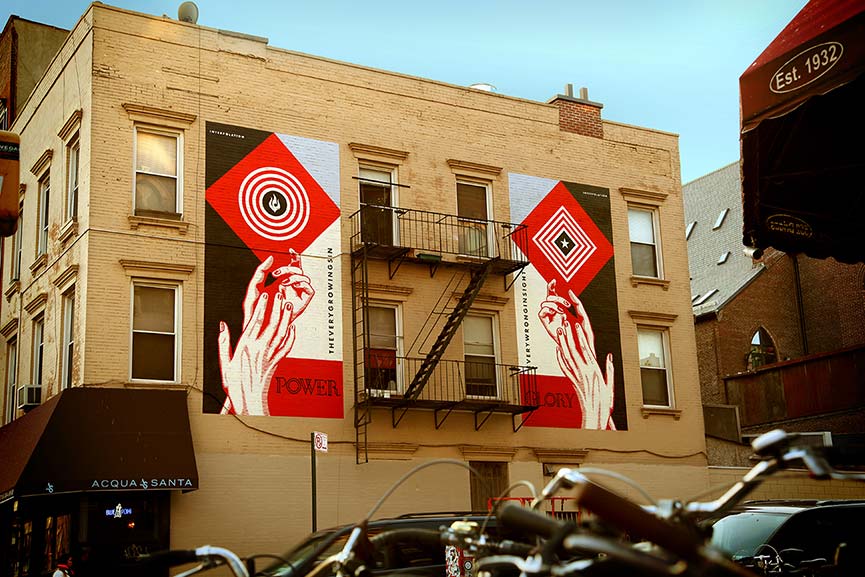 Everything is Anagram
Their partnership began in 2004 when Fairey did some supporting artwork to Interpol's album Antics. After ten years of silence, they've met at Lollapalooza  festival and the collaboration was renewed. New album El Pintor (the Painter) was released and it inspired Shepard Fairey. They talked about what is the right approach when Daniel Kessler suggested Everything Is Wrong is the song for Fairey to interpret. There is a certain angle to uphold that surrounds the whole album, and it's hidden in the link between the Interpol and El Pintor. El Pintor is an anagram of Interpol and so Shepard Fairey decided to follow the same principle. Thus Everything Is Wrong became The very growing sin and Every wrong insight when the letters went through Shepard's hands. Both of the songs reflect Interpol's lyrics and the artist's Power & Glory concepts. When commenting about the background of his messages Fairey stated in one of his interviews: "They make sense in terms of all of the poor policy choices we make," he says of the phrases, "even knowing about the science of climate change and other stupid shit like that."
Interpolations
Following the word games and meaning derived from it, Shepard's mural images are interpretations of the song through his sensibility, but within parameters, they qualify as "interpolations". It is almost too convenient word to envelope this collaboration. The mural Shepard made for Interpol is based in Williamsburg, colored in red, white and black, as those are the same colors often used by the band which worked with artist's color palette. According to Fairey, the NYC mural examines "the idea of being complicit in a personal relationship or a relationship with a system that one realizes is unhealthy."
Are you a fan of collaborative work? Sign up for My Widewalls and never miss a post about future artist collaboration!