In the age of omnipresent multicultural surroundings, questions of identity have never been more elusive. But what of the isolation one experiences? Is it the loneliness that weighs on the artist's mind, or the sense of abandonment he feels when faced with the natural environment, as well as the social one? The pop-up exhibition Oceanic, which will run form July 24th to July 30th 2014 at RexRomae, London, will address these questions by presenting works of two artists deeply influenced by the Pacific region.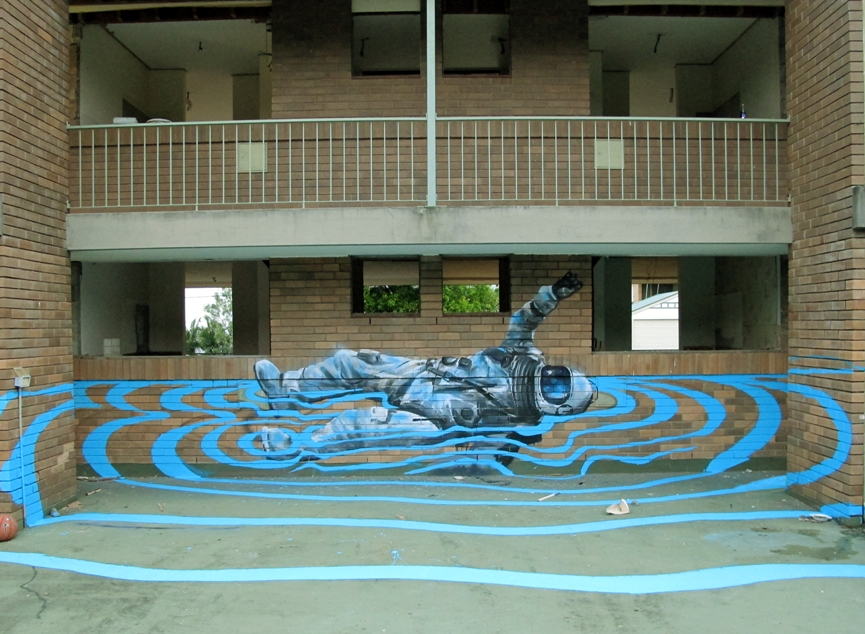 Oceanic Means the Pacific
The Pacific seems to represent an adequate cultural space for the quest for answers to the questions raised. Askew1 and Fintan Magee allowed themselves to be submerged in the puzzling cultural space which produced them, as persons and artists. The first being the self-taught artist whose street art experience molded him into a researcher of identity, the second guided by artwork creation throughout his life from the early age and influenced by environmental and identity crisis of the world, but both aesthetically connected to the Pacific region of Oceania. This is their playground, and the source of their artistic fieldwork.
Fintan Magee
Although a person who had started drawing at an early age, Fintan Magee dedicated a period of his creative work to graffiti. Articulating his painting skills with the experiences of street artwork, Magee achieved to allocate the power of painting and "install" it into the face of the world through large scale graffiti and murals. His work is a constant reminder of abandonment – walls covered with a unique message that by withdrawing from the wellbeing of the ecosystem, we are getting rid of the crucial part of our already scattered identity.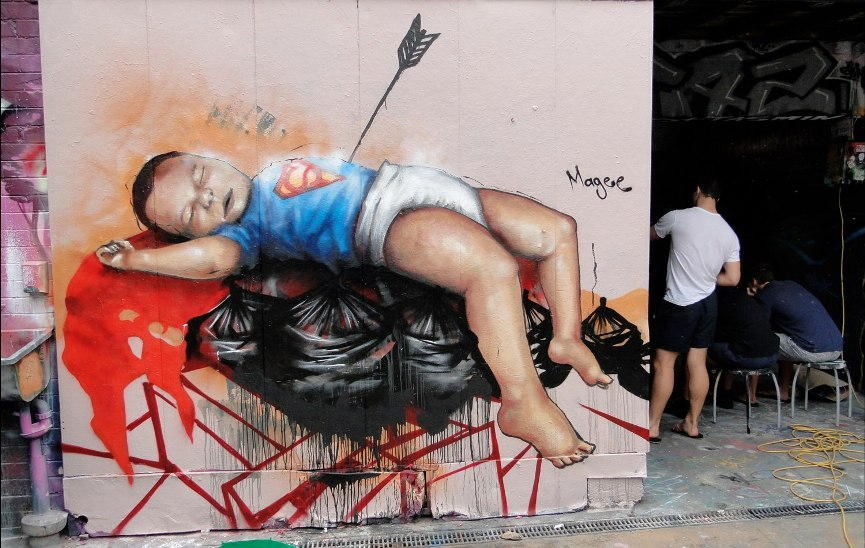 Askew1
His most recent graffiti work shows deep devotion to detail and color, while taking into account the reaction to the surroundings. An evolution of sorts of this devotion is quite noticeable on a small time scale of only past two or three years. However, it is the devotion to the form of the female face that makes him an intriguing artist. This is the way he explores the themes of the New Zealand geographical isolation. Perhaps, by investigating the specific lines of persons belonging to different racial backgrounds, Askew1 tries to search for that inclusive element, and contrast to the sense of isolation. After all, our identities can be read from our bodies, and if the text being read represents an amalgam of multiracial identities, maybe the artist is trying to show us the doorway to understanding one simple thing – only with the differences that constitute us as persons can we say that we belong to the world.