Using intense psychedelic colors and geometric harmonies, the art of Okuda San Miguel seems to open a portal to different worlds. Blending rainbow geometric landscapes with organic shapes, headless animals, figures, and personal iconography, his works produces mental stimulation and visually pleasing content. The artist continuously tries to balance the gray scale with his vibrant palette, using colors as a symbol of life and nature and the latter as a symbol of cement, death, dust and the material of classic sculptures. ADDA & TAXIE, a collaborative project of Anna Dimitrova from Adda Gallery, Nobulo and Montana Gallery and Valériane Mondot from Taxie Gallery, will open its doors and celebrate the new gallery's birth with the exhibition of this talented artist. Titled Dream of Mona Lisa, the exhibition will present his latest body of work.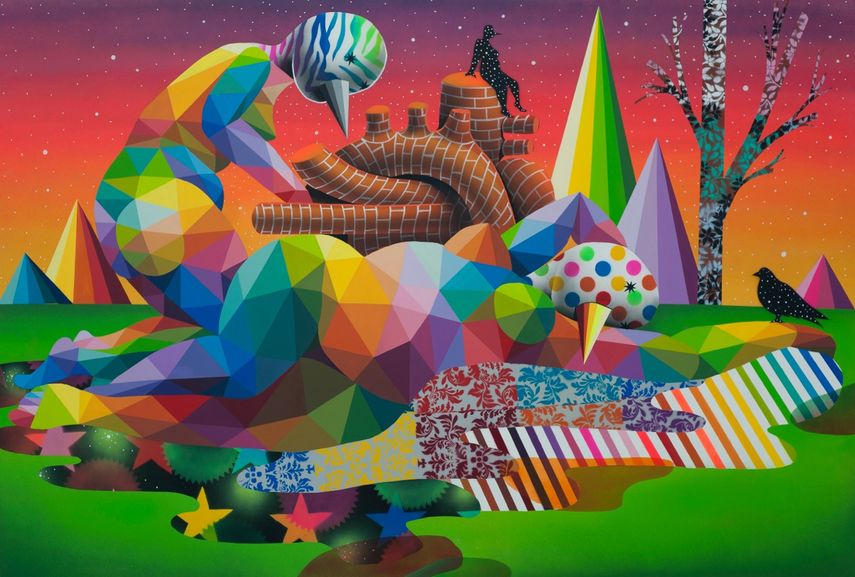 What Does Mona Lisa Dream Of?
Showing his flamboyant colors and skillful geometries to the Parisian art scene, the exhibition will offer a unique opportunity to discover the full talent of Okuda San Miguel. Full of classic icons and exuding art and culture through each of its pore, the city of Paris is a great source of inspiration for the acclaimed artist. Works featuring in his very first Parisian exhibition therefore serve as a trip offered to the viewer in the spirit of the enigmatic Mona Lisa. According to Okuda San Miguel, Mona Lisa dreams of human figures and muses of the great classic masters. Being a creator and contemporary master, Okuda interprets these icons through his own surrealist prism and colorful and geometric motifs.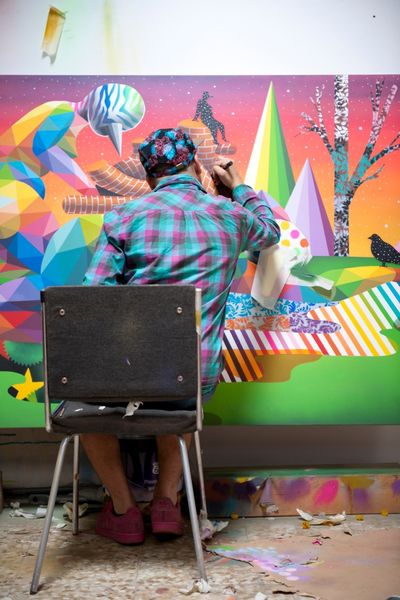 An Inextinguishable Thirst
In his latest series, Okuda San Miguel expresses his own vision of what the human being is made of. Humans are confronted with their roots, between its natural and ideal part, represented by trees and different types of animals and the capitalist society, represented by bricks. Showing us the world where human beings and animals are created equal, the artist distils his own personal vision of God. This conceptual research is the result of his journeys and continuous contact with different environments. The artist sums up the contradictions between existentialism, universe, infinite, freedom, modernity and the meaning of life as an inextinguishable thirst.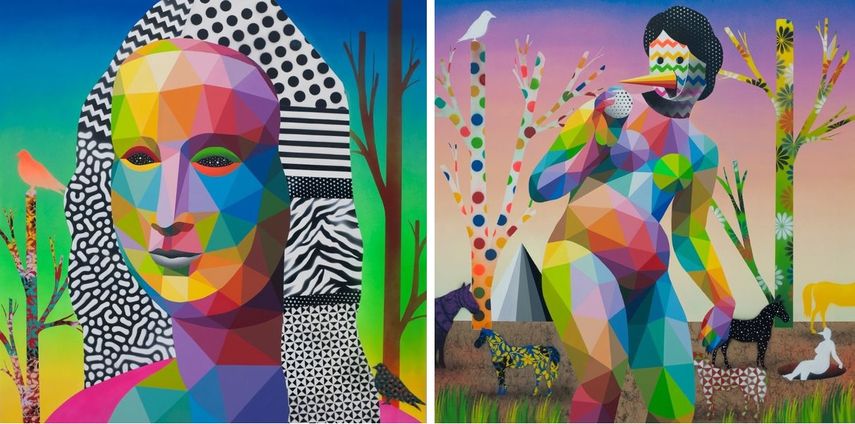 Okuda San Miguel at ADDA and TAXIE
Showing Okuda's diverse approach to fine art, his eye-catching large-scale murals and sculptures can be found in cities all around the world. His first monographic and Parisian exhibition will provide the audience an insight into the artist's vibrant universe characterized by his iconographic language of multicolored geometric structures and patterns. The exhibition The Dream of Mona Lisa will be on view at ADDA & TAXIE in Paris at 35 Avenue Matignon from June 17th until August 29th, 2017.
Featured image: Okuda - Mona Lisa Looking at the Future (detail). All images courtesy of Adda Taxie.