During the Renaissance, church painting commissions were the greatest projects any artist could hope for. But what happens when street artist is invited to paint this sacrilegious space of worship? Spanish street artist Oscar San Miguel Erice, whom you all probably know better by his moniker Okuda, recently painted the whole interior of the Church of Santa Barbera in Asturias, Spain in one of the most stunning public art projects we have seen lately. To be sure, this is not an ordinary church as it gathers a different kind of worshipers – skaters and urban art admirers.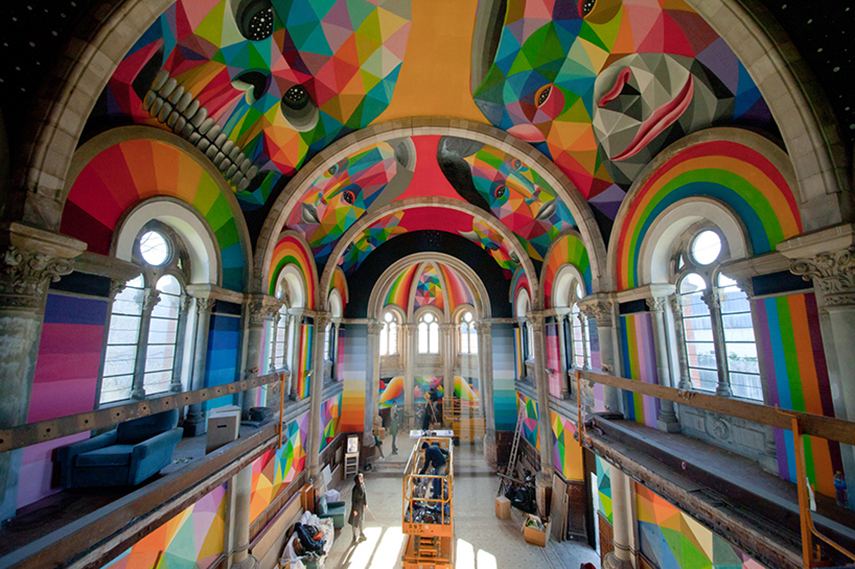 Kaos Temple – Revamping the Abandoned Church
The Church of Santa Barbera was designed by the Austrian architect Manuel del Busto in 1912. For over half a century it has been abandoned and neglected, until a group of creative skaters came up to the idea to transform and repurpose this sacrilegious space. Although, many would consider it blasphemous, the church was renovated, becoming a unique indoor skate park dubbed Kaos Temple. The collective called Church Brigade purchased the church in 2000 and started a crowdfunding campaign that was later joined by the Red Bull. The skating ramps were installed and a church opened its doors to the worshipers of skateboard culture in 2012. However, the skate park inside of the church just wasn't enough, and street artist Okuda was invited to paint the walls and vaulted ceilings, providing a truly unique sense of place.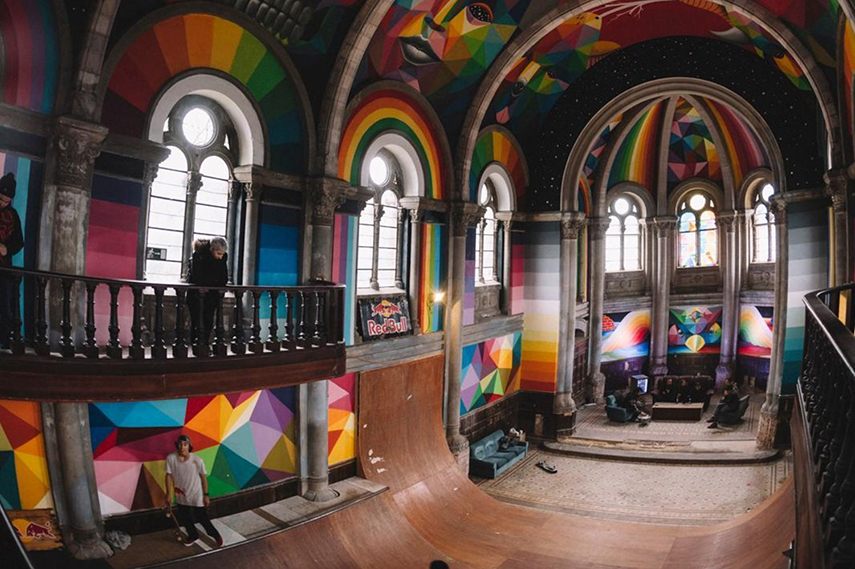 Okuda's Sistine Chapel
In an interview, Okuda called this engagement one of the most important in his career, "his personal Sistine Chapel". And it is an amazing work indeed. Okuda started this project at the beginning of December, and three weeks later, the church interior was completely transformed, becoming a psychedelic heaven for skaters and art lovers alike. In his signature style that brings together colorful geometric abstraction and contrasted monochromatic figures, Okuda created a line of vibrant murals, covering the empty walls and breathing life into the new skate park. Bringing together different influences from Hieronymous Bosch to folk art, Okuda painted some mesmerizing pieces that are beautifully incorporated into the surroundings and gain a certain spiritual quality when illuminated from the church windows.
With this new aesthetic renovation of the space, Kaos Temple truly became a place of pilgrimage that will unite skateboarders, history lovers and street art enthusiasts. And it is also a great gift to the local community that instead of an abandoned church, now has the most stunning skate park in the world.
Do you like Okuda's work for the Kaos Temple? Tell us what you think on our Facebook page!
Featured Images: Okuda's work in Santa Barbera Church. All images used for illustrative purposes.