Using intense psychedelic colors and geometric harmonies, Okuda San Miguel art seems to open a portal to different worlds. Blending rainbow geometric landscapes with organic shapes, headless animals, figures, and personal iconography, his works produces mental stimulation and visually pleasing content. Showing his diverse approach to fine art, his eye-catching large-scale murals and sculptures can be found in cities all around the world. Featuring the artist's new body of work, Corey Helford Gallery is mounting his U.S. debut exhibition. Providing an insight into this Madrid-based artist's universe that demonstrates his insatiable thirst for creation, the exposition will present his new series of vibrantly colored synthetic on enamel paintings, sculpture, and tapestry.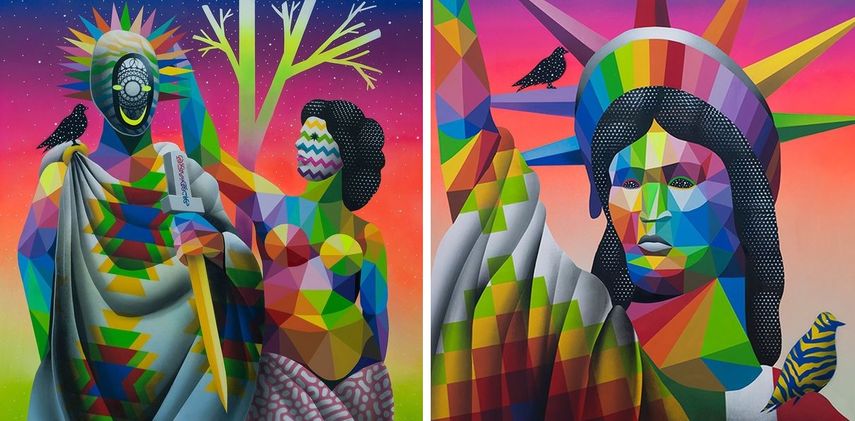 Inspiring and Through-Provoking Art
Creating art that is both inspiring and through-provoking, the work of San Miguel Okuda has been often classified by critics as Pop Surrealism with a clear essence of the street. Combining elements of embroidery, collage and wood, the artist addresses questions about existentialism, the universe, the infinite, the meaning of life, and the contradiction of the false freedom of capitalism, showing the conflict between modernity and our roots. As the artist himself explains, his art reflects his love of metamorphosis. Playing with shapes and forms, he highlights this juxtaposition within his characters, mixing up their shapes and personalities. Using geometric patterns to paint his characters' faces, his work shows equality among the different races, placing all skin types on the same level. Multi-colors he uses are a poignant symbol of multi-culturalism.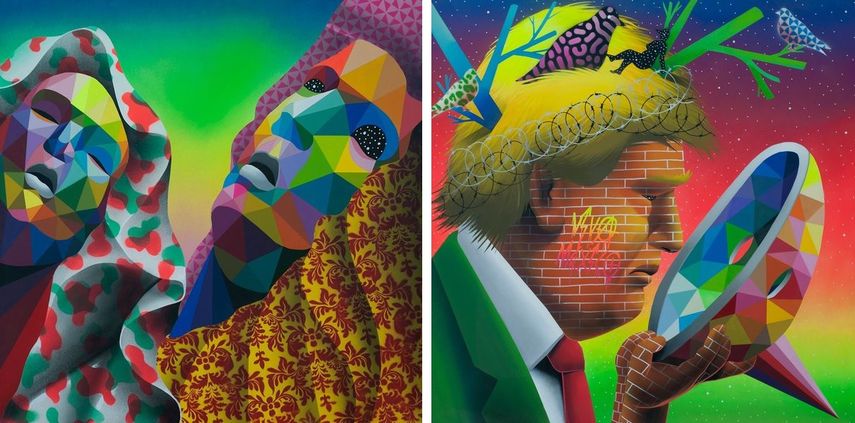 Combining Classic and Contemporary
In this latest body of work, Okuda gives us his personal reinterpretation of classic imagery through a contemporary lens. His recent trip to Sicily brought him face-to-face with the masterpieces by sculptors like Bernini and Jean-Pierre Cortot, inspiring him to reinterpret their historic figures, aligning them with characters from Greek mythology, as well as modern faces of politics and pop culture such as Donald Trump, Cara Delevigne or Die Antwoord. All these icons are now reborn in the artist's unique, bright, and prismatic world. He cites travelling and painting around the world as one of his most important sources of inspiration in this more mature period of his career. The exploration of different cultures has provided the artist with a certain sensibility to express common situations, but always from his distinctively positive and colorful point of view.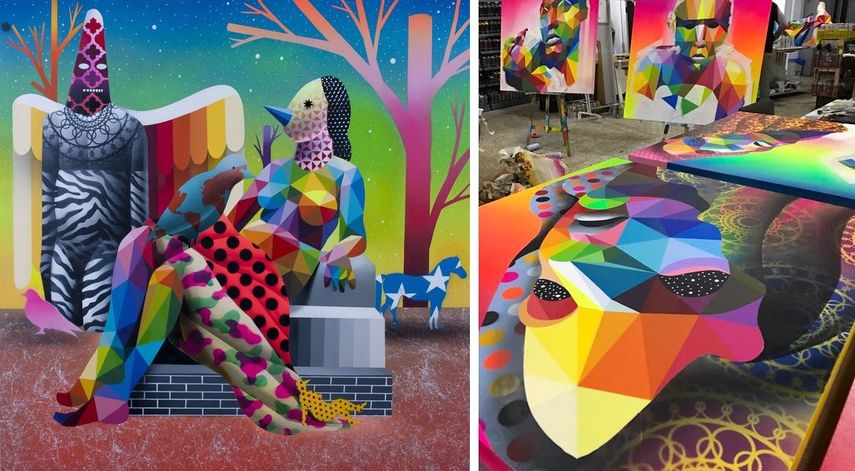 Okuda San Miguel Art Exhibition at Corey Helford Gallery
The exhibition will provide the audience an insight into the artist's vibrant universe characterized by his iconographic language of multicolored geometric structures and patterns. Okuda continuously tries to balance the gray scale with his vibrant palette, using colors as a symbol of life and nature and the latter as a symbol of cement, death, dust and the material of classic sculptures. The exhibition Mayan Renaissance will be on view at Corey Helford Gallery in Downtown Los Angeles from April 1st until April 29th, 2017. The opening reception will be held on Saturday, April 1st from 7 to 11 p.m.
Featured images: Okuda San Miguel - Extasis II (detail); Okuda San Miguel - Universal Freedom (detail). All images courtesy of Corey Helford Gallery.