One of the best known Spanish street artists, Okuda San Miguel is known for his unique iconographic language of multicolored geometric structures and patterns. In these vibrant works, rainbow geometric architectures blend with organic shapes, bodies without identity, headless animals and symbols.
Invited by leading public art firm Justkids, The artist recently visited Fort Smith for the second time to create a colorful work for The Unexpected festival. Titled The Rainbow Embassy, Okuda's newest public art intervention is now permanently on view for all to enjoy within the residential heart of Downtown Fort Smith.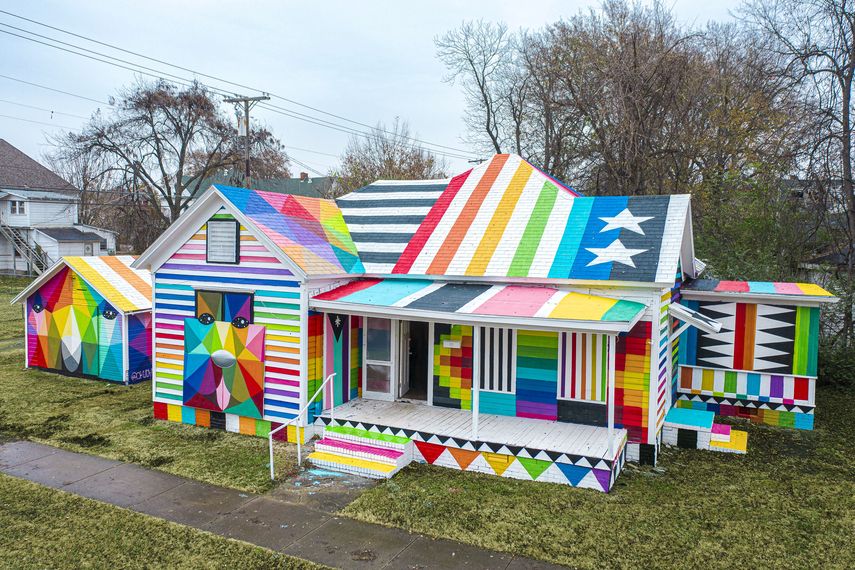 Coming Back to Fort Smith
The work of Okuda San Miguel seems to open a portal to different worlds. Through distinct psychedelic colors and geometric patterns, he deals with complex subjects such as existentialism, the universe, the infinite, the meaning of life, the false freedom of capitalism.
Okuda returned to Fort Smith for the fifth edition of The Unexpected festival, describing it as a very peaceful place to create. This time, he gave life to a previously neglected architectonic structure sitting adjacent to the Darby Junior High School at the intersection of North 14th Street and North G Street. Using his distinct colorful geometrical aesthetic, the artist transformed it into a place of wonder, vibrancy and play for its young neighbors and tight-knit community.
As he explained, he would love for this unique embassy to bring "a touch of imagination and play into the daily lives of the neighboring community and students at Darby junior high."
I'm incredibly excited and grateful to Justkids and The Unexpected for the opportunity to come back and complete The Rainbow Embassy. This project gave me the possibility to expand on my previous work, adding more architectonic dimension and completing my vision of mythical animals.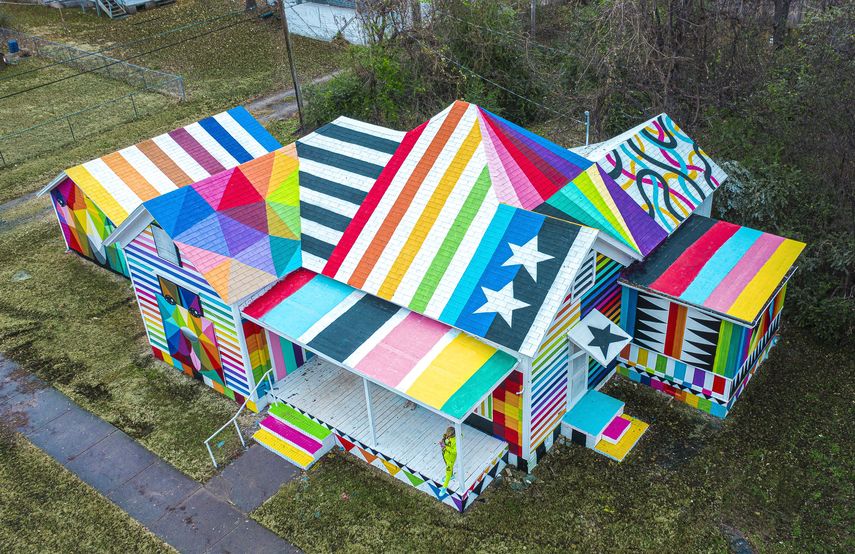 Adding to the Already Incredible Portfolio
Conceived and produced by Justkids, and commissioned by the local non-profit 64.6 Downtown, The Unexpected project has been breathing new life into Fort Smith for the past five years. Bringing to life immersive public art experiences, it generates cultural exchange between creatives and community development.
Charlotte Dutoit, Curator of The Unexpected and Director of Justkids, shared the excitement about this project.
We are elated to have Okuda come back to Fort Smith and add to the incredible portfolio of public artworks The Unexpected project has consistently brought to the region. Okuda's high spirited and immersive works are a true gift of joy to the community, nothing short of a dream come true.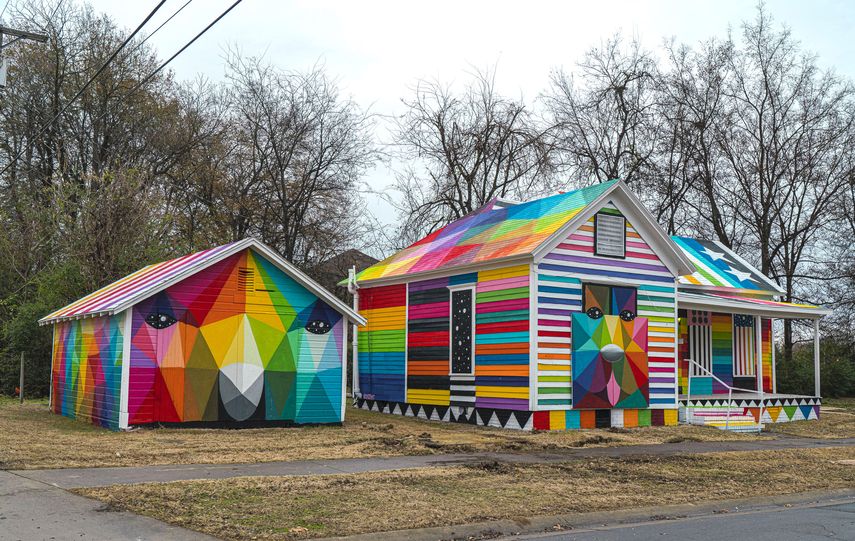 The Unexpected 2019
Returning to the city for the fifth time this October, The Unexpected also welcomed artists Robert Montgomery, who created a poetic LED lighted contribution, Camille Walala, who took over an entire service station, Hilda Palafox, who completed a two-part mural on the Bakery Silos, and Alexandre Bavard, who delivered an adaptation of his performative piece BULKY.
Featured image: Okuda in Fort Smith. All images courtesy Justkids.