There is nothing more beautiful, more delicate, more complex and more priceless than a true female friendship. Olek and Miss Van have been nurturing one of those great relationships, where Olek has been Thelma to Miss Van's Louise. This friendship of two female street artists is reflected in a title of the show happening simultaneously with Miss Van's latest exhibition at Stolenspace - Let's Not Get Caught, Let's Keep Going. The latest crochet series by Olek was produced while the artist, as usual, viewed numerous movies, deliberately revisiting Thelma and Louise picture. Her yarn work at Stolenspace will make a special homage to her dear friend, Miss Van and her dolls and masks inspired paintings. Olek's exhibition inspired by Miss Van is opening on May 9th, and it will remain on view contemporaneously with Glamorous Darkness 
exhibition, until June 1, 2014.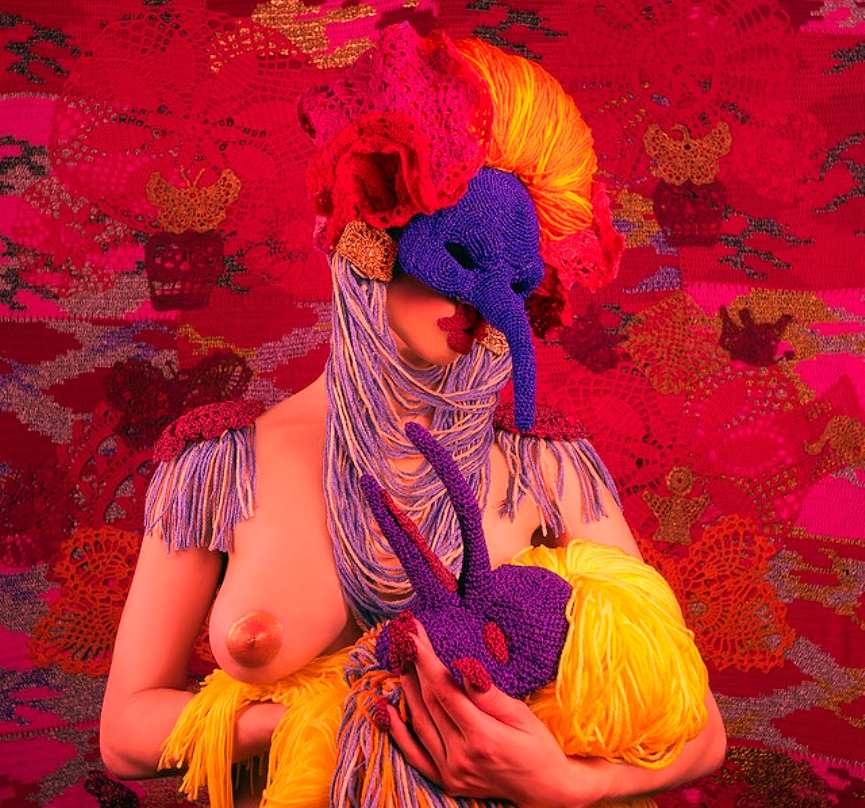 Let's keep going
The newest body of work by Olek consists of several recreated paintings by Miss Van, in crochet and 3D form. The focus of the Polish artist's artwork will also be the mask, with which she worked on a number of occasions previously in her yarn bombing pieces and performances alike. This series will materialize Miss Van's renaissance masks, but Olek wouldn't be Olek if she didn't add a signature twist to the installation - she will cover the entire gallery space in crochet as well.
In relation to the exhibition and the friendship she shares with Miss Van, Olek said:  "I admire Miss Van's strength and beauty. I admire Miss Van because she stayed true to herself through so many phases of her life and through each she has remained an inspiration to me."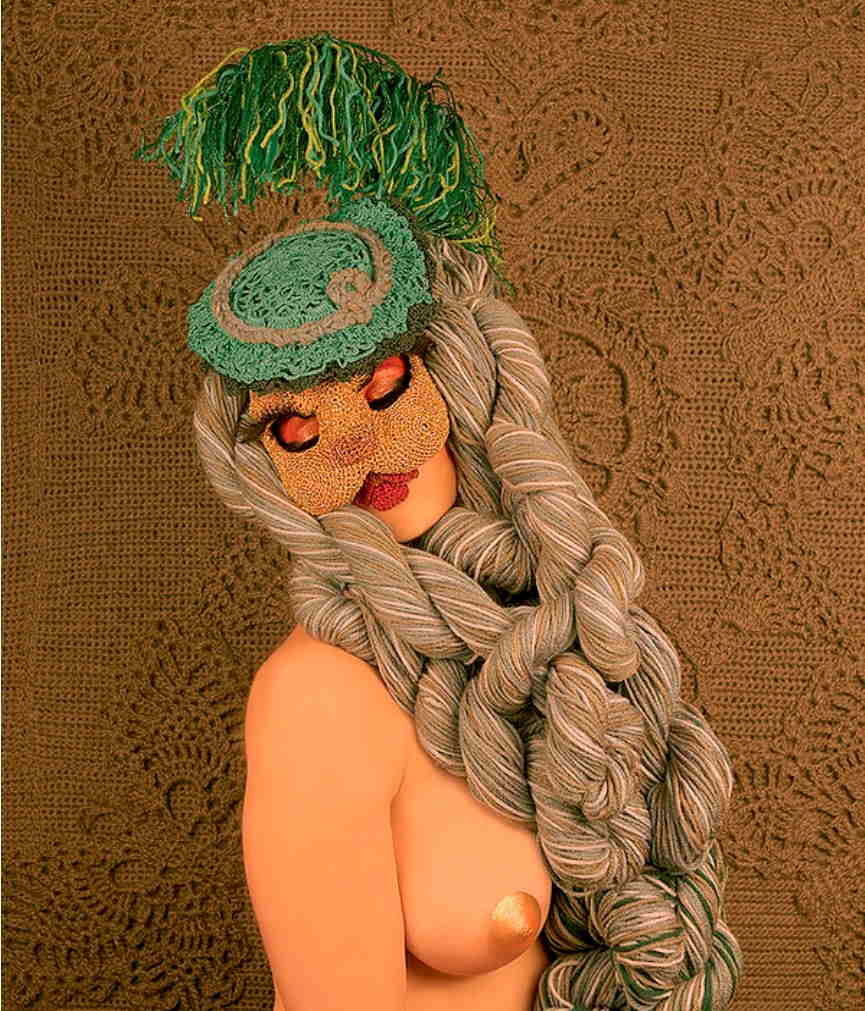 Olek
Olek's real name is Agata Oleksiak. She was born and raised in the Eastern Bloc Poland in the 80s, and her imaginative crochet work and ideas brought her to living and succeeding as a street artist in Brooklyn, New York.
Olek is the unique force on the international street art scene, as her crochet bombs provoke, irritate, inspire and brighten urban spaces. Through yarn bombing, she keeps recreating various objects, spaces or landmarks, while addressing the issues of feminism, sexuality and concepts of novel communication on the chromatic level. She keeps taking further steps in artistic exploration, while her work entered the world of fashion, art, craft and public art, merging notions of sculptural, imaginative, kitschy and powerful. Her pieces in the public space retain their essential ephemerality, while her more intimate work is usually displayed in galleries and it explores more intimate realms of personality, the relations between humans and various carnal and emotional processes.
Olek uses yarn of the brightest colors, deliberately contrasting the grey and grim characteristics of the political or public currents, opposing true nature of monuments that stand for (or have become symbols of) what she is against. Her witty interventions critique numerous traits of the society, while Olek openly advocates women's rights, sexual equality, and freedom of expression. Her solidarity with the groups she supports is often closely related to her work, for one of her recent actions was executed inside a women's prison in Poland. Fighting against oppression, Olek brings life and hope into environments that might have lost some of that driving, vital power.
With her career on the rise, Olek is widely exhibited worldwide, in the galleries and museums and in numerous public spaces. Her work is often featured in prominent publications, while she continues to brighten the reality and raise the awareness for the causes she defends.