Agata Oleksiak, professionally known as Crocheted Olek has been crocheting for more than a decade now. After graduating in Cultural Studies from Adam Mickiewicz University, Poznań, Poland, Olek decided to move to USA and, as a part of her art she did her first piece. The critics loved her, and she was encouraged to do more. She uses different objects, some small, others large-scale and wraps her crocheted work around it – human body, sculptures, even trains and boats. In 2009 she said: "I think crochet, the way I create it, is a metaphor for the complexity and interconnectedness of our body and its systems and psychology. The connections are stronger as one fabric as opposed to separate strands, but, if you cut one, the whole thing will fall apart. Relationships are complex and greatly vary situation to situation. They are developmental journeys of growth, and transformation. Time passes, great distances are surpassed and the fabric which individuals are composed of compiles and unravels simultaneously".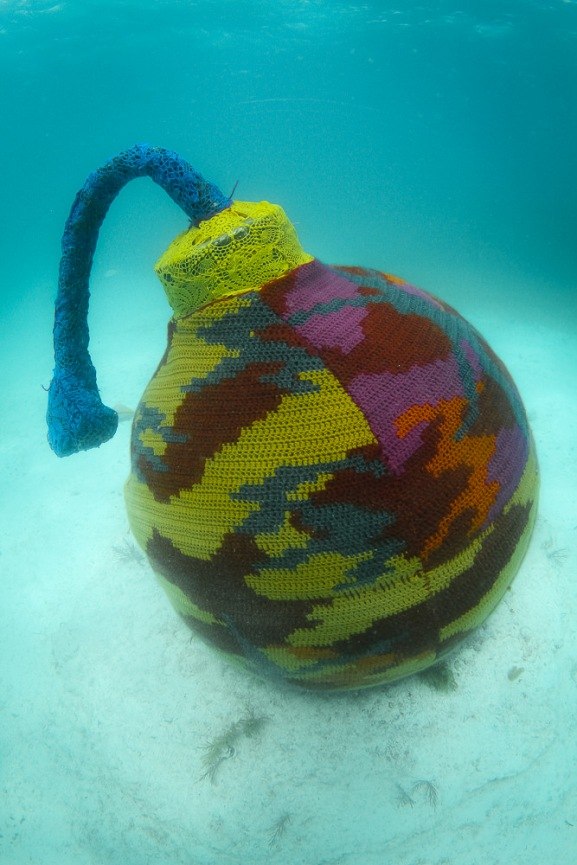 Underwater Museum
Always searching for new challenges, Olek recently traveled to the Caribbean for an underwater installation in Isla Mujeres, Mexico. The tiny island off the coast of Cancun is known for a large number of whale sharks, the largest species of fish on the planet. To make a statement of caution about the declining global shark population, Olek decided to cover two sculptures in Isla Mujeres' underwater musuem, Museo Subacuatico de Arte (MUSA) with her loud, camouflage crochet. The MUSA is an underwater museum created with a goal to encourage the natural growth of coral reefs and has been open to the public since 2010.
Crochete Ticking Bomb
For this project, the artist used safe, biodegradable materials and colors that mimic the reds, yellows and browns of the coral reef. Her intention of covering the bomb sculpture was coincidental – the symbolism is clear – the ticking bomb is used as a reminder of the little time we have until we start doing something to save our environment and ecosystem.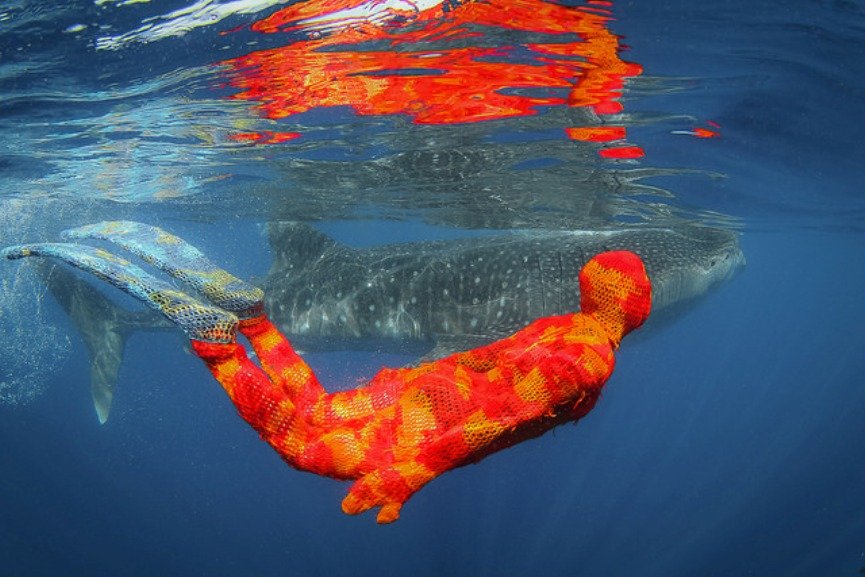 Art With A Purpose
After the underwater installation was done, Olek collaborated with Tre Packard of the marine life-focused non-profit Pangeaseed on a fantastic underwater photo session featuring divers donning crochet mermaid tails, camouflage bodysuits and butterfly wings stitched from delicately crocheted doilies. Olek continues proving that art is not something exclusively terrestrial and that crocheting is not only a women or a housewife thing. She constantly pushes boundaries in art, and using it for a greater cause – to raise awareness.
Video of the Crocheted Time Bomb