Proving that Nothing is [really] what it seems, an American artist Olivia Steele has created a series of works to be presented in a show at the Hamburg based Circle Culture Gallery. The exhibition will be open for public for four days only, so everybody is advised to plan ahead! Opening on the eve of June 25, Nothing is What it Seems will run through June 28, 2014 bringing the provocative, lit-up communiques of Olivia Steele to the public once more.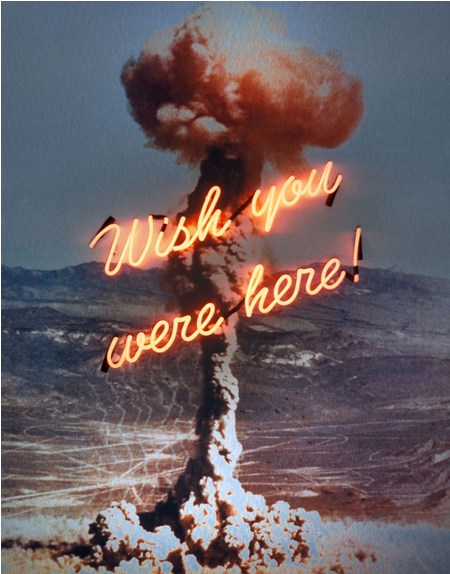 Nothing is real
Exhibition will showcase a selected range of photographs and the artist's latest neon art work, from the smallest to the largest installations in scale. These neon art pieces use the usual medium for commercials and signs - neon glass, making personal statements, which address the artist's deep pondering on the uncertainty of life. Neon statements of Olivia Steele are arranged in a conventional environment, where they remain open to interpretation. Her neon signs emulate elegant handwriting and stand in contrast with the environment, made of landscapes, photographs, found objects, building facades. Through them, the artist conveys messages that draw the attention into more contemplative and conceptual spheres.
Universal Finds
Creating signs that occupy the attention of the observer, Olivia Steel is attempting to depict the truly important things in life, which based on her own experience, are never those that seem important initially. Hence, the show title - nothing is what is seems, as one can never truly be sure of anything, due to the lack of insight into what the future brings. Another level of Steele's contemplative works is transformation, through which she is going through at this point in her life. As her body, mind and soul are changing, the artist concluded that her constant search for answers has brought only more questions upon her. One of the strongest impressions she gained is that control is not real, since nothing can really be controlled. Important insights she gained on her long spiritual journey are that the answers to universal truths can only be found within ourselves.
Spirit and Body
Inspired by the otherworldly nature of divine inspiration, the artist created Nothing is What is Seems collection of work, by assembling repetitive emotions she experienced while going through the period of transformation. The exhibition will encompass singular photographs of installation pieces used in the recent filming of a short movie Out of The Wild, which tells the story of mother nature and the afterlife. The works pay homage to the to all the lessons, things left, rejections and other hard moments that keep multiplying as the life goes on, while the artist illuminates our perception with acumens formed in neon glass.
Olivia Steele
Olivia Steele was born in 1985 in Nashville, Tennessee and she is now based in Berlin and London. Her work has been exhibited throughout Europe and in the USA, and she showcased her work at the Circle Culture Gallery in the previous years.
All images courtesy of Circle Culture Gallery