Generali, a historic insurance company founded in 1831, has launched a new service platform for art collectors called Arte Generali. The goal of this move is a total dominance of the art insurance market, starting with competing with his former employer and current market leader, French multinational firm AXA.
The poster boy for this innovative global business unit is non-other than Maurizio Cattelan, whose 18-karat golden toilet titled America, valued at $2.6 million, was stolen this September from his solo exhibition at Blenheim Palace in the United Kingdom. The cover was shot by Italian photographer Oliviero Toscani, who collaborated with Cattelan on the project.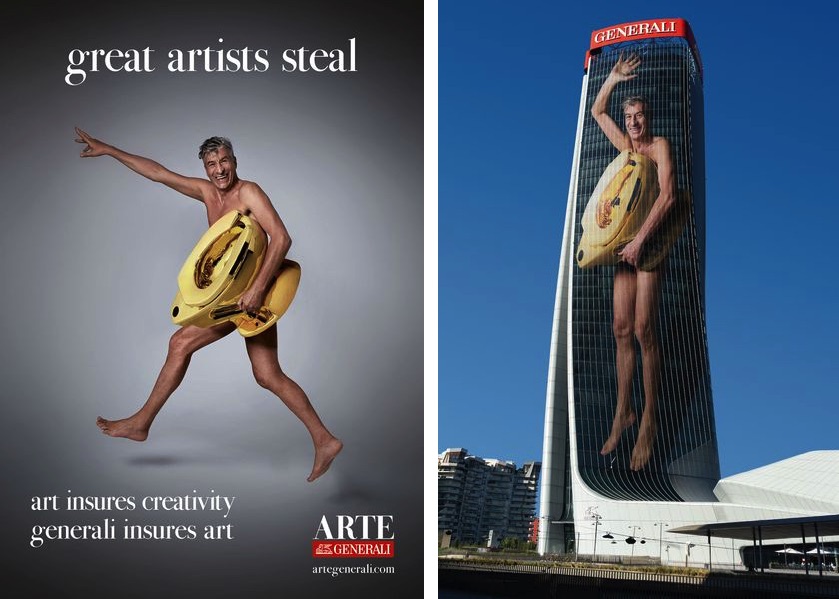 Arte Generali
An insurance giant with almost 190 years of history behind it, Generali invested its know-how to offer a suite of prevention, protection and insurance solutions for art collectors, integrated with unmatched services and cutting-edge technology. As Philippe Donnet, Group CEO of Generali explained, this platform marks a new chapter in the history of Generali in the insurance world.
Arte Generali is closely linked to Generali's skills, experience, legacy and DNA because it can leverage the Group's leadership in terms of technical performance and its tradition as a patron of art and culture.
Seeking to become the collector's insurance partner, Arte Generali will offer innovative and personalized solutions that go beyond insurance coverage for art pieces, jewelry and other valuable belongings and include assistance in the form of, for example, restoration, transport and storage, as well as digital tools that make use of the latest technology.
This move is part of Generali 2021's "profitable growth" plan - with opening up to the art business, the insurance company expects that the global art value will increase by more than 20% from 2017 to 2022 and that the art insurance revenues world-wide will rise by 6% yearly on average over the same period to reach $2.3 billion.
Arte Generali's Campaign - Maurizio Cattelan by Oliviero Toscani
The Collaboration With Cattelan and Toscani
Giovanni Liverani, CEO of Generali Deutschland and member of the Group Management Committee, said he was very glad "for the support of two world-class artists like Oliviero Toscani and Maurizio Cattelan as testimonials of this venture."
On the promotional posters, Maurizio Cattelan appears nude with a strategically placed copy of the infamous toilet. The artist, who managed to turn his recent loss into an opportunity, explained that this new platform "juxtaposes the risk run by art collectors of their art pieces being stolen with the metaphorical act of stealing that every artist commits."
My whole career has been based on the non-existence of originality—in other words, the ability to invent by adding to something that has been invented already, or the ability to elicit unexpected emotions by triggering emotions that one felt already before.
Oliviero Toscani, a world-famous photographer best-known worldwide for designing controversial advertising campaigns for Italian brand Benetton, from 1982 to 2000, explained that the shoot was an exciting challenge that he faced with great pleasure. Describing Generali as one of the most trusted names in the insurance industry, he said the name itself reminds him of Italy, tradition, history, culture and art.
Arte Generali's image aims to reinforce these perceptions while leaving a meaningful memory in the viewers' eyes and brains.
Their collaboration also includes the promotional video showing Cattelan jumping and tripping up and down, covering himself with reproductions of two of his most iconic works.
Featured images: Maurizio Cattelan, details of the promotional campaign. Courtesy of Arte Generali, Photos by Oliviero Toscani.