When it comes to the European graffiti and urban art scene, the developments in France, as well as its many talented artists, surely were an immense influence. Among the creatives who contributed to the visual identity of French street art could be Onemizer, whose love for the arts came from many sources.
As a child, he spent some time in Africa, where he was introduced to watercolor, and as a teenager, he roamed the streets of Paris with his parents, discovering graffiti first-hand.
Now, he will have a solo show in the French capital, courtesy of Galerie Perahia, in which a selection of works will once again showcase his humorous style.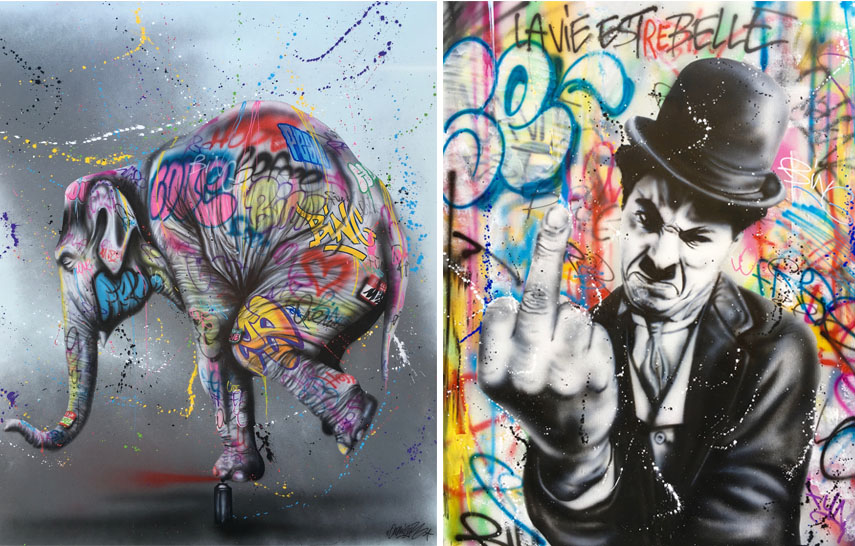 Onemizer's Artistic Journey
Like many before and after him, Cyril Valade aka Onemizer started practicing his painting skills on blank walls, vacant parking lots and abandoned railroads and cars. For him, the whole city was a museum filled with artworks everywhere, and he wanted to become a part of it.
Self-taught for the most part, Onemizer continued to improve, eventually moving on to using canvases as the primary support for his artworks. Many of these ended up being on display across the city, except this time they were indoors: at luxury hotels, in restaurants and bars etc.
Apart from participating in numerous exhibitions in France and abroad, the artist was also one of the makers of the largest graffiti piece on canvas in Dubai in November 2014, which has been approved for the Guinness Book of World Records!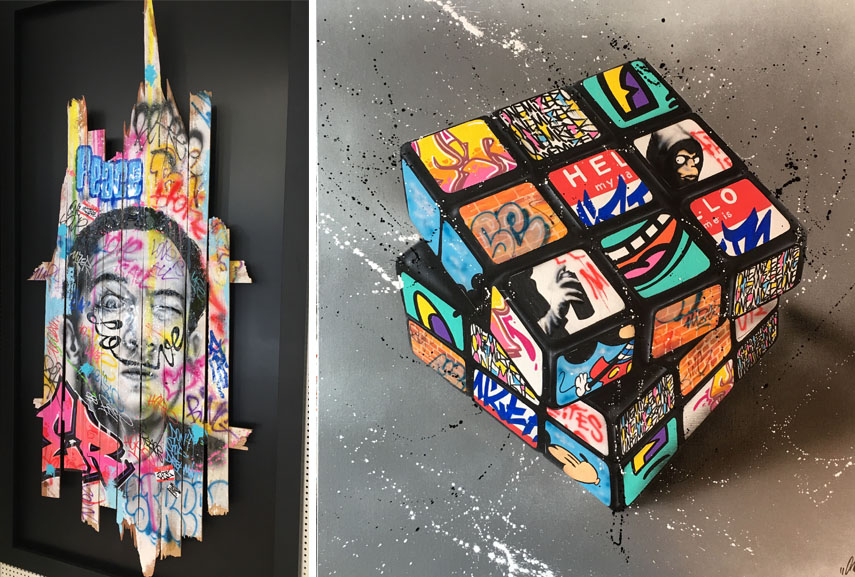 An Explosion of Creativity
By his own admission, and judging by the artworks he makes themselves, Onemizer draws inspiration from Pop art masters such as Andy Warhol and Jean-Michel Basquiat, but also from the mundane and the everyday life, his surroundings and the street art scene at large.
He enjoys working on his lettering, revisiting and reinventing portraits of famous personalities that have market our history, or only his own, as well as objects that fascinate him.
Over the years, Onemizer developed a wide range of different styles, often employing a variety of vibrant colors and techniques such as spray painting, stenciling, drawings, posca, brushes, ink and sometimes even his hands. His art is used to being constantly in evolution, resulting in a marvelous, dynamic oeuvre.
Onemizer x Galerie Perahia
Onemizer at Galerie Perahia
On this occasion in France, Onemizer will once again present a body of work which interacts with the world and its aspects, through humor, nostalgia, admiration, and an insatiable inspiration to create. His pieces let us see things in a different manner, and invite us to his imagination as an alternative universe which looks familiar, but is essentially much more colorful.
Onemizer's solo exhibition Quality Street will open at Galerie Perahia in Paris, France, on November 16th, with the cocktail reception held between 6 pm and 10 pm. The show will stay on view through November 30th, 2017.
All images courtesy Galerie Perahia.