The coronavirus pandemic is changing the world as we know it. The rapidly-spreading infection is forcing institutions from Parliaments to galleries to go virtual. While technology has been redefining art in the most unusual ways, many are questioning its ability to not bring only physical barriers but thoroughly substitute the in-situ experience of art. Taking delight in artwork as you roam galleries and introspect every tiniest detail before you decide on purchase - could that experience be entirely replaced by online viewing rooms? We are soon to find out!
The first big league event to cancel its physical meetup was Art Basel Hong Kong earlier this month after major airlines called off flights to Hong Kong. Rather than calling it quits, the famed fair with a record 88000 visitors last year rushed to offer online viewing rooms for the very first time - a new digital-only platform for the galleries and collectors.
After I registered - for free, only two days after rooms went live for VIP guests - I was allowed to take a "walk" through virtual galleries, browsing thousands of artworks and contacting them for sales inquiries. This largely uninvited but seismic move was only possible because Art Basel was already developing online viewing rooms to complement the collectors' experience. According to Marc Spiegler, global director of art Basel, their fast switch was manageable because "the infrastructure was in place."
Perhaps the coronavirus has only fasttracked future propelling the inevitable sooner than we expected - and some of us were ready for?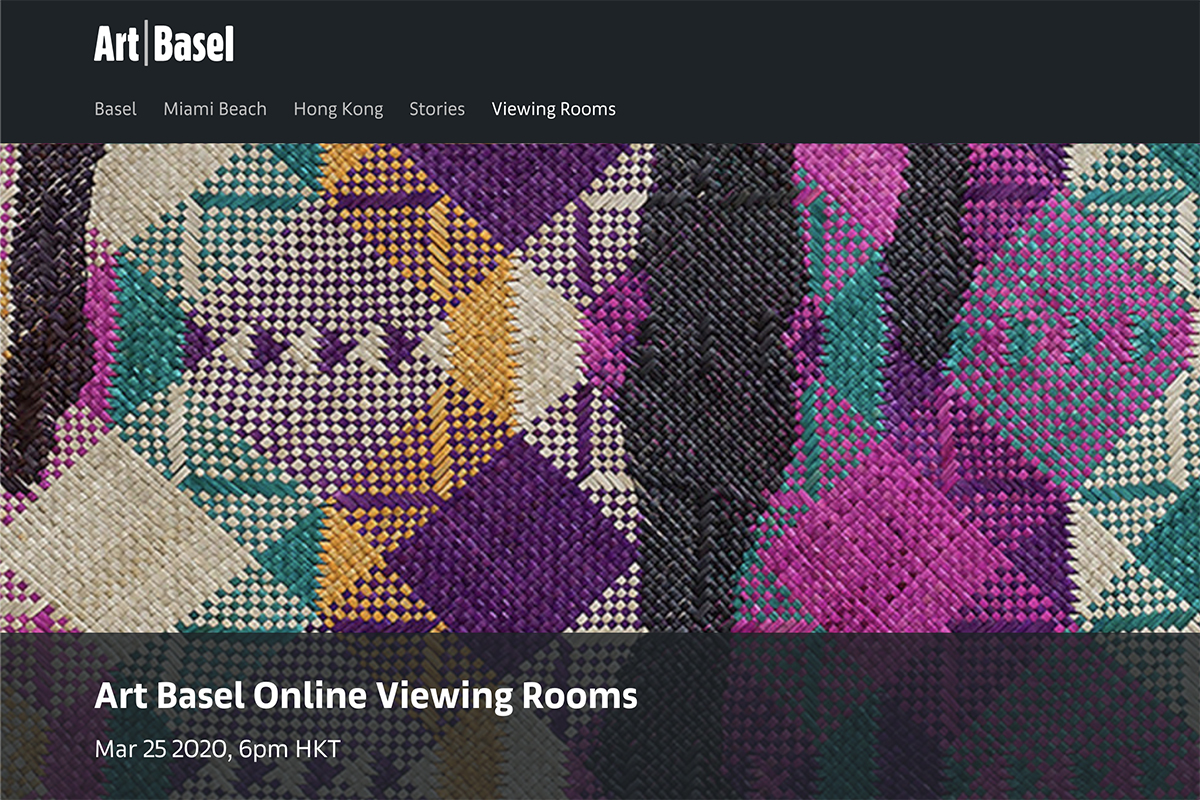 Online Viewing Rooms: The Pre-Corona Times
While more than 2500 museums and galleries, including among others the Louvre, the British Museum, the Rijksmuseum or the Guggenheim, have for years now shared their exhibitions through virtual tours, these remained largely rudimentary and tailored to match interests of students rather than art aficionados. But their sketch-up floor plans, video, and stills that create an illusion of in-person presence inspired David Zwirner to put on an online viewing room in addition to his brick-and-mortar galleries.
In January 2017, Zwirner was the first to launch an online viewing room after realizing how much business was done through online previews and before the fairs took place. "The art world is late to the party if you think about other retail experiences," he somewhat regretfully concludes with 54 virtual exhibitions to this day under his belt. But, online viewing rooms are anything alike virtual museum tours or art sale websites. "It's a structure which has purpose, consistency, focus and a whole team behind it", explains Elena Soboleva, director of online sales at David Zwirner. And that structure includes everything but the physical display of a piece - the inventory, photography, moving registrars, etc.
Gagosian was quick to follow David Zwirner's lead and launched its first online viewing room during the Art Basel Switzerland in June 2018. During 11 days of viewing, Gagosian harvested $2 million that propel them to host the next online viewing room as early as October during the Frieze London. Gagosian continued to host online viewing rooms timed to correspond with key art fairs and bringing hefty profit from online sales. Yet, they were not alone. More lightweight players like Monya Rowe Gallery and Silas Von Morisse Gallery also jumped on the bandwagon before the coronavirus made everyone consider it.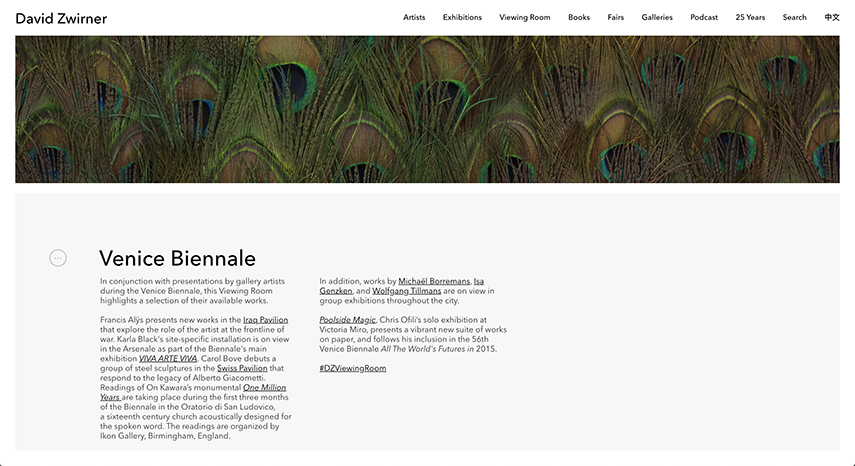 The Corona Times: Will Online Viewing Rooms Become the New Norm?
With pioneers like David Zwirner and Gagosian setting the scene, others were to follow their path and the coronavirus pandemics seems to just accelerate that transition. When two weeks ago the Tefaf Maastricht fair closed following a positive test by an exhibitor, they were quick to adapt to the changing circumstances. Since the online viewing rooms were considered for a while as a complementary option, they were ready to migrate online when the coronavirus hit. Others got on board with slight hesitation. Nick Acquavella, a partner at Acquavella Galleries tried to explain their hasty adjustments for Art Basel Hong Kong: "We don't want to close our minds to something new that could be potentially beneficial, but we also don't have to be the tip of the spear."
For some everything happened too fast and they were left fairly unprepared. Art Dubai scheduled to start this week in Madinat Jumeirah, postponed its 14th edition to later this year. However, the organizers decided to digitally run the event with local galleries and projects featuring online catalogs, live broadcasts, and online performance. Options requiring more taxing prep work, including online viewing rooms, will have to wait for a while.
Meanwhile, the pandemics of postponing is spreading rapidly as well. Art Cologne and Frieze New York, as well as Tefaf New York Spring and Art Basel Switzerland, are all pending in hope that this calamity will end soon.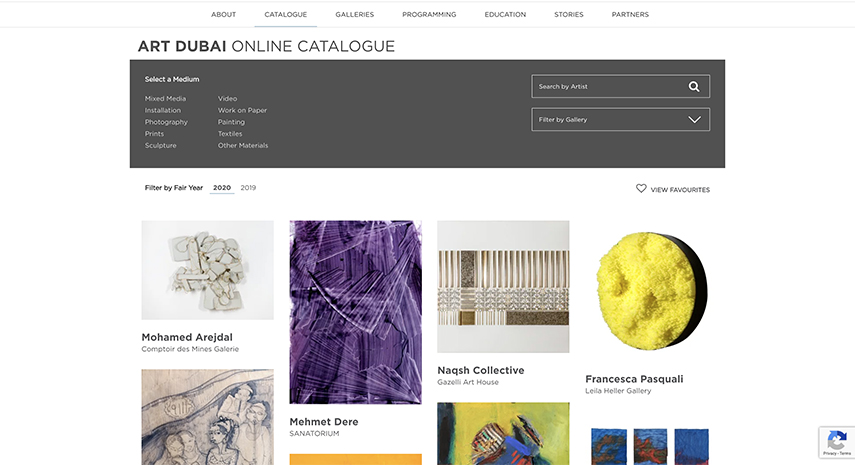 The Pros and Cons in Times of Coronavirus
Given that the coronavirus just introduced online viewing rooms sooner than we expected, many arguments floating around for years are still valid. Most can be subsumed under the categorical claim that online viewing rooms could never replace the experience of encountering an artwork in person. But, the world is still briskly transitioning to the virtual sphere and collectors are already buying online, enjoying all the conveniences of an online sale.
The problem with the coronavirus is that it is making the situation either-or - online viewing rooms are not only a convenient addition but the only game in town. Uncertain how long this pandemic will last, let us not be quick to dismiss the digital experience and all the benefits of online viewing rooms.
- Collectors from the Elsewhere: David Zwirner's sales records explains it all. Their ten most expensive works purchased through online viewing rooms all went to places where they have no physical galleries - like Antwerp, San Francisco, Toronto, and Houston. Clearly, an online presence allows for a new network of collectors to emerge as they make online inquiries and finally, purchases. Also, many collectors dislike travel, many are complaining of the "fairtigue", some are too busy to wander around galleries and fairs or simply are unable to travel.
- Sell, but Educate: Online viewing rooms can support additional content including material related to the historical context, art history references, even essays, and other interesting reads. Building on an already existing partnership of Google Arts and Culture and leading museums and galleries, full 360 views of digital tours, videos and stills can be supplemented with historical overviews and artists' bios.
- Transparency, Finally!: Art fairs have been harshly criticized for their nontransparent pricing and many art collectors professed to prefer auction houses solely for that reason. Online viewing rooms from the very beginning established good practice of displaying prices that made the process once labeled as opaque not only more transparent but accessible as well.
- Sustainability Again: Environmental concerns, particularly reducing carbon footprint have become the new imperative as the prospects of climate change remain dismal. Online viewing rooms eliminate a significant portion of fair-related air travel and shipping. David Kordansky Gallery launched its digital outlet with a group show to fundraise for nonprofits combating climate change. Zwirner is also fairly supportive of stronger online offerings which he believes "it could do everyone a favor - and the environment."
- Extra Benefits for Smaller Galleries: Online presence could be a saving solution for smaller galleries that are struggling to keep pace with their more established counterparts. Skyrocketing exhibiting fees, expensive air flights, hotels, shipping, dinners, and parties - are all part of an unbearable financial burden that smaller galleries hardly can cope with. Most cons boil down to the fact the experiencing art in person and online are diametrically different and incomparable experiences. Some will add that it is not only about seeing the art "in the flesh", but that the physical presence allows for a collective experience to take place. But if online viewing rooms are to complement and not entirely replace physical fairs many of these arguments wouldn't hold water.
- It's More About Non-Art: Much of the art world today is event-driven. Art fairs, galleries, auctions - they all rely on physical, or more precisely visual, interaction. But there is more than that interaction - namely, fun! As someone noted there is no virtual champagne and arty jet-set who enjoys fair hopping and afterparties will find browsing online content tiresome. Not that a VR headset can't spur the excitement, it is more than champagne and afterparties can spur some more.
- Some More Than the Others: The nature of our computer screen (let us stay with computers for now) entails some limitations that are yet to be overcome. For example, could we really experience the texture of painting online in the same way as we would in person? However, the virtual world favors some forms of visual arts over others. Interestingly enough price also comes to play favoring cheaper art when buying takes place online. According to Elena Sobolova, online viewing rooms are more suitable for "prints, drawings, or other comparatively affordable works." Not surprisingly, the online will find its darlings among already established artists.
- Everything Has a Price Tag: If you haven't explored this option before it will take some time and undoubtedly - money. There are companies that help galleries go online, displays a variety of options, including online viewing rooms, for example for £95 a month. Adding virtual walk-throughs, online catalog or live talk will add to your bill but considering the constant growth of online art sale, you should consider all additional as a worthy investment.
Featured image: A Screenshot of Gagosian's Online Viewing Room Art Basel Hong Kong 2020.