The end of October is the time of supernatural, as the occultists, Wiccans and the religious celebrate the 31st of the month, all under a different name. Only one day before the Samhain, Canadian gallery Yves Laroche from Montreal openet its larges group exhibition to date, evoking both the manifestation of a strongly vibrating group spirit, and a notion adopted by a group of 20th century modern surrealists from Quebec, entitled s Égrégore.  A vast group of 53 international artists, of which the most have found their expression within Pop Surrealism, have exhibited their work at the show, conjuring the common entity which they shape and invoke with their artistic contemplations and actions. The opening, brought to you via selected photographs, was successful, as was the turnout, in what appears to be a positively ethereal atmosphere.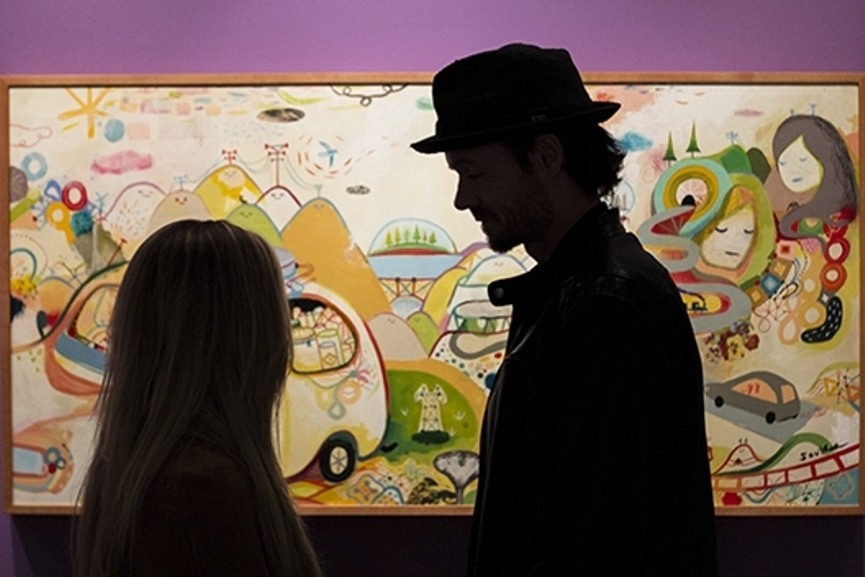 Égrégore - The Concept
To fully grasp the concept of  Égrégore, one must view it from all angles, as the idea of it largely metaphysical. It was the preoccupation of occultists, who believed, and many still do, that a supreme entity is created by joint vibrations, thoughts and desires of a group of people, while all people are unconsciously connected by such an entity. In psychological term, it represents and atmosphere or common personality developed in groups, independent of any of the single members, its intangible, but experienced, giving out an inexplicably "different" feeling than usual. Positive or negative, but essentially potent and neutral, Égrégore depends on the vibration levels and frequencies endowed by each of its constituents.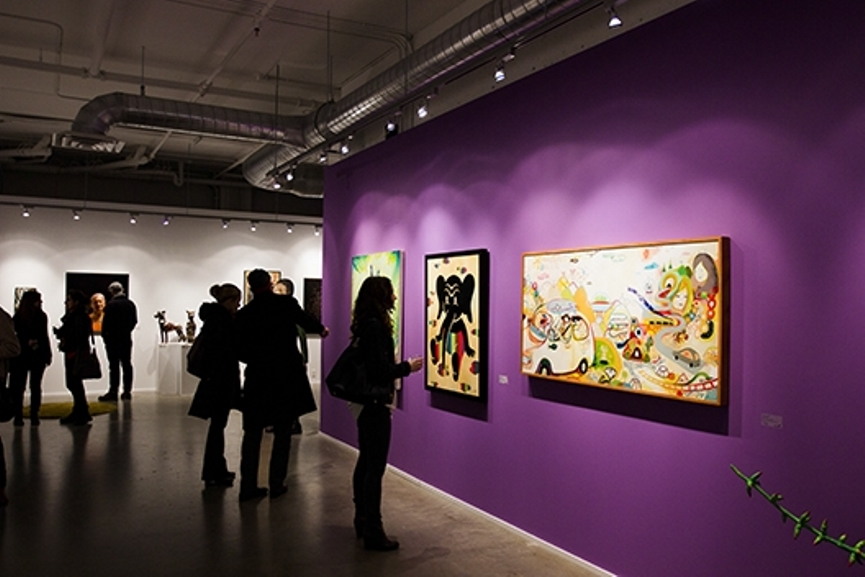 Yves Laroche was conceived upon the ideas of Pierre Mabille, but more so connected to the notions of Canadian artistic group Les Automatistes from mid 1900s, who were led by Surrealism and fascinated with its teachings on automatism. As the contemporary offspring of modernist surrealistic ideas, Pop Surrealism makes an ideal plane to research such a concept in current art.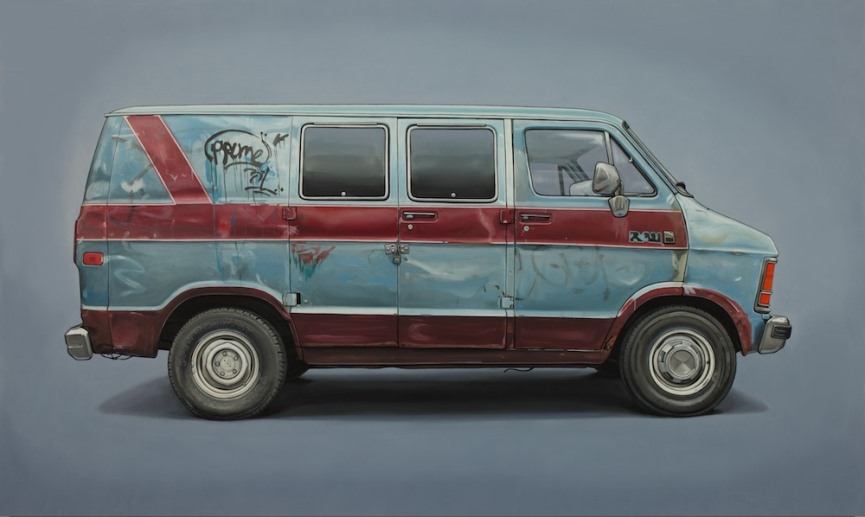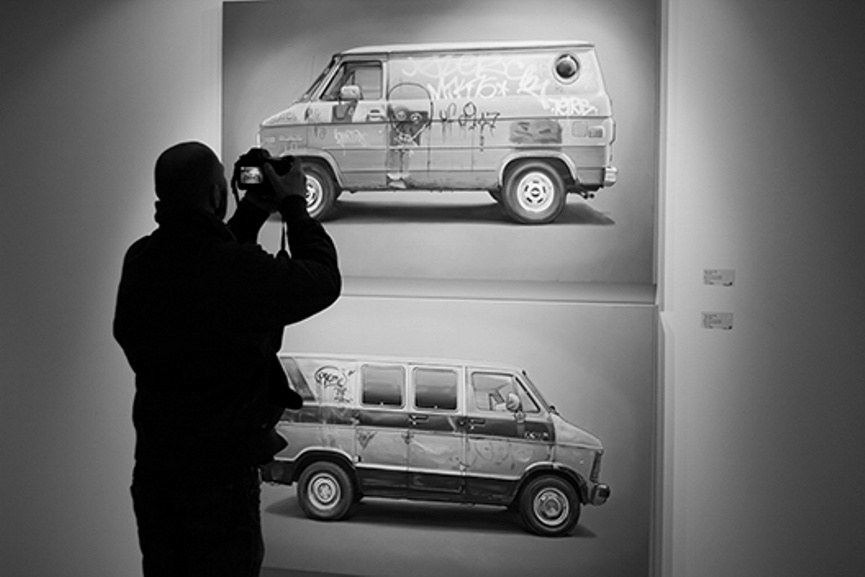 Works of art and the opening at Yves Laroche
Comprehensive and visually demanding, Égrégore exhibition is expectedly diverse, although the pieces were curated having one guiding thread in mind. Abundance of styles and approaches is unavoidable when over fifty artists are represented together, but a common line is still visible, as each one of them, more or less overtly, signals the sources of their own "divine" inspiration. Égrégore notion is thus symbolic, representing the dramatically overwhelming urge to create, which flooded minds and souls of the showcased group of pop surrealists, contemporaries and urban artists. The entire exhibit is thus a reflection of how mighty the together value of various parts can be - pertinent to the hosting gallery, dedicated to many different expressions.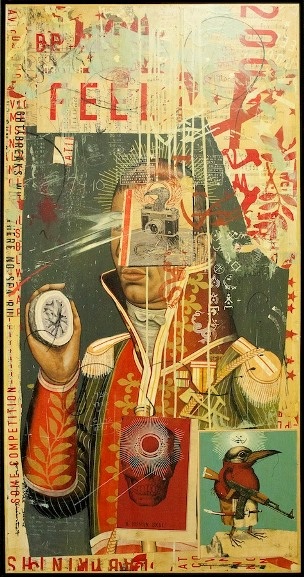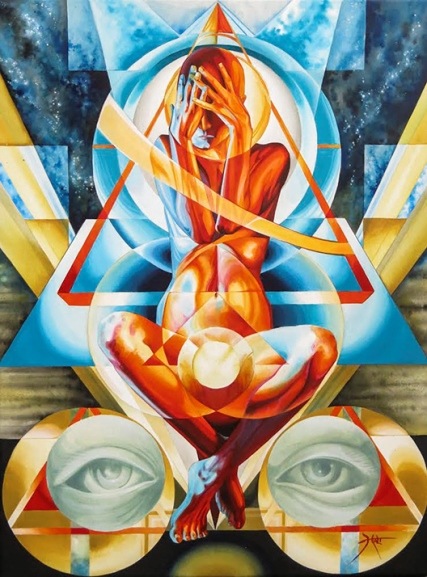 Highlights of the Exhibition
Some of our favorite artists took part at the Egregore driven exhibition. Amon them there are the legend, Ron English with a peculiar apocalyptic vision, AJ Fosik with a phenomenal votive mask, Miss Van and her arcane seductresses, Jeff Soto with his irresistibly spooky creatures , and Kevin Cyr with his vans.  Lucien Shapiro brought yet another one of his Masks, which seem deeply inspired by Robert W. Chambers' The King in Yellow, just like The True Detective show, with which parallels can be detected throughout his work. Ravi Zupa's piece The Feel of It, executed in mixed media, encompasses the surrealist train of thought excellently, as it's dissolved by suggestive, oneiric fragments, while harmoniously tied by the artist's compositional skill and feel for color. The painter of the eerie, leaning on the darkest times of the Gothic age, Chris Mars is also in the roster, showcasing one of his gloom-infused visions. Odd, but not uncomfortable pieces came from the studio of Jean Labourdette, a.k.a. Turf One, in the form of strangely assembled sculptures, with elongated figures and weird juxtapositions of ordinary elements. For a full list of participating artists, read our article Collective Consciousness announcing the show.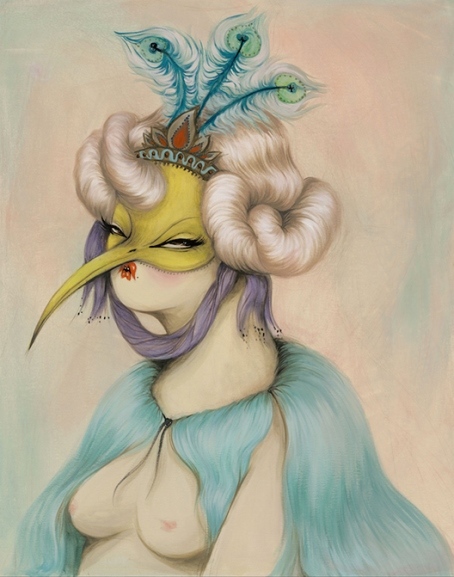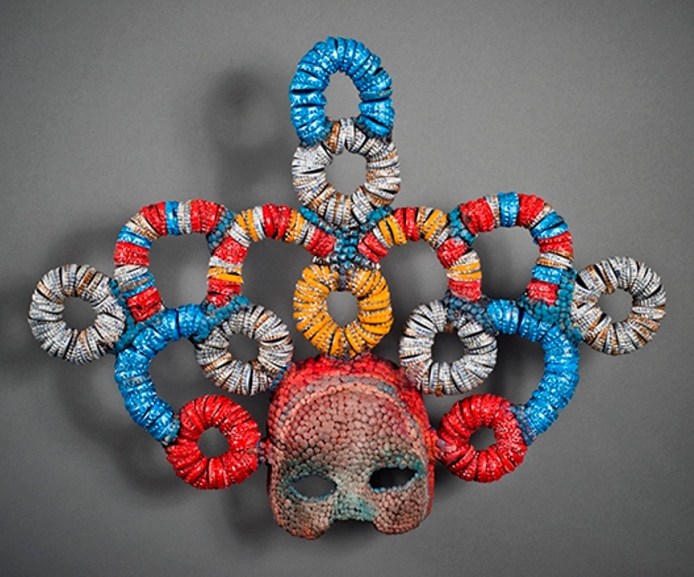 ÉGRÉGORE - The Zenith of Pop Surrealism
Opened on October 30, Egregore - The Zenith of Pop Surrealism at Yves Laroche Gallery will remain on view through December 24, 2014. This article was made in the attempt to bring our readers a fraction of the opening night atmosphere via photographs.
If Pop Surrealism is one of your preferred styles, and you thrive on new imaginative scenes painted by the fanciful artists, sign up for My Widewalls and stay tuned with all the news related to the world of new contemporary art!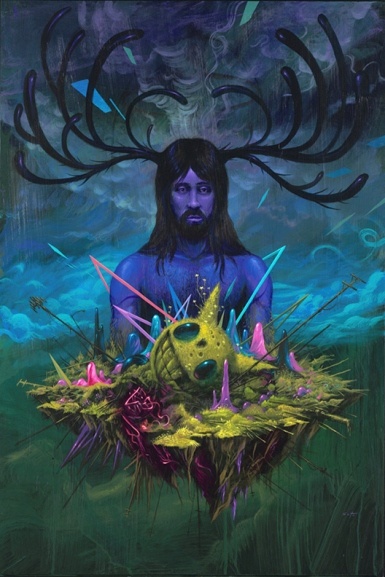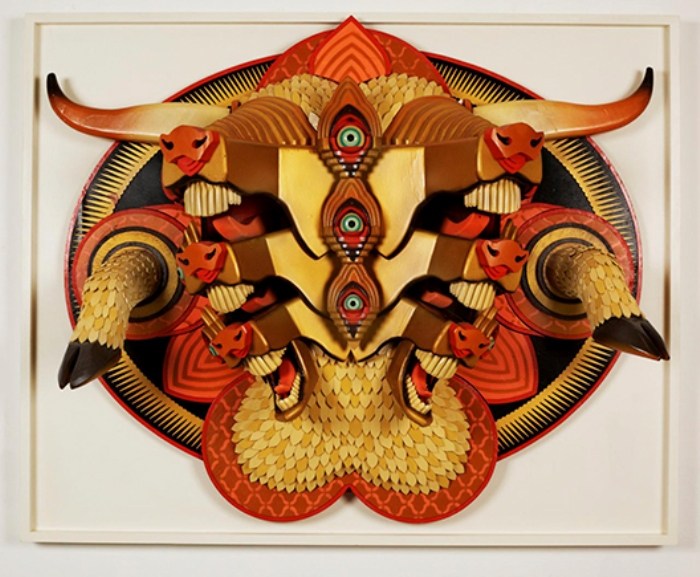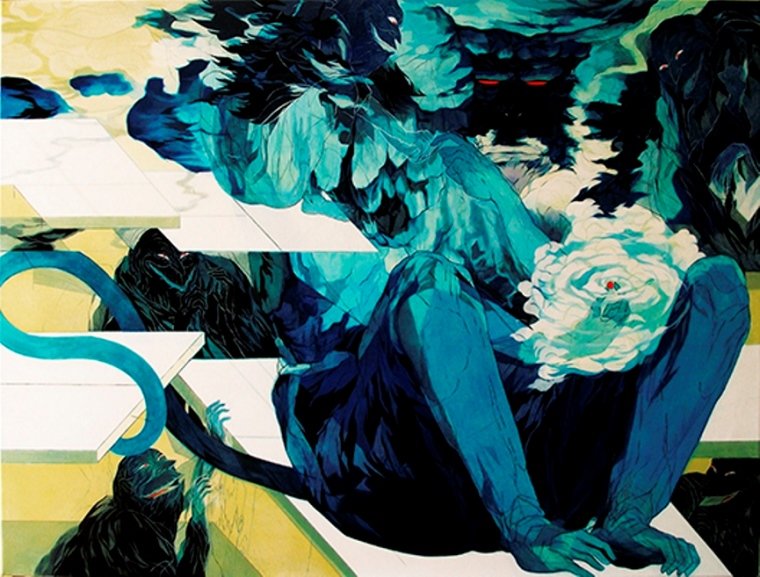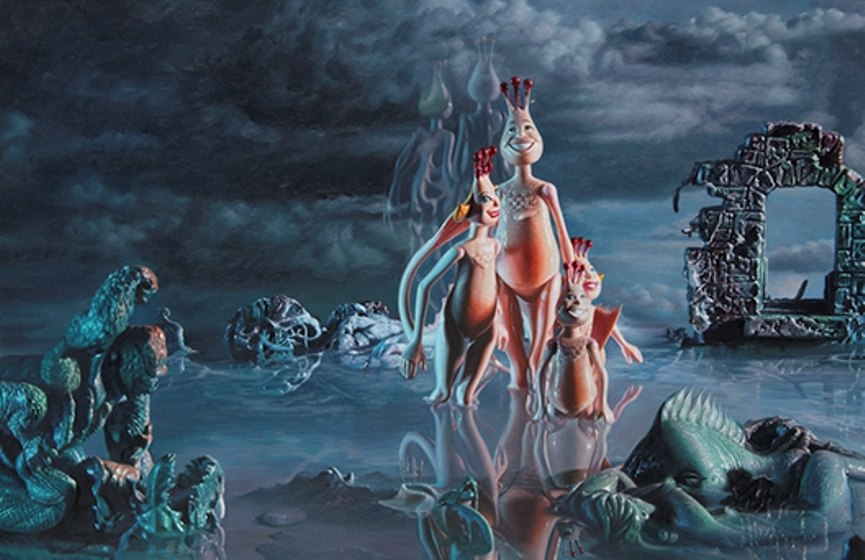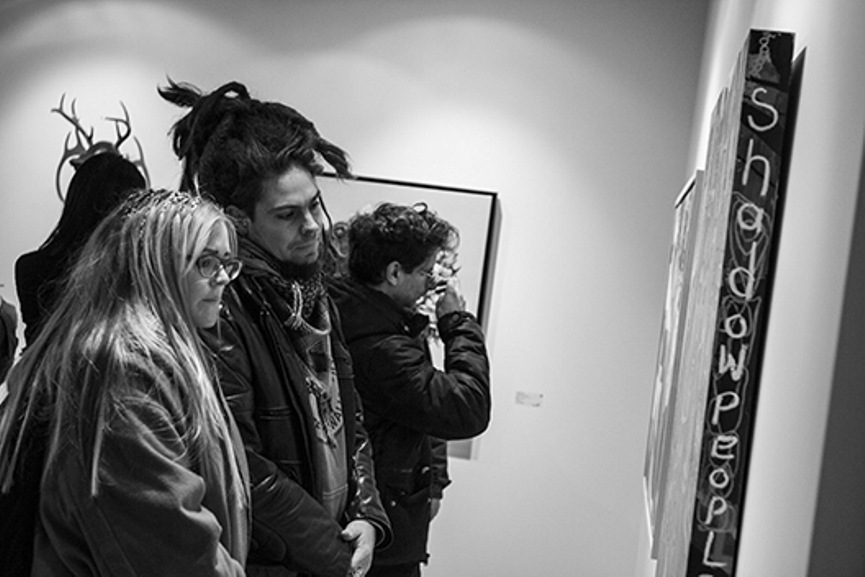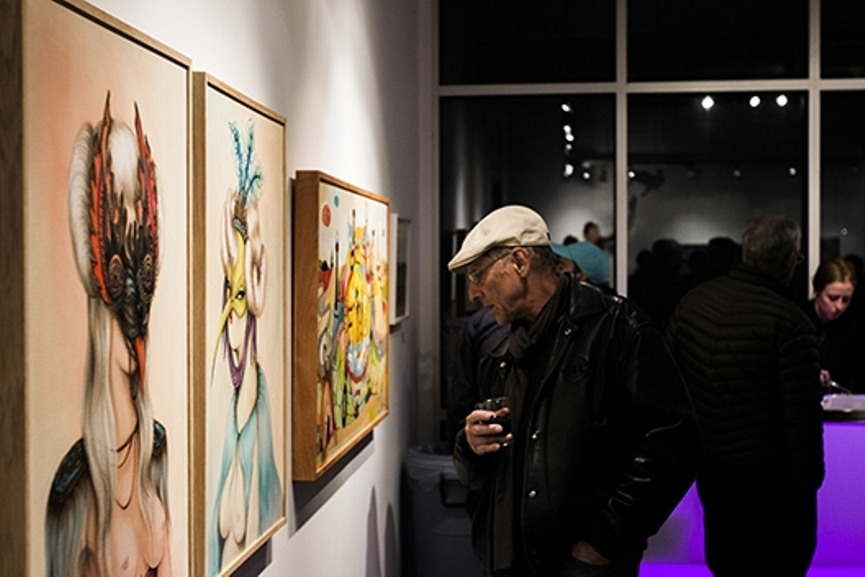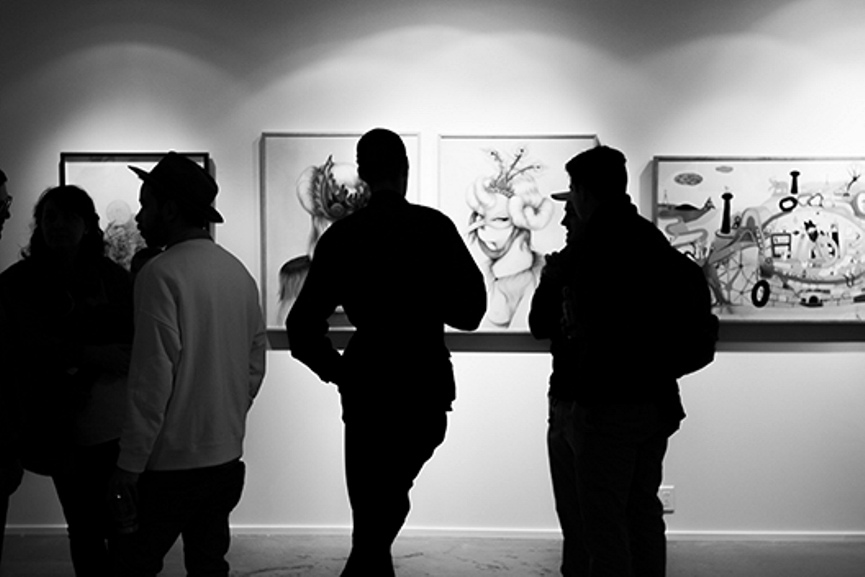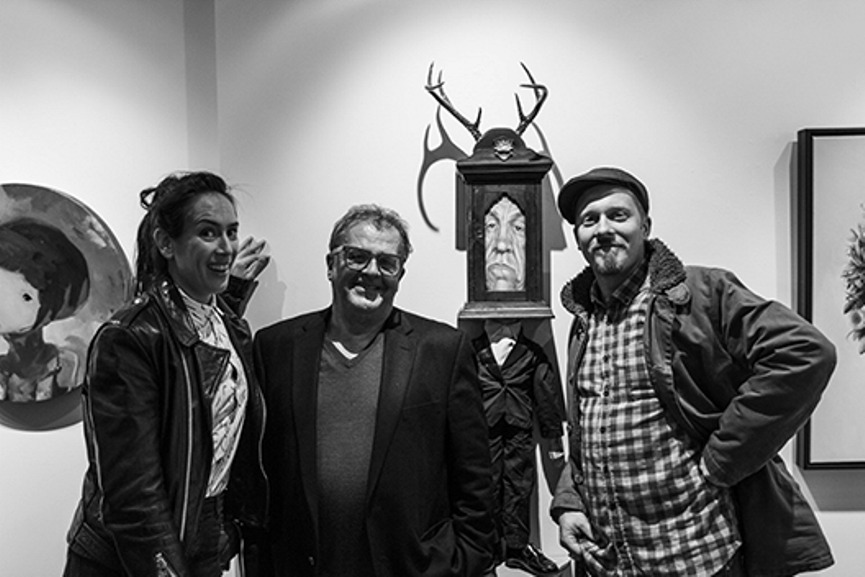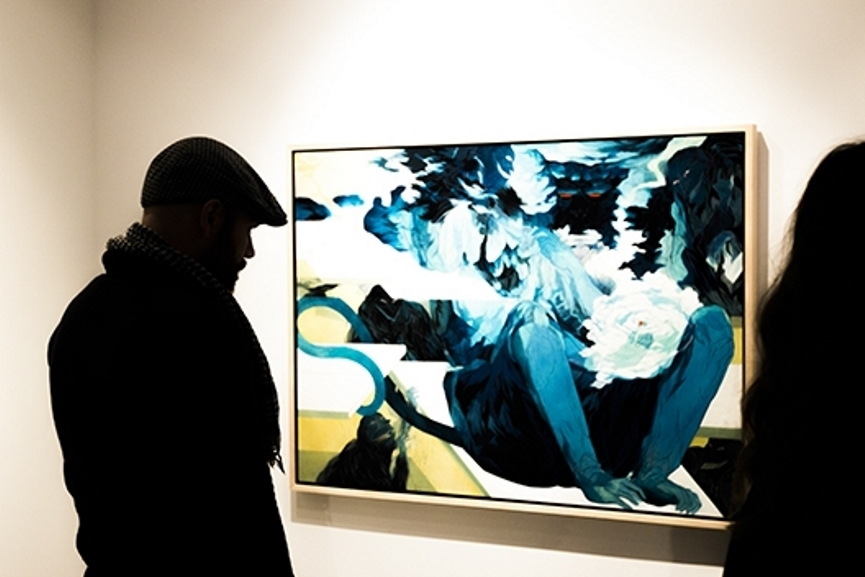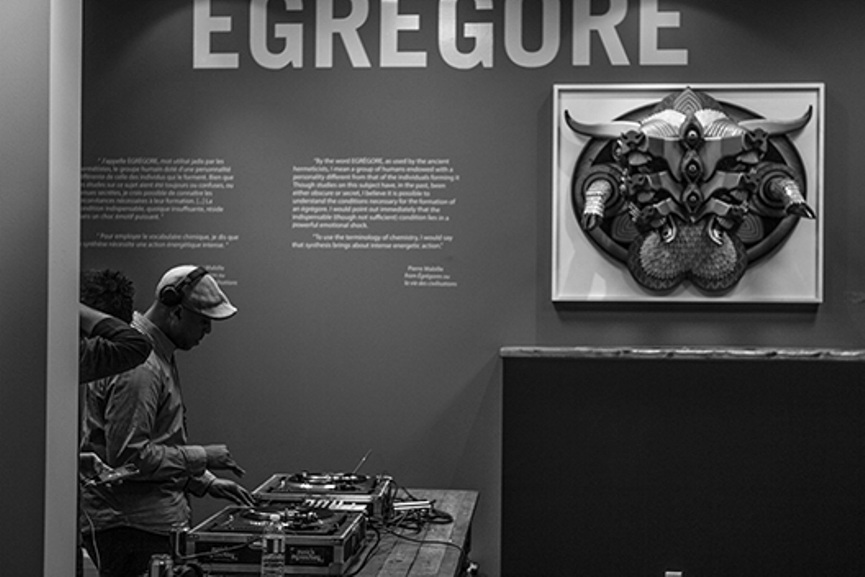 All photos © WILLIAM B. SABOURIN, courtesy of Yves Laroche Gallery