An Ensemble of Inspiring Individuals from the UK has been selected by the Galerie Le Feuvre for the show &Friends - The UK Collective. Opened on November 13, the exhibition introduced new works by six British street and urban art stars to the Parisian public. The opening went down in a friendly atmosphere, illuminated by variety of styles, gleaming colors and enticing visuals. The show was devised to ignite the interest for the UK urban art scene in France, since none of the exhibited artists have been receiving much attention in the City of Light (save for Mr. Jago). Le Feuvre Gallery endeavored in inviting Andrew McAttee, Sickboy, Paul Insect, Word to Mother, Xenz and Mr. Jago to exhibit at its French quarters. At the same time, another show is running at the Le Feuvre Gallery in Geneva, presenting some of the artists shown in Paris in a different group, entitled Paper Party 2.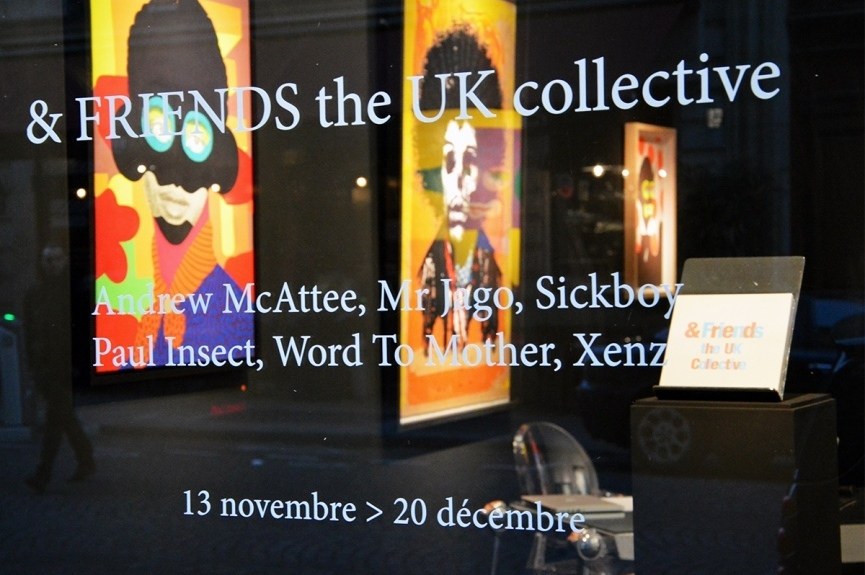 Opening Night Among Friends
As shown in the pictures, the opening night of the show had a great turnout, with all the artists mingling and socializing with the public and collectors. A sketchbook seems to have been going around the space, with each of the creatives drawing something on its sheets. We'd love to see the final contents of this friendly notebook! Positive atmosphere was definitely supported by amazing artwork on show, installed without the styles clashing, giving each of the expressions some space to breathe.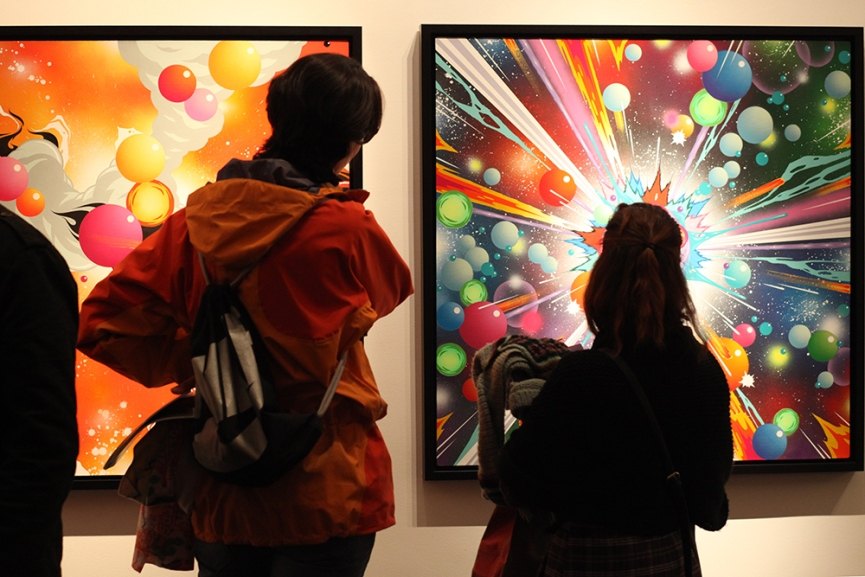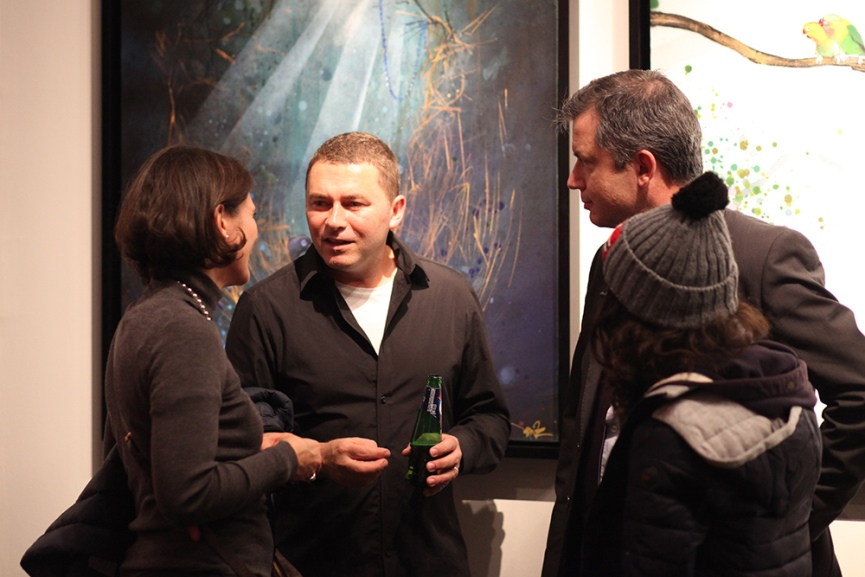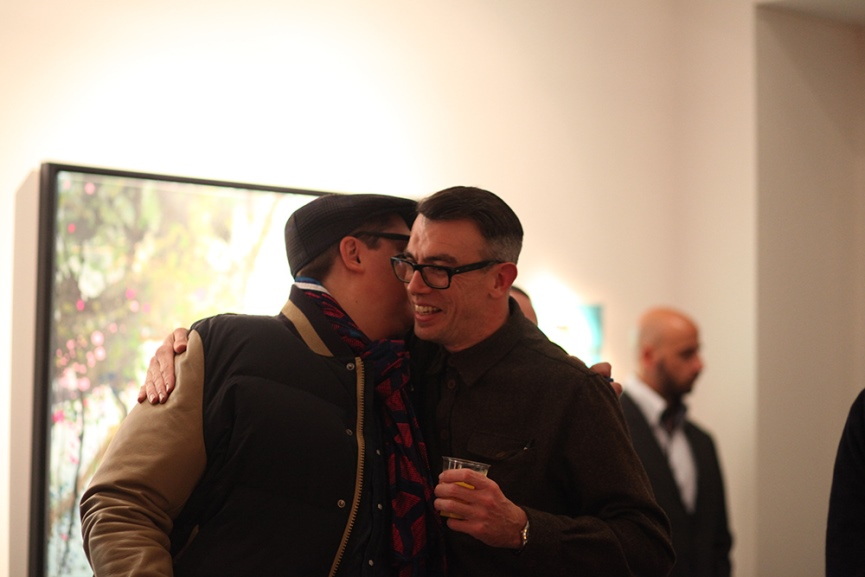 What the Friends Brought to the Table
Paul Insect's defaced classical portraits are placed on dark walls, which highlights their chromatic strength. True to his collagistic approach that mixes the traditional with the neo-dada in these silkscreen paintings, Insects works emitted a new coloristic energy. Insect is known as the artist whose entire show Bullion at Lazarides Gallery held in 2007 was bought by Damien Hirst, an artist and a collector.
Perhaps the most romantic of spirits on show, Xenz, exhibited his latest floral canvases, populated with bird pairs. His expression is fine, airy, somewhat reminiscent of Asian painting, in style and in imagery as well. In the interview Widewalls had with Xenz in July, the artist told us: "I'm painting birds because I like to see them. Can you imagine a world without birds? Birds fly in the sky. I love sky's as well. Oh and birds sleep in trees, I love trees too. I love orchids and flowers."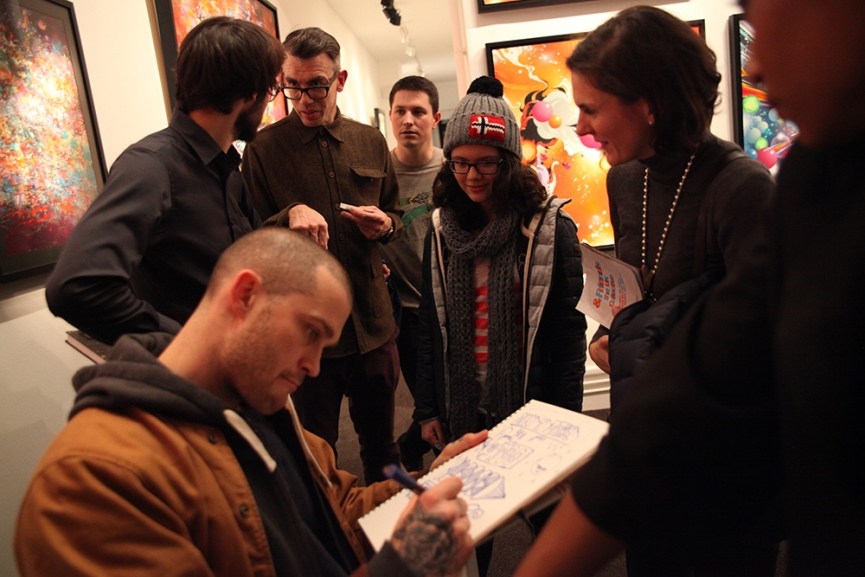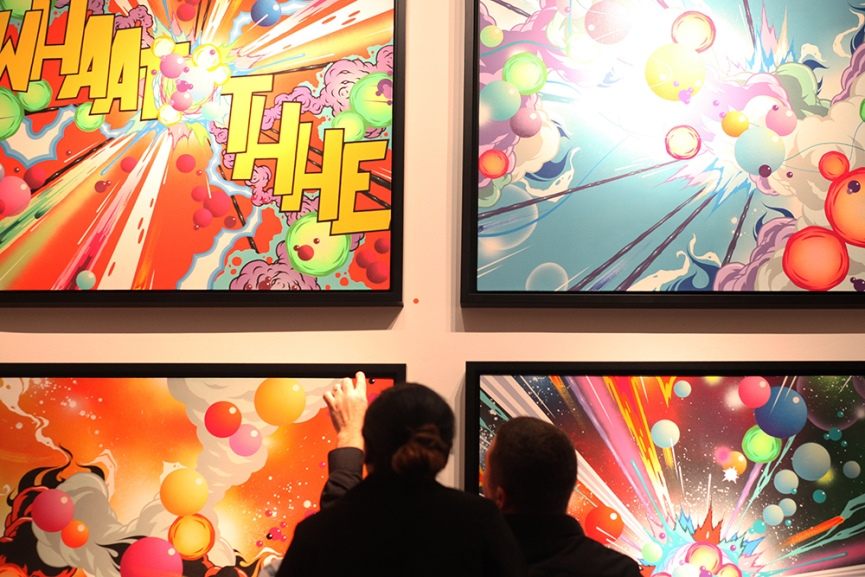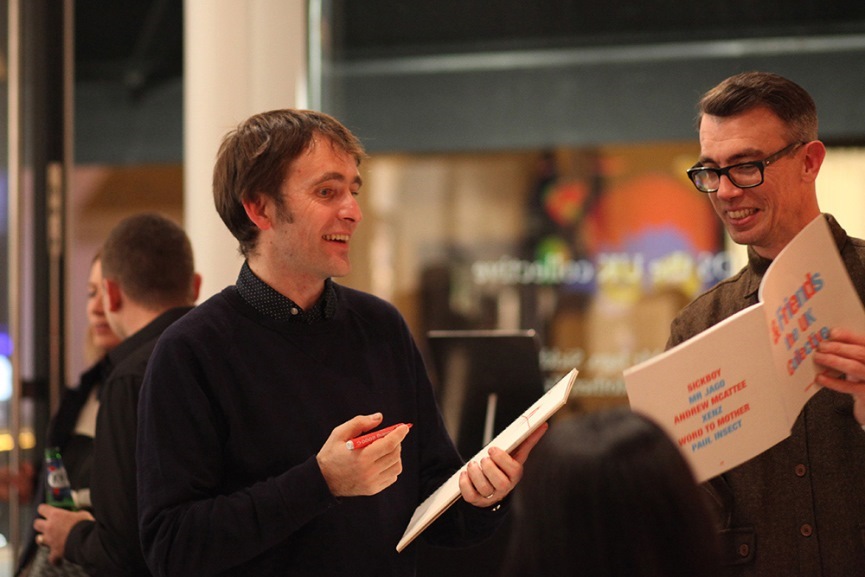 Bright Colors and Soothing Pastels
Sickboy, as always presented works heavily populated with odd symbolism pertinent to his deviant expression. His August show and Treasure hunt preceded this Parisian demonstration of the artist's limitless imagination.
Andrew McAttee is showing a series of his pop-art, comic-infused, color bursting semi-abstractions, composed of bubbles, lines and heaps of color from peaks of the spectrum.
Pastel canvases of Word to Mother provided an ideal balance for the Paul Insect's, Sickboy's Andrew McAtee's exploding bubbles. The style of the rising star of urban art is known as eclectic, populated with elements from pop culture and classical painting, while the drawing is somewhat twisted. Juxtaposition of translucent planes with suggestive elements weaves a hidden narrative, which talks of nostalgia and transience of everything.
Finally, Mr. Jago's abstractions at LeFeuvre open up new, psychedelic portals to other dimensions of the mind.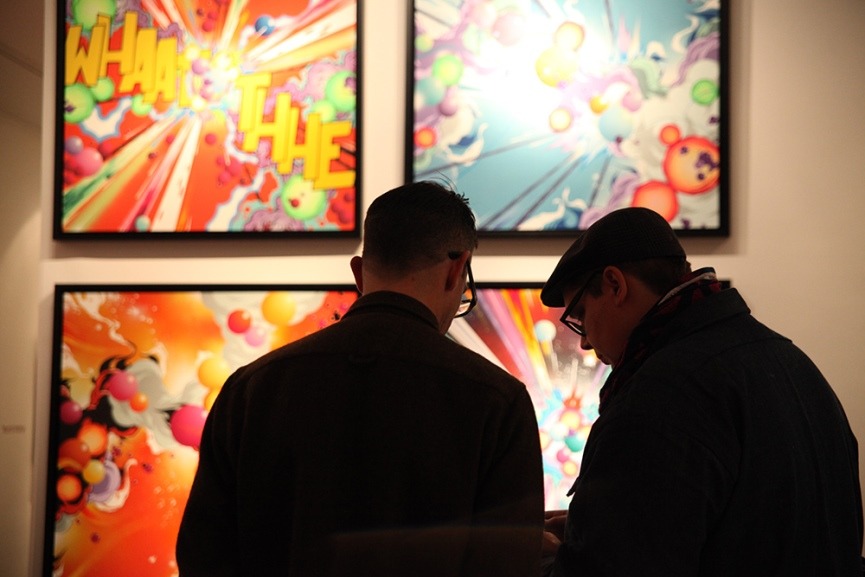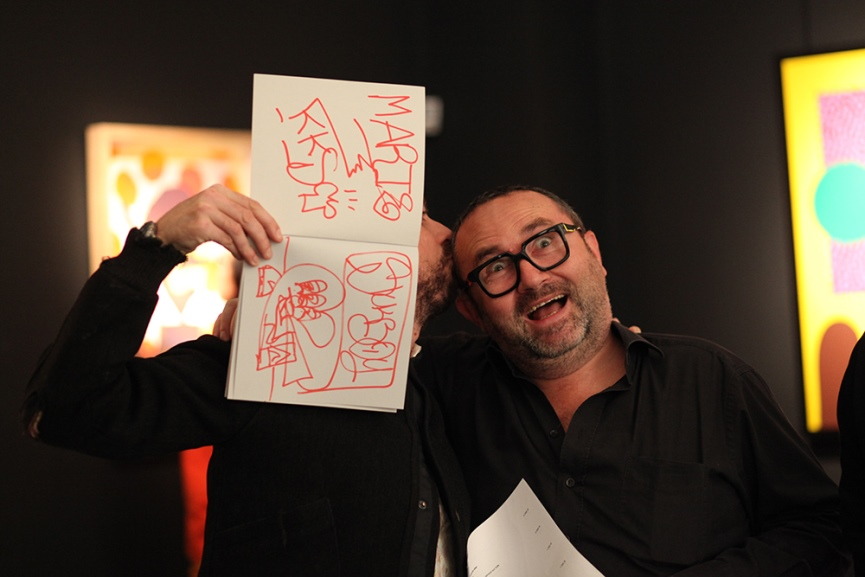 &Friends Exhibition Now on View
&Friends - The UK Collective exhibition is now on view, running through December 20, 2014, making it a perfect show to visit at least twice, and perhaps even purchase an art Christmas gift for someone.
All images courtesy of Galerie Le Feuvre. Credits: Opening photos ©Marion Patoret, Installation photos ©Galerie LeFeuvre.
If you've followed the history of street art in the UK or France, and want to know more, sign up for My Widewalls, customize your Dashboard and receive news tailored specially to you! Sign up today for FREE!