December 4th, 2014 sees the opening of a group exhibition at the Roq La Rue gallery based in Seattle, featuring new art works by Stacey Rozich and John Brophy alongside a collection of historical photographs by William Mortensen. The Roq La Rue gallery was established in 1998 and formed out of the Lowbrow/Pop surrealism art movement popular at the time and has become a popular gallery for mid career artists to exhibit at along with the fostering of emerging artists. The monthly exhibitions showcase contemporary art that is visually dynamic whilst also focussing on fantastical imagery. The exhibition runs through until January 3rd, 2015.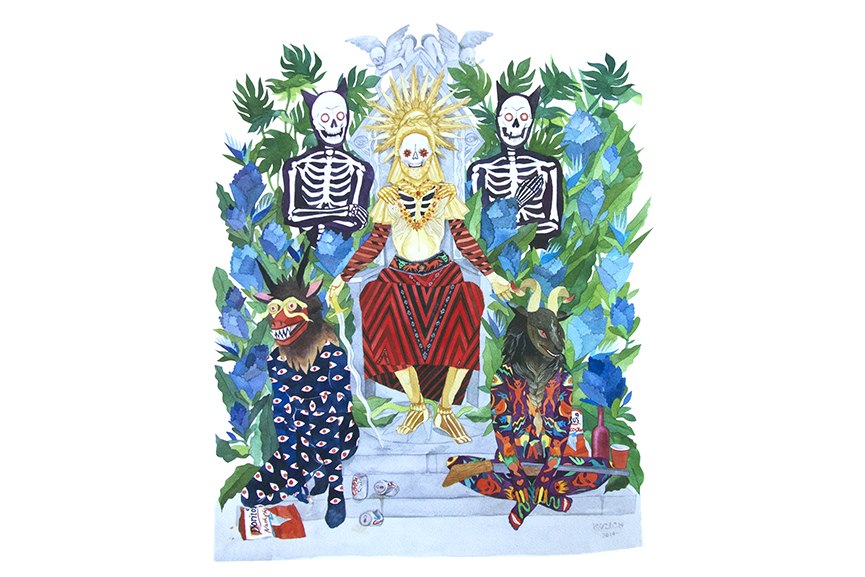 Stacey Rozich – Shrine.
Shrine is a collection of colourful new paintings in gouache and watercolour from Stacey Rozich exploring the rituals of death. These images are steeped in folklore and mythology drawing on cultural references, indigenous rituals coupled with contemporary symbolism. Stacey Rozich, who studied illustration and graphic design, has created a vibrant world on the edge of death inhabited by wondrous demons, some in animal form and others skeletal like, engaged in guiding those near death towards mausoleums and gravestones as they begin their final journey.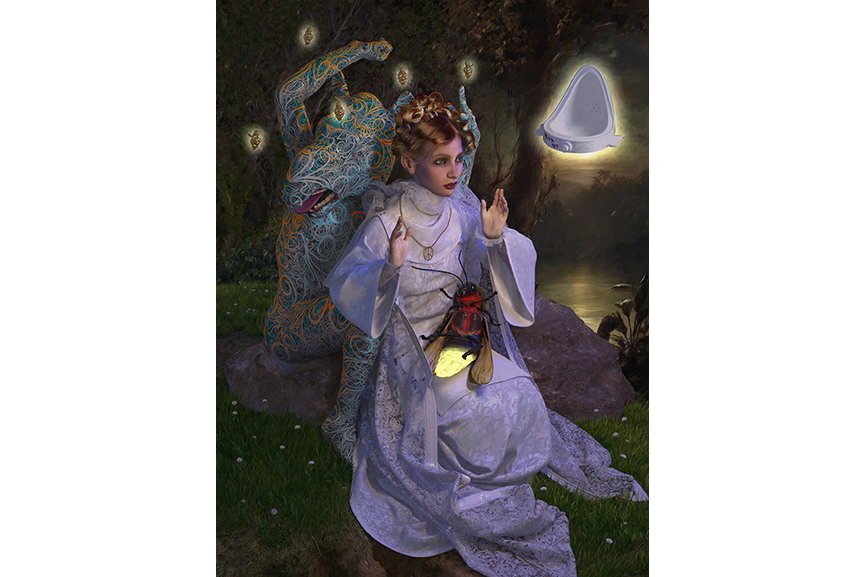 John Brophy – The Saddest Heart on the Holy Mountain.
John Brophy originally studied Art History and Art Conservation before deciding he would much rather create himself than study the work of others. The artworks begin life in the computer, being created in Maya, ZBrush and photoshop; the finished images are then reproduced on canvas with oil paints as he feels digital imagery has little object quality. Paintings are then worked with the techniques of 15th century Flemish painters such as Van Eyck, Van der Weyden, David and Memling whom John Brophy greatly admires. The Saddest Heart on the Holy Mountain collects together iconographic figures that create a narrative about religion, mortality and philosophy in slightly surreal scenes, angelic people with mathematical equations for halos accompanied by urinals and astronaut helmets, a coupling of classical poses with modern western culture.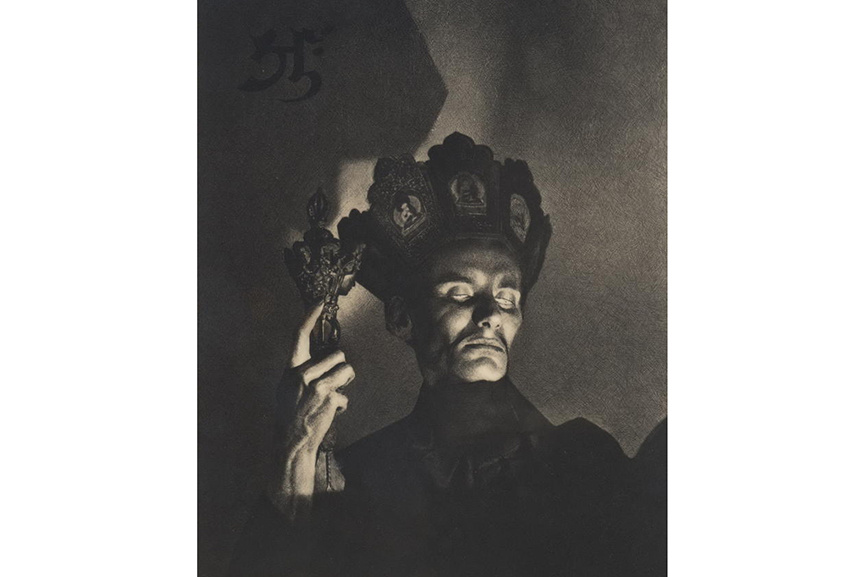 William Mortensen – Command To Look.
Command to Look is a collection of portrait photographs by William Mortensen from the collection of journalist and Feral House publisher Adam Parfrey. William Mortensen became well known for his portraits of Hollywood actors and his techniques for manipulating the final images that were often scratched, printed or drawn on leading some to label his images as sentimental, mildly erotic and contrived. At the time he was widely criticised and excluded from so called straight photographic circles for his romanticist painting like treatment of the images, it even led to Ansel Adams to label him the antichrist. This collection of photographic portraits corresponds with the release of two books about William Mortensen, American Grotesque: The Life and Art of William Mortensen and The Command to Look.
If you want to know all the best openings to attend then sign up for My Widewalls!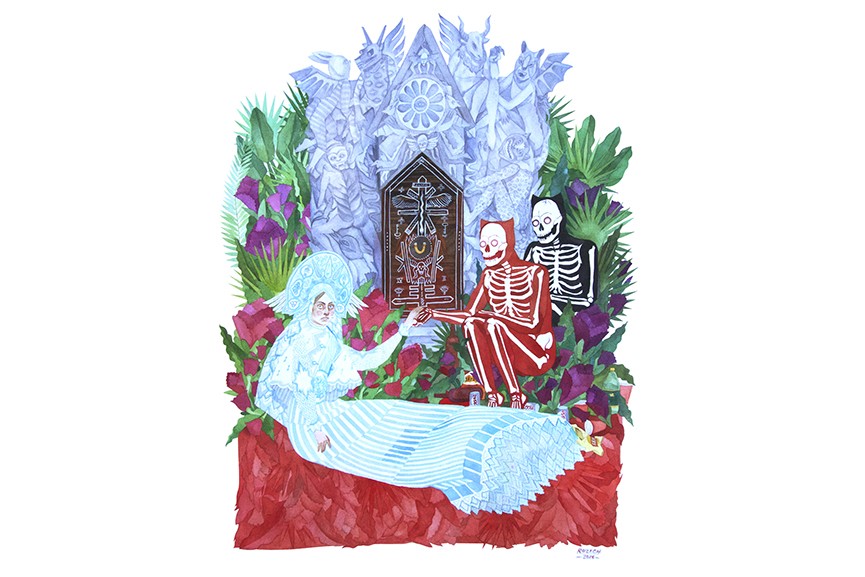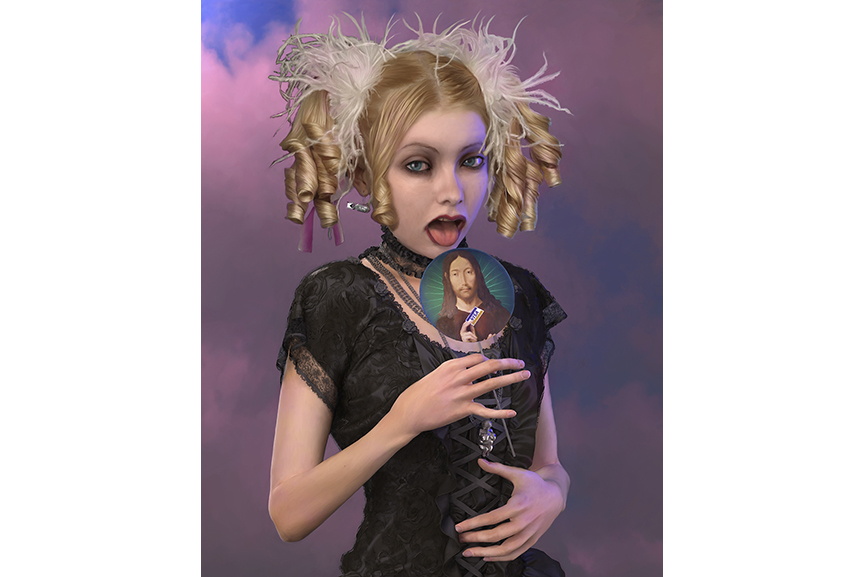 Photos courtesy of Roq La Rue Gallery.