When we think about art we usually have in mind those artistic endeavors that bring out the hidden beauty of the objects or people represented in the artworks. But what about the darker side of the artistic practice, one rooted into eerie experiences of the artist that are not easily rationalized, dealing preferably with the mystical entities and uncertain mental phenomena? What about the effect of the uncanny or the aesthetic of ugliness as Karl Rosenkrantz used to call it? Opus Hypnagogia: Sacred Spaces of the Visionary and Vernacular is the upcoming exhibition organized by Morbid Anatomy Museum in New York and it explores this particular kind of art, one that emerges from the cryptic, dreamlike experiences. The exhibition will feature an extensive array of works and therefore we are thrilled to give you a comprehensive preview of this show.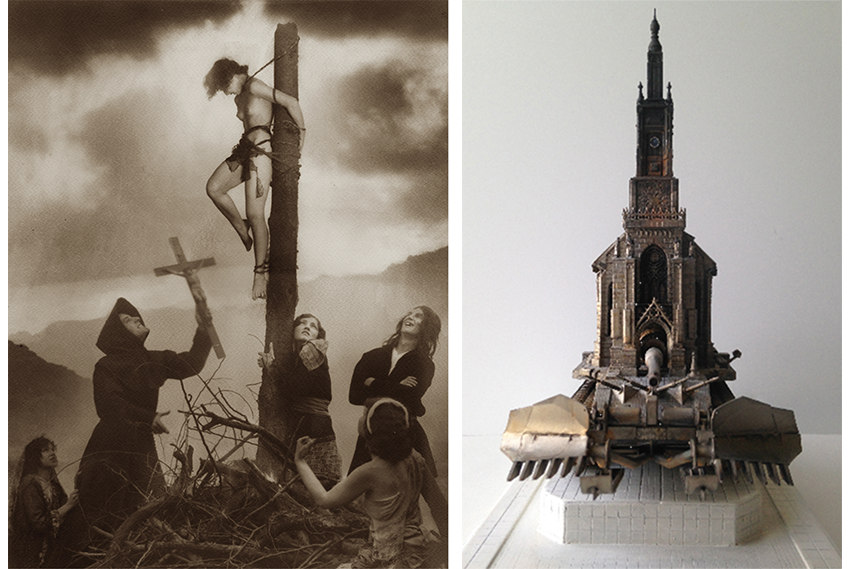 Hypnagogia and the Effect of the Uncanny
Hypnagogic experiences are often connected to the states of transgression, where the mind is caught into a peculiar place between wakefulness and dreams. For a short period of time imagination is at its peak and many strange mental phenomena like lucid dreaming, esoteric fantasies and hallucinations occupy the space of consciousness. These mystical phenomena and exploration of the hidden corners of the mind are focal points in the artistic visions of the authors of exhibited pieces. The exhibition will include various artworks from printed editions and paintings over two centuries old to the selection of spirit photography, folk carvings, contemporary sculptures, drawings and many, many more. The selection is considerable and thematically gathered around the concept of the uncanny and the effects of grotesque usually associated with obscure, paranormal or even occult motifs.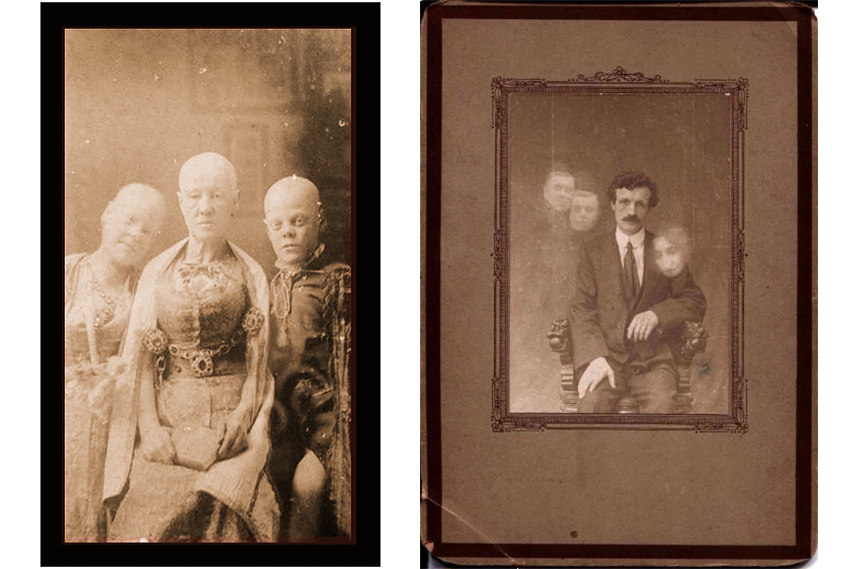 Exhibition Highlights
Opus Hypnagogia brings out some of the finest historical visionary art and also contemporary artworks that share the same orientation towards mystical and otherworldly imagery. The highlights of the exhibition are very rare pieces from Stephen Romano's collection and historical artworks rarely assembled for public view. The central place is reserved for the works of the American visionary artists Charles Dellschau and A. Fiorello, William Mortensen's photography series from 1926, titled A Pictorial Compendium of Witchcraft, Jacob Bohme's authentic plates from 1650 to 1675 and extremely rare incantation book Doktor Johanes Faust's Magia naturalis published in 1849.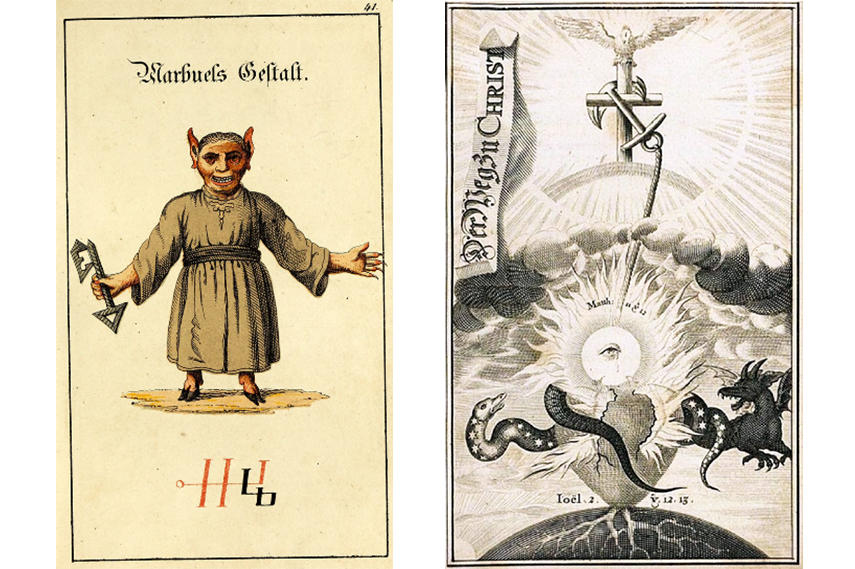 Contemporary Visionary Art
The contemporary line-up for this exhibition is also significant and it brings together more than sixteen artists working in this field. Artworks on display are made in different techniques from paintings to sculpture, crochet and mixed media works. The complete roster will include sixteen represented artists: Kris Kuksi, Rithika Merchant, Martin Wittfooth, El Gato Chimney, Barry William Hale, Kymia Nawabi, Hunter Stabler, Caitlin McCormack, Jel Ena, Pulu Zhao, Rene Allain, David Molesky, Erna Kd, Matthew Dutton, Lizz Lopez, and Joseph McVetty.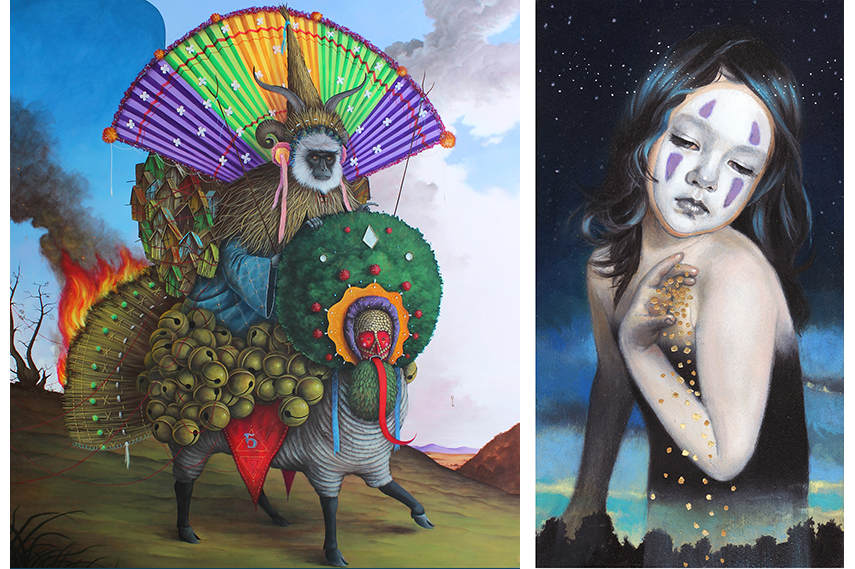 Stephen Romano and the Sacred Spaces of the Visionary and Vernacular
Stephen Romano is an art dealer, gallery owner and curator from New York who is also a visionary art specialist. Many artworks showcased in Opus Hypnagogia exhibition are part of Stephen Romano's personal esoteric art collection. Therefore since the curator is also the owner of the artworks and a specialist in this art field it will be an interesting experience to see the pieces through his point of view and explore this long-lasting connection between Stephen Romano and his carefully assembled collection of visionary art masterpieces.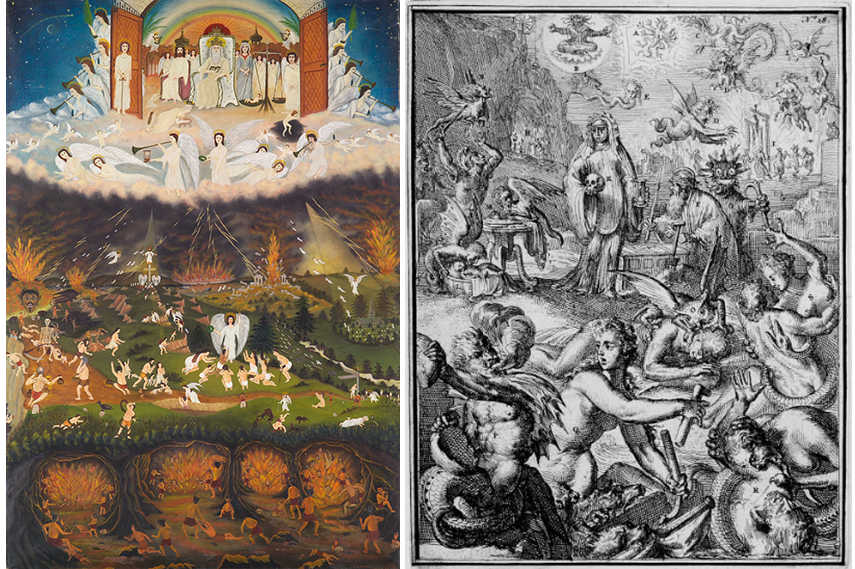 Opus Hypnagogia at Morbid Anatomy Museum
Opus Hypnagogia: Sacred Spaces of the Visionary and Vernacular hosted by Morbid Anatomy Museum will be on view from July 18th until October 15th, 2015. The exhibition is also a celebration of the museum's anniversary and it will be followed by the Festival of Arcane Knowledge and a Devil's Masquerade Party. This is truly one-of-a-kind opportunity to see this great selection of artworks at the same place and we strongly recommend that you do not miss it.
For more comprehensive reviews and in-depth information about art events sign up for My Widewalls for free!
Featured images:
Matthew Dutton - Infernal Companions, sculpture
Rithika Merchant - The Intruder - 2014 - Gouache and Ink on Paper
Page from Lectiones Memorabiles, 1671
Martin Wittfooth – Shaman I, 2014
Anonymous maker - Anima Sola - Carved and Painted Wood, c. Mid-19th century
All images courtesy of Stephen Romano and Morbid Anatomy Museum