Starting from a somewhat unclear definition of organic architecture by Frank Lloyd Wright in his article for Architectural Record in August 1914, we now have a plethora of structures that try to emulate the principles he propagated, which renders at least visual recognizability of this model much easier. It is not an easy task to pin down a style in words, as often complicated concepts are involved, but nonetheless we can try for a formulation.
"The ideal of an organic architecture… is a sentient, rational building that would owe its 'style' to the integrity with which it was individually fashioned to serve its particular purpose - a 'thinking' as well as 'feeling' process."[1]
- Frank Lloyd Wright
Organic architecture understands repetition of some of the materials, motifs and basic architectural ordering principles so that everything in a design can relate and form a symbiotic structure relative to nature. However, this relation does not necessarily understand that natural forms should be replicated, but instead that nature and architecture should be in harmony, and architectural structures should have the same fluency and intuitiveness of spaces as environment does. Although it may appear from browsing the internet on this topic that organic stands for curves and free form, this is a common misconception.[2] Others presume that this type of architecture is automatically sustainable, and that it forms a specific style or architectural movement. These misconceptions combined with Frank Lloyd Wright's definition make organic architecture open for a variety of interpretations and explanations. Wright was not the first or the last architect that tried to define or use this term in architecture, so concept was explained in a variety of ways, including definition of different postulates.
Postulates that guide design of organic architecture are multiple, including building and site, material, proportion and simplicity. In what follows we will analyze them, and offer illustrations of some of the most successful examples of this order.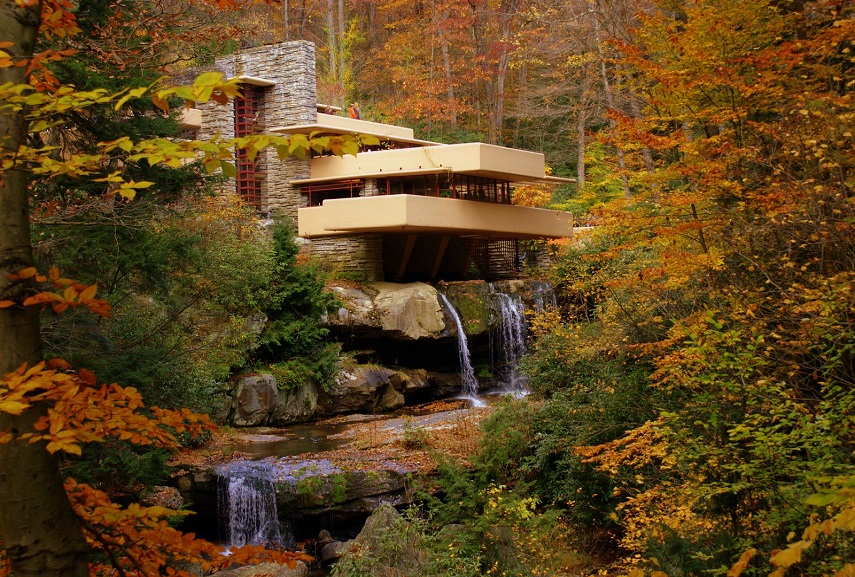 Building and Site - Frank Lloyd Wright's Fallingwater
Frank Lloyd Wright's Fallingwater house is an extraordinary example of a harmony reached between these two elements. Since his initial try to explain organic architecture in 1914, Wright continued to search for its proper definition in numerous later texts he wrote, but somehow it seems that his designs translated the meaning better than his words.
Fallingwater was built in Pennsylvania in 1939 as a summer home for Kaufamnn family. Instead of creating a house that would overlook its surroundings, Wright decided to incorporate his design as much as possible with the surrounding landscape, placing the home on the top of a waterfall. Material as well as texture of the home are seamlessly incorporated into site, showing in palpable form what building and site as principles mean in organic designs. Site and design should have a dependent relationship where site is enhanced by the construction, while construction's form refers to site. This is not achieved purely through similarity but often contrast or opening out or turning inward of a building are some of the best possibilities to realize harmony. Anyhow, the structure is so naturally situated in location that it would seem out of place is positioned elsewhere.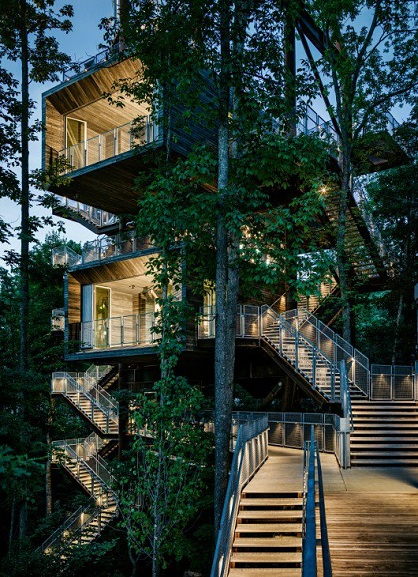 Materials - Sustainability Treehouse by Mithun with BNIM
Materials used in organic design do not have to follow some organic forms, but instead should be used in accord with their own characteristics. Instead of bending, twisting or curving it, material should be used in respect to their innate character. Natural material such as stone or wood is sometimes given prevalence over others, while slick surfaces are broken down with patterns and textures which reduce their artificiality.
Among the recent examples where material is used in respect to its characteristics is Sustainability Treehouse by Mithun with BNIM in West Virginia. Positioned in the forest at the Summit Bechtel Reserve this construction serves as a gathering facility where visitors can observe forest from different vantage points, and explore various educational exhibits about the forest's ecosystem.[3] Made of wood in combination with other fabrics, the construction is a masterpiece of sustainability combined with the sound use of material.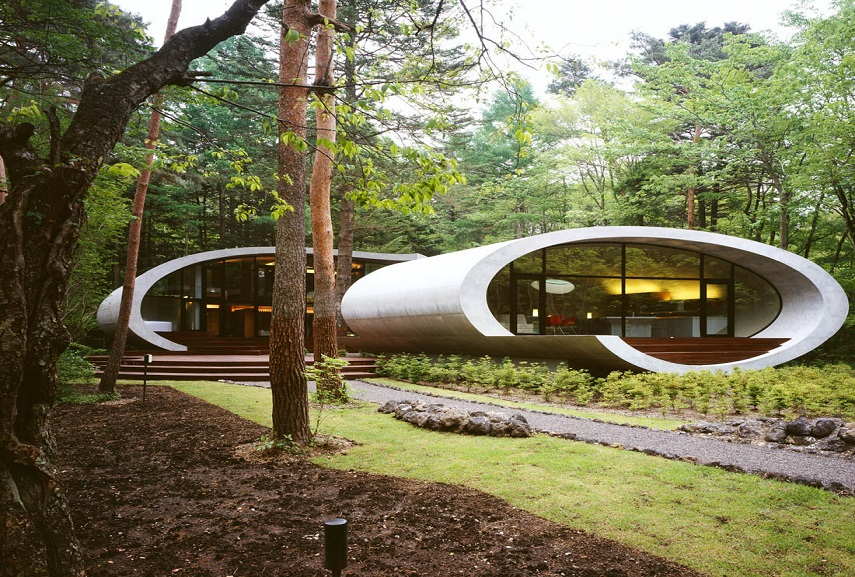 Proportion - Shell by ARTechnic architects
Proportion is the postulate of organic design that seems to hold the closest link to humans. As Wright explains "integral harmony of proportion to the human figure - to have all details so designed as to make the human relationship to architecture not only convenient but charming"[4] should be one of the main characteristics of architecture. As human figure becomes the referential point, not just the design but also sustainability and perseverance come into equations, as important elements in human-nature-architecture link.
Coexistence of natural environment and architecture is an important part of every successful design, according to ARTechnic creatives who designed a holiday villa - Shell - in Karuizawa, Japan, in 2008. The villa fits perfectly into surrounding landscape, similarly to Fallingwater. Reminiscent of a shell, it not only corresponds perfectly with natural surrounding but is also proportioned impeccably to fit the needs of its inhabitants. Its proportion and curved lines stand in contrast to a woodland, but nonetheless Shell's presence is balanced against both surroundings and human presence. As designers contend "by isolating living space from the wilderness, and upgrading its quality as a shelter, the house will be protected from nature and will provide a comfortable environment. With this, the house will be taken care of and used frequently and continuously."[5]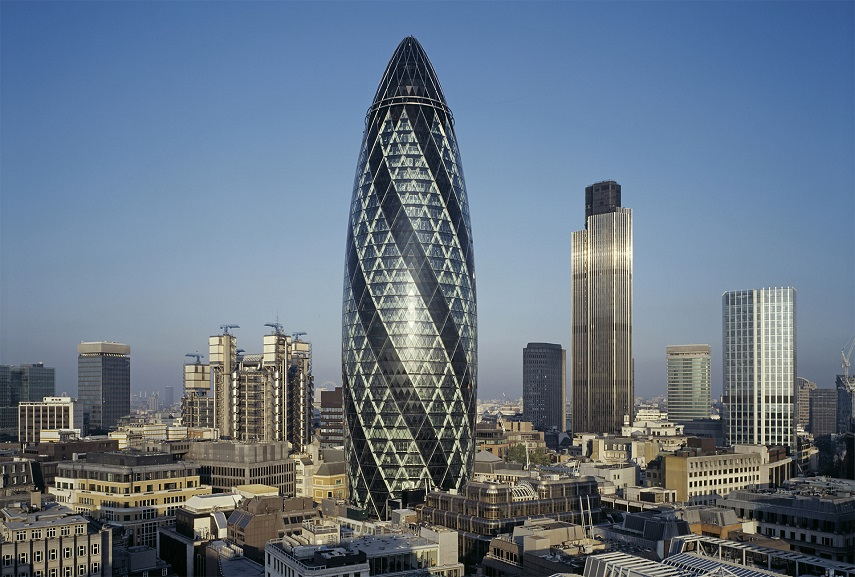 Simpicity – 30 St Mary Axe by Foster and Partners
Simplicity is not achieved just through simple forms, but in organic designs simplicity also stands for synthesis of different qualities of a structure which create an effortless effect. Coming from clarity of scheme and design, it forms a core of every good organic design. "Simplicity in art is a synthetic positive quality in which we may see evidence of mind, breadth of scheme, wealth of detail and withal a sense of completeness found in a tree or flower."[6]
The 30 St Mary Axe  or the Gherkin tower in London by Foster and Partners built in 2003 may serve as a good example for simplicity of form that is nonetheless created with a demanding design at its core. Sustainability of the Gherkin defines some of its visual features. As the tower uses only half of the energy that similarly sized structures use, its design had to correspond adequately to such demands. Open shafts between floors serve as ventilation but also use heat from the sun for warming and pull out warm air from the tower during the summer. They also let sunlight to enter more deeply, reducing the need for artificial lighting.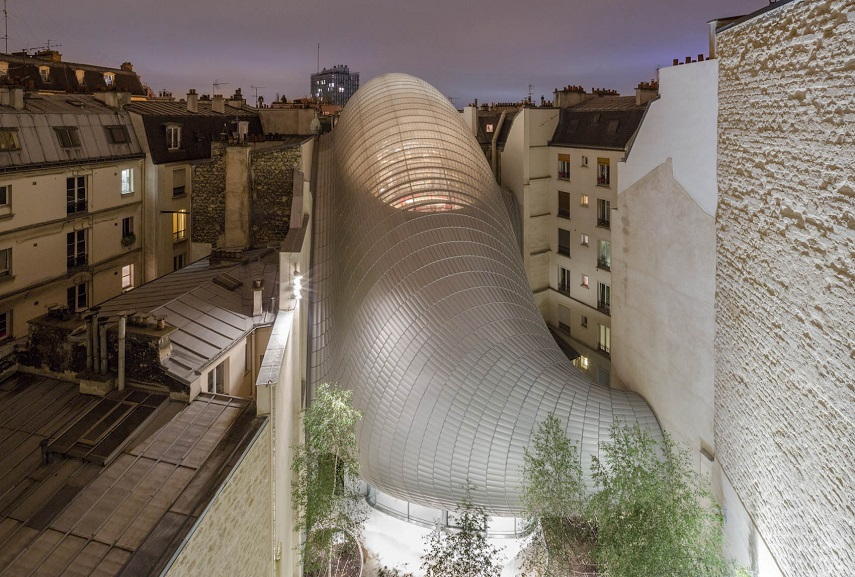 Organic Architecture and Its Contemporary Importance
Organic is a term widely used today. Food, clothing, cosmetics, to furniture and every other element of contemporary living seem to be infused with additional value if termed organic. In architecture, however, this term has a long standing history, and is still a defining element in many of contemporary designs. Its postulates changed slightly over time - from more philosophical to purely aesthetic ones – changing slightly the understanding what organic means today. When Frank Lloyd Wright used this term in his writings, both his definitions and structures referred to principles of harmony with surroundings, serenity of forms and practicality, often made in modernist shapes. Today, the term is broadened by aesthetics of curved lines and forms which resemble irregularities and shapes present in any landscape. Nevertheless, leaving these elements aside, being sustainable and environmentally friendly seem to be a paramount quality of any building presently. As architects strive to either copy natural forms or to create modernist buildings where people can develop, think, and grow, according to Wright's ideas, sustainability becomes additional and necessary element to be included in each design. This, however, does not mean that aesthetics is put aside. As seen from the examples given above, organic architecture incorporates both requirements equally, making contemporary buildings into successful works of art.

Editors' Tip: New Organic Architecture: The Breaking Wave
New Organic Architecture by David Pearson is a manifesto for building in a way that is both aesthetically pleasing and kinder to the environment. It illuminates key themes of organic designers, their sources of inspiration, the roots and concepts behind the style, and the environmental challenges to be met. In the first part of his book, David Pearson provides a history and assessment of organic architecture. The second part comprises statements from thirty designers from around the world whose work is based on natural or curvilinear forms rather than the straight-line geometrics of modernism. Each statement is accompanied by full-color illustrations of one or several of the designers' built projects.
References:
Wright F.L., (1925), Frank Lloyd Wright: The Complete 1925 "Wendingen" Series, p.28.
Boyne A.

Organic Architecture

, andrewboyne.com [October 14, 2016]
Anonymous, Sustainability Treehouse, summitbsa.org [October 14, 2016]
Wright F.L., (1970), The Future of Architecture, p.338.
Anonymous,

Shell House

, domusweb.com [October 14, 2016]
Braham W.W., Hale J.A. (eds.), (2013), Rethinking Architectural Technology, p.8.
Featured images: ARTechnic - Shell. Image via idesignarch.com; Colin Fournier with Peter Cook - Kunsthaus, Graz. Image via steirerwerk.at; Frank Lloyd Wright - Johnson Wax Headquarters, (interior). Image via jamessrussell.net; Lake Flato Architects -Arizona State University Student Health Services. Image via lakeflato.com. All images used for illustrative purposes only.