Twin brothers from Brazil and a street art duo, Os Gemeos are best known for their instantly recognizable yellow-faced characters. Their surreal murals reflect a strong belief that street art not only beautifies the urban environment but that it also has an important social role. Using a rich symbolic visual language marked by bright colors and intricate patterns, they seek to expose the complicated realities of the working class while simultaneously celebrating its resilience.
The work of this talented duo can now be seen in two exhibitions in two continents. Lehmann Maupin in New York is hosting an exhibition Portal, featuring a new body of paintings that delve further into their fantasy/dream world by exploring themes related to mysticism and science fiction. Hyundai Card Storage in Seoul is currently hosting You Are My Guest, bringing a selection of paintings, sculptures and installations.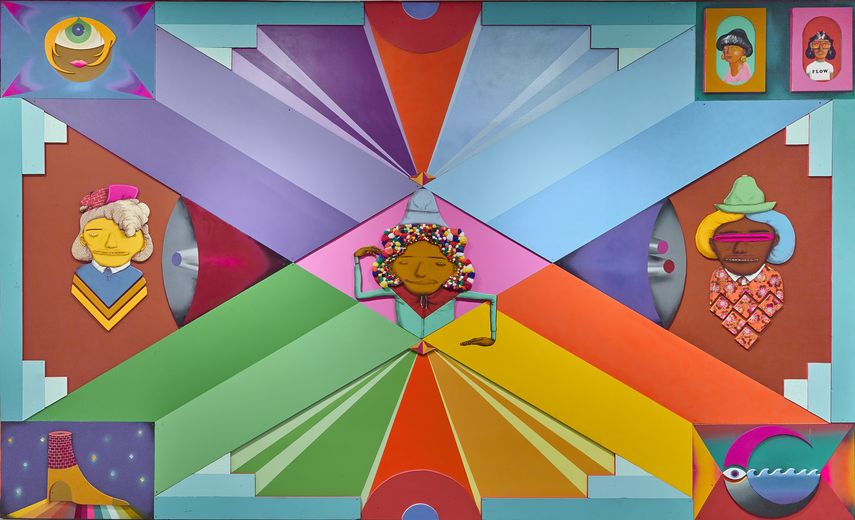 You Are My Guest at Hyundai Card Storage Seoul
Taking the visitors into a fantasy ride through the vibrantly curious world of Gustavo and Otavio Pandolfo, the exhibition at Hyundai Card Storage brings together 14 works - paintings, murals, site-specific installations, and videos. It begins with a large sculptural piece outside the venue, a light-emitting inflatable head of one of the men jammed between the buildings like a golden full moon.
The title of the show refers to the largest painting in the show, a hypnotic mixed-media piece imbued with abstruse symbols, primary colors, and geometric patterns that pulsate with the vibrant, eclectic traditions of their homeland.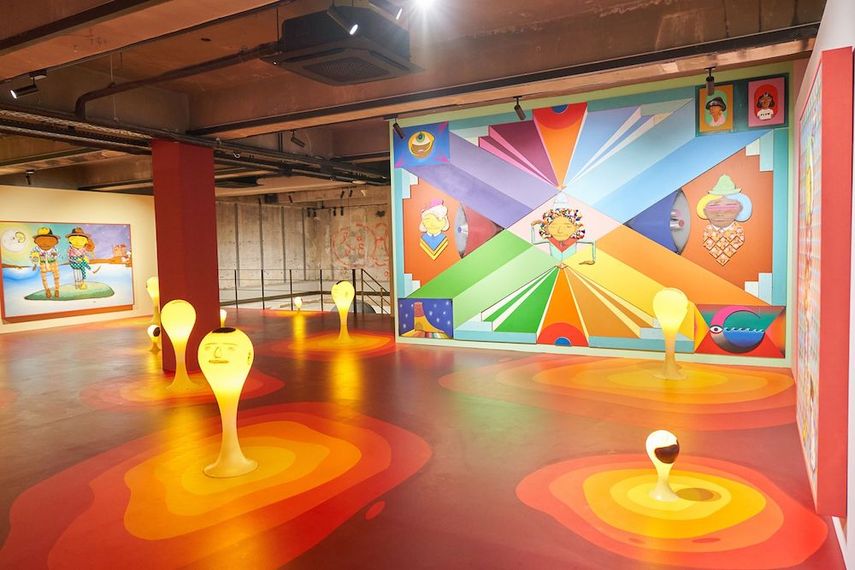 Portal at Lehmann Maupin New York
The work by Os Gemeos is characterized by vibrant colors and elaborate patterns. Inspired by the vivid dreams that, as twins, they frequently share, their work merges symbols, genres, and techniques in order to create visual narratives that are open to an endless number of interpretations.
Their gallery Lehmann Maupin will bring together works featuring repeated geometric motifs reminiscent of temple architecture and abstract patterns similar to those in Op Art. Creating a multi-sensory experience, the exhibition will emphasize the power of human imagination and the vast possibilities inherent in visually interpreting the subconscious. Among highlights are Taking the dog for a walk, where a solitary figure and a dog are connected only by a beam of light, and I swear that I saw that, featuring a solitary figure surrounded by a frenzy of static line and color.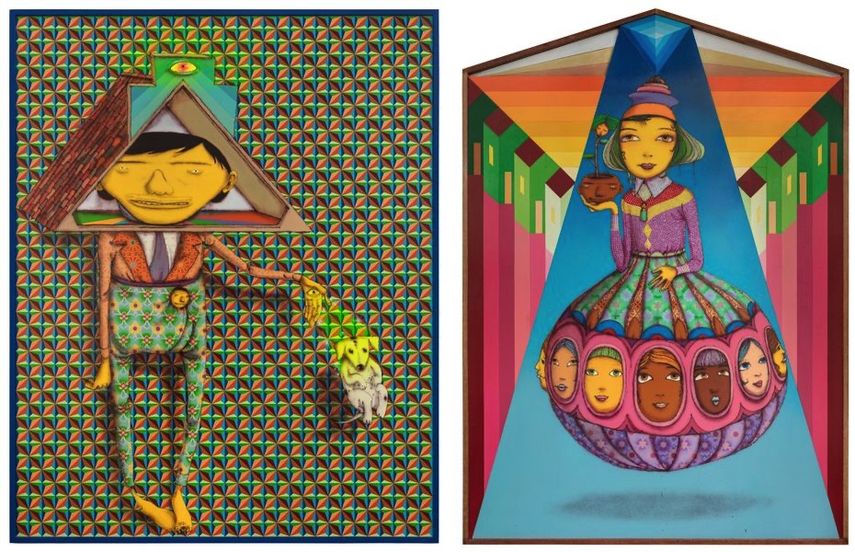 Os Gemeos in New York and Seoul
The exhibition Portal will be on view at Lehmann Maupin in New York from September 10th until November 7th, 2020, while You Are My Guest is on display at Hyundai Card Storage in Seoul until October 11, 2020.
Featured image: Os Gemeos, You Are My Guest, Installation Views, Storage by Hyundai Card, Seoul, 2020. Photos by Jeon Byung Cheol. Courtesy Storage by Hyundai Card.