One of the most famous and acclaimed duos of street art from Brazil, Os Gemeos, are having a new exhibition at the Galpão Fortes Vilaça gallery, opening with a three hour reception on June 29 starting at 2pm. The Moon Opera is the title of their novel body of work, which encompasses a three-dimensional video installation, thirty paintings and three sculptural pieces. Showcased in a very engaging environment, the works of Os Gemeos conquer new levels of meaning, as their narrative nature comes fully to life. The Moon Opera or A ópera da lua in Portuguese will be open for public from July 1 to August 16, 2014.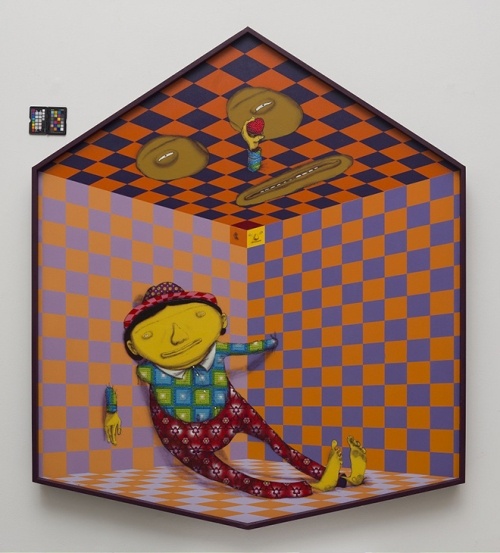 Kaleidoscope of Life and Dreams
Os Gemeos are the best known as muralists who vitalize grey urban areas with their lovely, cartoonish characters. In reality, their work spans over many techniques, from graffiti and mural painting, to classic canvas painting, kinetic images, sculpture and installation. The most outstanding quality of their work is its kaleidoscopic palette, where images are composed of various little fragments, often surreal representations, in which colors and patterns overlap and merge.
The unforgettable characters materialized by Os Gemeos dwell in a dreamy realm, opposing the urban landscapes, which support and inspire the work of the Twins. Stories they tell are romantic interpretations with frequent ironic or criticizing aspects, hidden within the many details the artists employ when composing the works.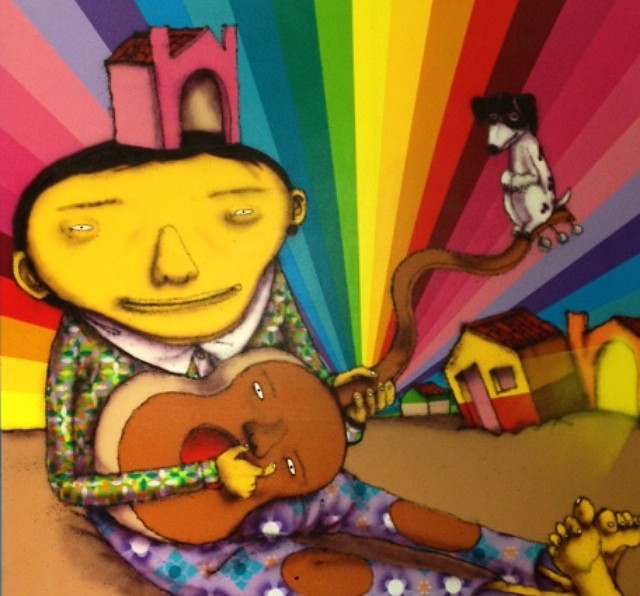 Parallels in Style
Overwhelming their work with excessive details, Os Gemeos transport their expression from realistic representation into the world of imagination. When viewed from the angle of elaborate patterns and elaborate fragments, a parallel can be drawn between their oeuvre and the style of Yayoi Kusama or Takashi Murakami, both Japanese artists who obsessively explore the potency of patterns, detailing and unreal perspectives. Retaining their aesthetic value, kinetic sculptures conjured up by the twins reminisce the absurd works of dadaist tradition, while their large scale murals contain references to Mexican wall painting traditions through vivid palette and recognizable characters found in popular culture.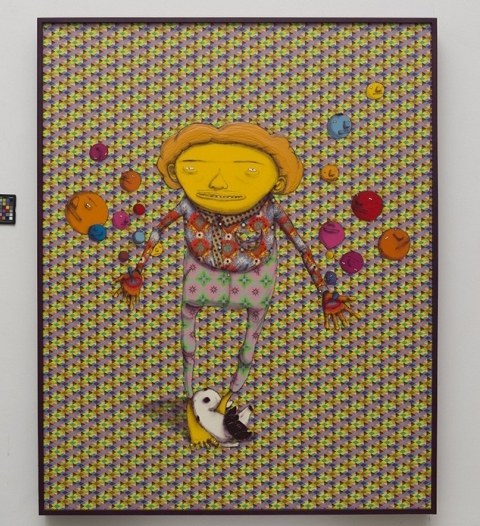 The Moon Inspired Series
Transfer of their artistic production into the studio and the increasing exhibitions in galleries and museums provided another expressive possibility for Os Gemeos, as they were able to enrich their work with light, sound and movement, which they did in their first show at Galeria Fortes Vilaça in 2006. The Moon Opera exhibition will put an emphasis on kinetic sculptures enlivening the paintings of the duo. Entire installation will be connected through doors and windows, engaging the viewer and allowing them to enter the imaginary world. Visual language the twins are using is showing new elements, from context and characters and narratives it explores, to new patterns. The Moon Opera is the series of works promising to takes us to the Moon, into a blue-lit world of playful geometry and charming people the artists portray.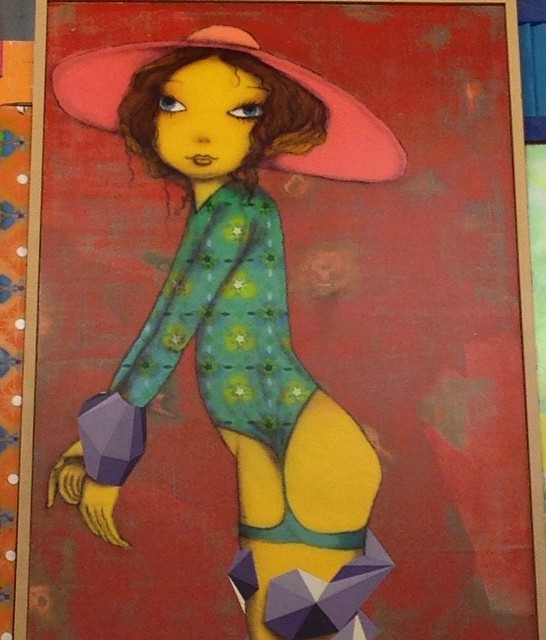 Os Gemeos
Os Gemeos are Otavio and Gustavo Pandolfo from Sao Paulo, Brazil. Over the years, they have become one of the best known street art phenomena of their country, while their exhibitions keep occupying the most prestigious spaces of the world, including museums of contemporary art and huge walls from USA to Japan and Europe and back to their native Brazil.