Curious Duke Gallery from London is preparing its space for an amazing exhibition. Without any doubts, it is going be a show full of surprises. Apart from works that will be exhibited during the show, the artist will create art live, with visitors being part of the process. Italian artist Otto D'Ambra will bring his brand of imagination to Curious Duke (in case you like street art, check out our list of 10 Italian urban artists). This Milan-born artist is well-known for his pictorial and graphic drawing, set designs and body art. However, there is one word that could describe Otto D'Ambra's oeuvre: surrealism. No matter what technique or medium he uses, surrealism dominates his works – in drawings, body art works, set designs. His dedication to this art movement males him an internationally acclaimed surrealist artists, while techniques he uses, as well as his subject-matters vary a lot (if you like surrealism, visit our page with the list of surrealist artists). The exhibition of D'Ambra's works at Curious Duke Gallery is entitled We Are All Animals.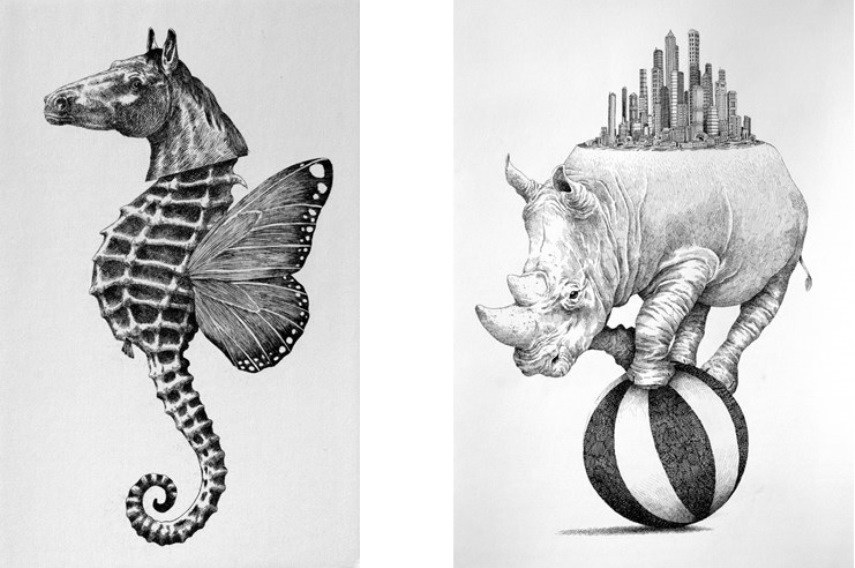 The Surrealist Art of Otto D'Ambra
Otto D'Ambra's interest in art began with his work as set designer. However, he went much further, first with pictorial and graphic drawing, while from 2005 he began a career as a tattoo artist. His interest in art goes far beyond techniques and media he uses. The works by Otto D'Ambra are always a result of extensive research and experimentation that follows his most personal point of view. He has always been influenced by surrealism as a lens through which to look at the world and the great possibilities it opens up. Although with simple compositions representing quite recognizable subjects and objects, his works tumble humans' perception of reality. He mixes completely incompatible realities questioning a bit chaotic and schizophrenic world we live in. With a certain dose of irony, he criticizes contemporary society bravely "claiming" that we are all animals (as the show at Curious Duke Gallery is entitled). Humans meet the inanimate as love and societal ideals collide into chaos of hybrids. And just like that, we enter into the surreal world of Otto D'Ambra's art.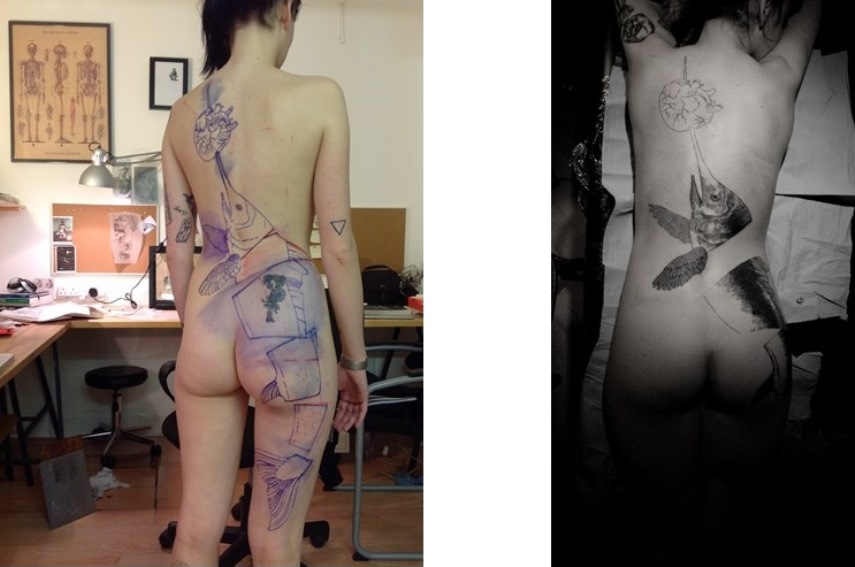 Curious Duke Gallery: We Are All Animals
The Italian print maker, tattoo artist and illustrator explains his first UK solo show to be a platform that would help us to understand how society changes us, and how passive we can be in expressing our individuality. Otto D'Ambra depicts out animal instincts and that's what is so interesting in his work. D'Ambra's new work has an additional motif- collage. Working into his existing style, he understands collage to be a new way to build images and compositions. Apart from the drawings, We Are All Animals exhibition will feature performances of a nude model, displaying a tattoo designed and tattooed by Otto D'Ambre of a black and white fragmented swordfish, from shoulder to knee (in case you like the art of nude, please visit our erotic art section).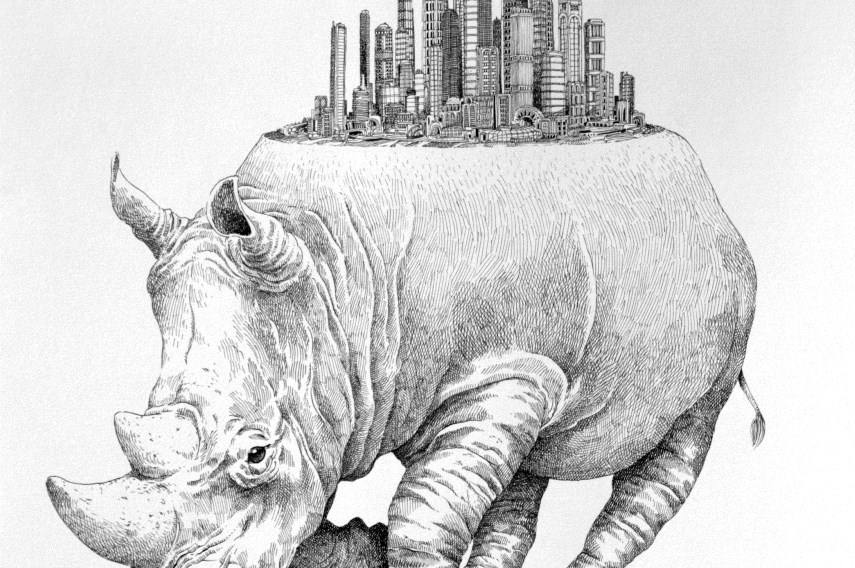 Otto D'Ambra at Curious Duke Gallery
We Are All Animals is Otto D'Ambra's very first show in the United Kingdom. On the June 20th, visitors will have the opportunity to become a work of art. They will have a chance for their photograph to be taken by the artist and then transformed into a bespoke piece of collage art work. On the June 4th, visitors will have the opportunity to see a live performance piece Art on Skin, where a nude model will be exhibiting artist's tattooing skills live in the gallery for the private view (for completely different type of performance art, be sure to check out the work by Marina Abramovic). The exhibition We Are All Animals featuring new works by Italian artist Otto D'Ambra will be on view from June 4th until June 27th at Curious Duke Gallery in London.
Sign up for My Widewalls, and be informed about upcoming exhibitions!
Featured Image: Otto D'Ambra - Tatoo art
All Images courtesy of Curious Duke Gallery.