When it comes to the genre of contemporary sculpture, the preeminent role of Alexander Calder cannot be overstated. Sculpture was basically redefined through his work, creatively challenged through an original approach that the global audiences had never seen before. Now, when 40 years have passed in the world short of one brilliant artist, a series of 6 works are to be exhibited in Gstaad, Switzerland, displayed outdoors and installed in different public spaces. The beauty of this gesture, provided by Hauser & Wirth, lies specifically in the fact that these works, that were never displayed in Switzerland before, will be accessible by everyone.
Alexander Calder - Reinventing Sculptures
People believe in substantiality of sculpture, and so did Calder. But that didn't stop him from making the complete opposite - thin, fragile, mobile arrangements that showed the capacity of sculpture to transcend the physical and to achieve solidity on other levels. An approach that started offhandedly, as an attempt to produce mobile toys, ended up in a years-long devotion to abstract sculpture and its potential as a form of expression. Mobiles and stabiles, which is how his unusual sculptural works were called by Jean Arp, were both related to the kinetic qualities of a sculpture - a sculpture that supports its own weight, a sculpture that moves as the air moves around it, hanging elements, theatrical constellations, all of them designed with an understanding of physical space and gravity, and their correspondence with various shapes.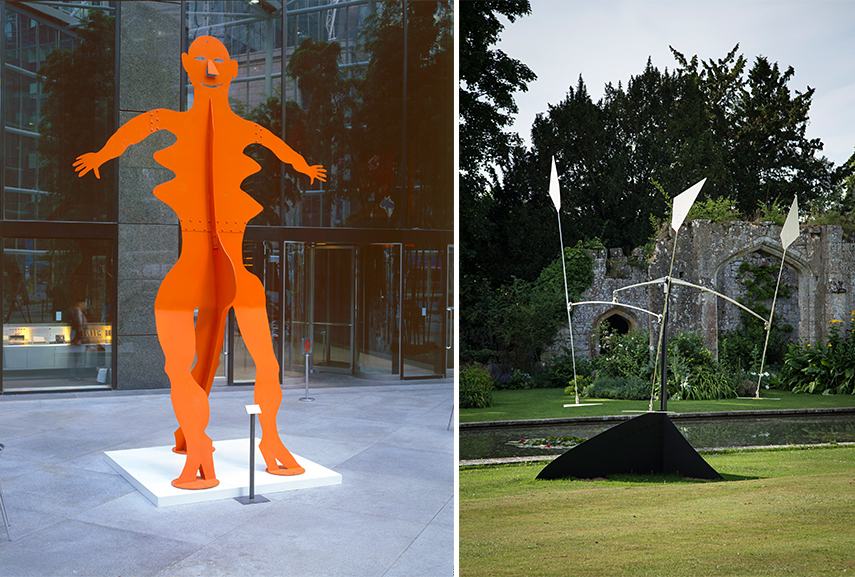 Matter of Balance
Later on in his career, in the 1950s, Calder turned to physically monumental, static sculpture, but he apparently remained intrigued by the matter of balance as such. He also moved his focus from wire and carved wood to metals and industrial materials. Some of his works from the 60's and the 70's belong to the most iconic pieces made in the 20th century, especially those that are exhibited publicly across the globe. The series that comes to Gstaad on this occasion consists of 5 stabiles and one mobile sculpture, made over the course of those two decades. The temperamental character of Swiss mountains will serve as an impressive background for Calder's artworks, which, somehow, always turn out to be innately connected to the natural environment that they are placed in.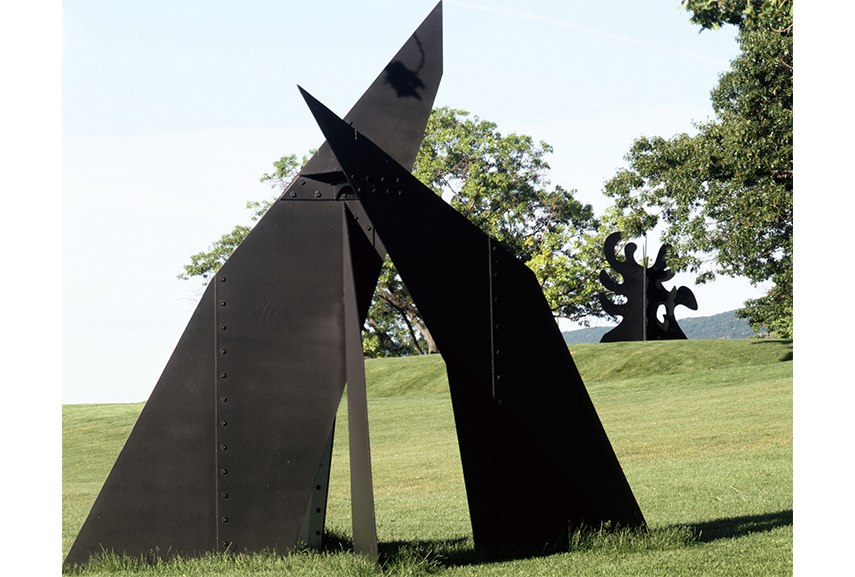 Five Stabiles and a Mobile on Display
As reported, the six Alexander Calder sculptures will be displayed in four public locations: at Launensee, Kirche Saanen, the promenade of UBS, and in the grounds of Le Grand Bellevue hotel. The works will be on view from July 14th until September 30th 2016, in Gstaad, Switzerland. If you'd like to share your gratitude for this wonderful gift for the summer of 2016, you should address Hauser & Wirth.
Featured images:Alexander Calder - Six Planes Escarpé, 1967. Sheet metal, bolts and paint. 302.3 x 396.2 x 381 cm / 119 x 156 x 150 in; Alexander Calder - Tripes, 1974. Sheet metal, bolts, paint. 365.8 x 335.3 x 299.7 cm / 144 x 132 x 118 in. All images: © 2016 Calder Foundation, New York / DACS London, Courtesy Calder Foundation, New York / Art Resource, New York and Hauser & Wirth.