The canons of the contemporary art have always been shaping the meaning of art, its production, reception and the market itself. This so-called 'Insider' art, with all its rules, is only a small part of the greater world of creativity. Artists working on the margins of contemporary art and beyond the confines of artistic institutions, practice their creativity disregarding generally accepted codes of the academic mainstream. This art that has come out of conditions of production that are not the usual art places is defined as the Outsider Art. In recent years, the number of Outsider Artists may have even come to outnumber so-called Insider Artists who have achieved critical validation within the elite art world. Forty years after the term 'Outsider art' was first used by Roger Cardinal to define the work by untrained artists working outside the mainstream art world, new paradigms and definitions are being sought.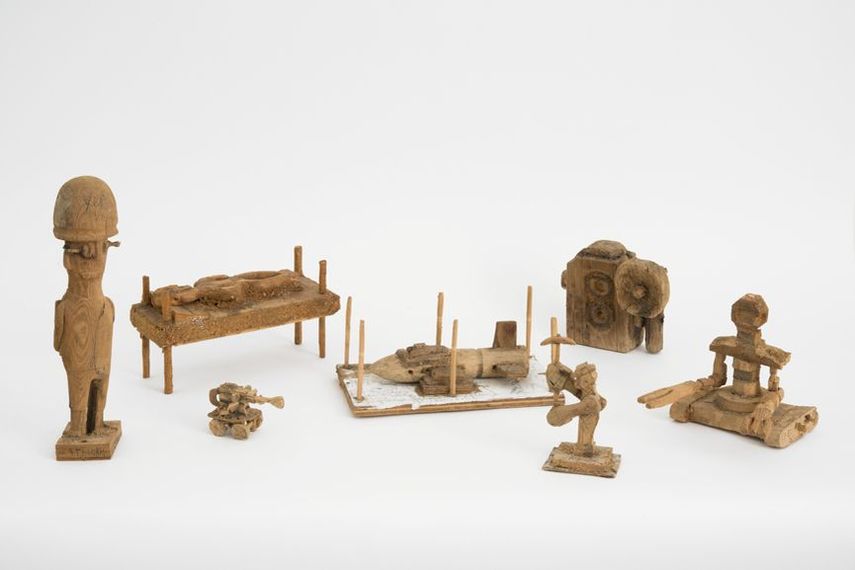 Art Brut and Outsider Art
The term Outsider Art was first introduced by art critic Roger Cardinal in 1972 as an English equivalent for the term 'Art Brut'. Coined by prominent French artist Jean Dubuffet, Art Brut referred to a variety of art forms that originated from the margins of the institutionalized culture and art scene. As Dubuffet described it, this art was not based on established traditions and techniques, it didn't follow any styles, it was somewhat primitive and born out of the uninhibited expression, often comparing it to children drawings, works created by the mentally ill, prisoners, or other individuals living in solitary conditions, excluded from the community. The purest of Art Brut creators would not consider themselves artists. Cardinal's term was more inclusive and had much broader meaning, encompassing works made by any artist who is untrained or with disabilities or suffering social exclusion, whatever the nature of their work. It started to overlap with Folk Art, Naïve Art, Marginal Art, Self-Taught Art, Intuitive Art and Visionary Art, regardless of the content and circumstances outlined by Dubuffet.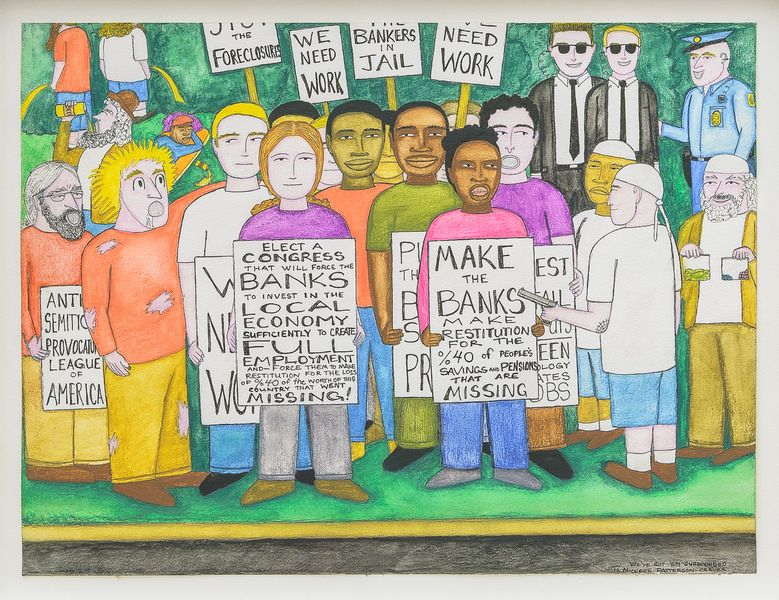 The Outsider Art Today
Over the years, the parameters of Outsider Art have expanded to include all the different artists sharing the common denominator of raw creativity. The term increasingly applies to outsiders from different culture or age groups, including creators with disabilities, mental illness, homeless, ethnic minorities, migrant, folk artist, the self-taught. Outsider Art is predominantly driven by an individual's desire to express something, exemplifying creation in its purest form. All these individuals have a passion for creating just for themselves, sending their message with much clarity. Without formal art training and coming from outside of the formal art world, they tend to shift our consciousness through their powerful images and new insights on the world we live in.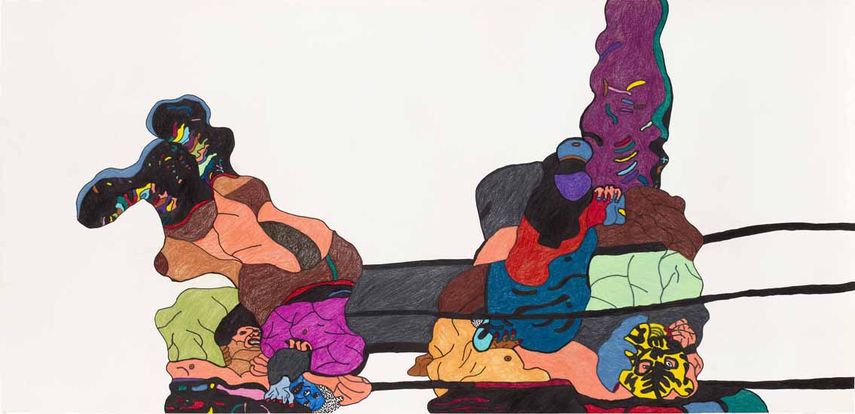 The Much Debated Term
The controversy surrounding the label 'Outsider Art' ever since the awareness of the phenomenon, persists today. Some feel that this label creates a sort of barrier and the dismissal of these authors. The term creates the myth of the non-cultural creator and the fetishisation of it. Theory of art is exploring the new critical language to define the practice of these artists, in order to create an even playing field within the production of contemporary art. It might be time to renounce some major preconceptions and just concentrate on the work itself.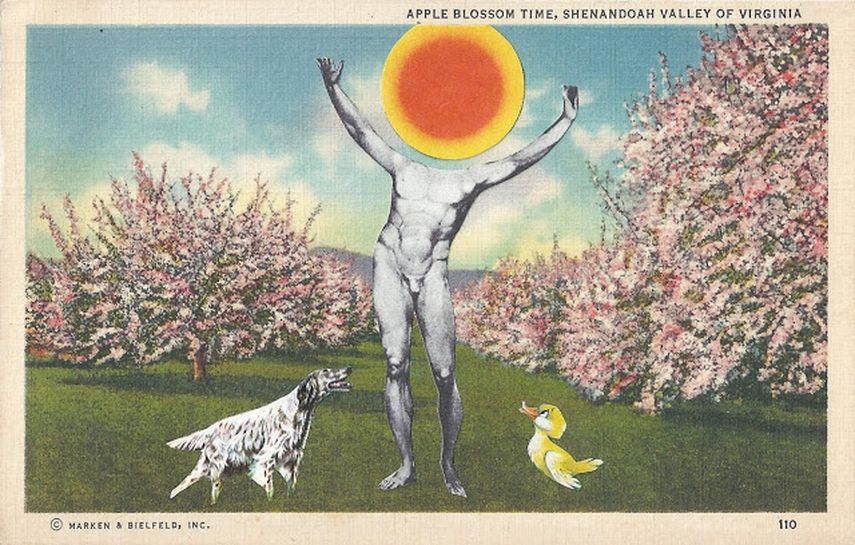 Contemporary Outsider Artists
Coming from different sorts of societal margins, the growing number of active outsider artists continues to keep this art form vital today. Self-taught artist Aurie Ramirez makes colorful watercolors inspired by the offbeat characters from the series The Addams Family and the rock band Kiss. Gregory Blackstock, an artist with savant autism is a former pot washer at the Washington Athletic Club (WAC) in Seattle. Obsessed with manmade objects and all sorts of living things, he creates meticulous and charming drawings organizing his varied interests. Japanese outsider artist Tomoyuki Shinki is fascinated with combat sports such as wrestling, boxing or judo, using colour to abstract his subjects and distorts them further with computer technologies. J J Cromer, a former librarian, focuses on rocks, plants, bugs and animals in his detailed drawings and expressive paintings. John Byam has been working as a water boy for the railroad, in a trailer park, and as a gravedigger, and makes drawings and wooden sculptures of everyday objects. Winfred Rembert, a cotton and peanut picker as a child, makes colorful tooled and dyed leather works visualizing his memories from the years of oppression. Michael Patterson-Carver is a self-taught artist who creates drawings focusing on social injustice and political activism. Drawings of Timothy Wehrle are influenced by Persian miniatures, Tibetan mandalas and folk art quilting. All of these artists and many more are working outside of mainstream academic art battling to get their work seen and recognized.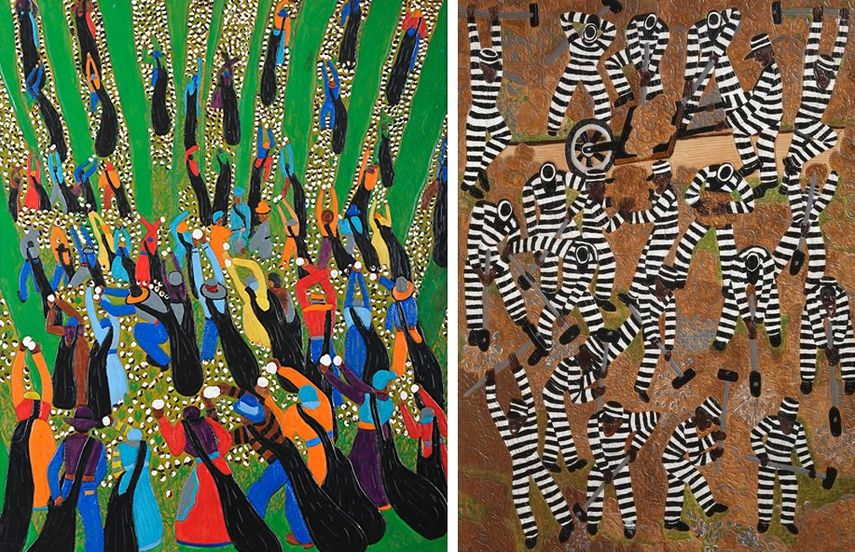 The Outside as The New Mainstream
In recent years, Outsider Art has been receiving renewed critical and commercial interest in the world of contemporary arts, attracting collectors and gallerists worldwide. Outsider Art Fairs in New York and Paris, art fairs offering the rare opportunity for these marginalized artists to present their work, now draw large crowds and big money. Massimiliano Gioni's 2013 Venice Biennale dedicated several exhibitions to self-taught or Outsider artists and the name of Gioni's flagship exhibition was entitled The Encyclopedic Palace after the work of self-taught artist Marino Auriti. In the year 2014, there were seven exhibitions organized and a major conference in Melbourne focusing on the practices of Outsider Artists. This current enthusiasm signals a move beyond 'the contemporary' as the default category, but also raises important questions. It seems that the definition of what art can be is becoming much broader. Still, with this growing interest and Outsider Artists becoming 'mainstream', this 'Outsider' label becomes rather contradictive and redundant.
Editors' Tip: Collecting Worlds: Contemporary International Outsider
by Markus Landert
Explore further about the spectrum of Outsider Art, a small, near hermetic part of the art world. It is a place where rules are imaginary, original thoughts appear and taboos are broken, giving us insight into the existence which we can see through other, occasionally strange eyes. This comprehensive volume provides a representative overview of contemporary Outsider Art, inviting the reader to devise own taxonomies and create own compositions. Based on over five thousand works in the Korine and Max E. Ammann Collection, seven chapters provide access to a fascinating universe of images and imagery. Seven different worlds have been delineated by semantic fields that not so much define rigid boundaries but rather create open spaces where considered thought and contemplation may roam.
Featured images: Winfred Rembert - Cracking Rocks (detail), 2011, via artery.wbur.org; Timothy Wehrle - Nuclear Waste Making its Way Through Ignorant Town, USA, 1982, via cavinmorris.com