In 1993, the Outsider Art Fair was created in New York to support and promote very non-mainstream artworks and artists. Twenty two years later, the event is a critical and commercial success, featuring pieces of Art Brut and Outsider art made by self-taught creative individuals. In 2013, the event had it's debut edition in Paris, reinvigorating the city's long tradition of recognizing and championing Art Brut and its practitioners. For the fourth occasion, OAF will bring together 38 participating galleries from around the world, announcing the 25th anniversary of the New York fair, which will take place in January 2017. Some of the exhibitors and artists will be presented to the European audience for the very first time and will be accompanied by a rich program of talks and presentations.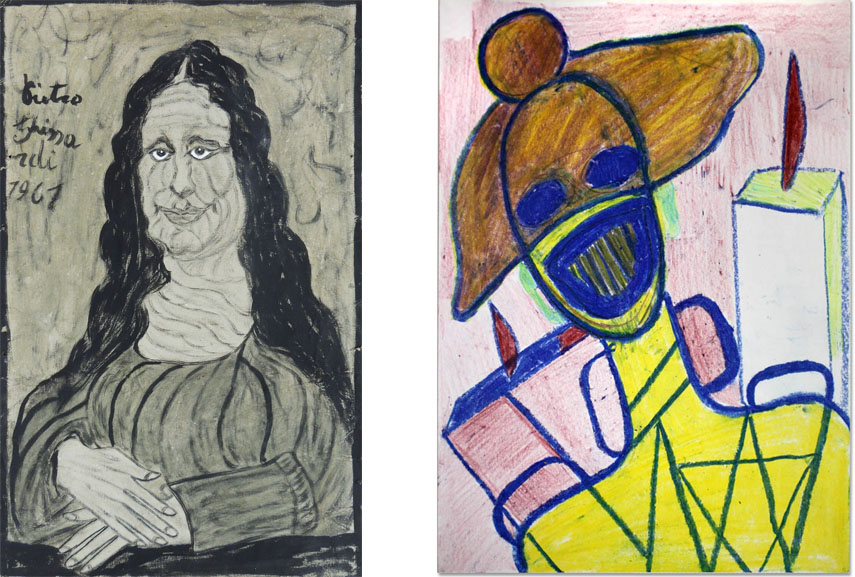 Participating Galleries and Artists
Out of this year's participating spaces and institutions, a total of 15 are brand new to the Outsider, coming from Europe and the United States. To emphasize the historical Art Brut there will be three French debutants, Les Yeux Fertiles and Hervé Courtaigne from Paris as well as Galerie Chave from Vence, which will exhibit legends like Gaston Chaissac, Georges Lauro, Eugène Gabritschevsky, Francis Palanc, and Slavko Kopač. Be sure to also check out the works of Helen Rae and Pietro Ghizzardi, who focus on photography-based imagery, as well as the self-taught black artists of the American South, like Hawkins Bolden, Willard Hill, William Young and those featured in the collection of the recently deceased William Louis-Dreyfus. Another highlight will be handmade sculptures, by Nek Chand, Paul Amar and Marie-Rose Lortet. At Raw Vision and Halle Saint Pierre, on the other hand, the visitors can once again find a vast range of books, catalogues and magazines.
List of Exhibitors
Program Highlights
The Outsider Art Fair in Paris will also feature a series of dynamic, thought-provoking presentations, panels and talks. A panel entitled Beyond Art, the Art of the Afterlife will be moderated by renowned curator Emmanuel Daydé, tracing the lineage of mediumistic art and exploring the spiritual and digital contexts of these works. Curating a booth of self portraits from Bruno Decharme's Collection ABCD, entitled Self-Portrait With My Neuroses, there will be the director of Maisons de Victor Hugo, Gérard Audinet, who will use the self-portraits of two artists associated with Victor Hugo as curatorial bookends. Interspersed among these works will be self-portraits by artists such as Fernand Desmoulin, F. Sedlák, Helen Butler Wells, Josefa Tolra, Edmund Monsiel, Hugo d'Alesi, Emile Hodinos, Camille Renault, and Hans Hoffer. The second curated space, Franz Huemer, will show the works by the late Austrian artist and is brought by the Wide Open Arts.
Location of Outsider Art Fair - Hôtel du Duc Paris
Outsider Art Fair Paris 2016 - Practical Information
The Outsider Art Fair will be held between October 20th and 23rd, 2016 at Hôtel du Duc in Paris, France. The Early Access will take place on October 20th from 2pm to 6pm, followed by Vernissage till 10pm. Fair hours will be 11am to 8pm, 11am to 6pm on closing day. Ticket prices range from €20 for the daily ticket, €40 for the three-day pass and €50 for the Vernissage entrance. For more information, please visit the official website!
Featured images in slider: Eugene Gabritschesky, 1949. Gouache on paper, 21x30cm. Courtesy of Galerie Chave; Marie-Rose Lortet - Le jardin dans la maison, 2016. Fils de coton et dentelle, 26x33x14 cm. Courtesy of Marie Finaz Gallery; Mark Hogancamp - Untitled, 2006. Digital c-print, 27x36 inches. Courtesy of the artist and One Mile Gallery; Nek Chand - Untitled, 1950-1980. Fabric, thread, rebar, 17.5 x 16 x 12 inches. Courtesy of Cavin Morris Gallery; Slavko Kopač - Sans titre. Courtesy of Les Yeux Fertiles; Willard Hill - Horse Buggy Six People. Masking tape, mixed media, 8x14x7 inches. Courtesy of The Good Luck Gallery. All images courtesy Outsider Art Fair Paris.