For so many years, Robert Kippur lived an isolated life in a ground floor apartment on West 22nd Street. His strange temper dragged him away from his family and friends, and in his solitude he induced himself in crippling nightmares that tormented him to the point of no return. His eerie, yet captivating paintings will now be on view at RIVAA Gallery, showcasing the talent of a previously unknown artist whose life we're witnessing on his large canvases, at the urging of the artist's therapist. The public will now be able to grasp one of the main aspects of Outsider art as we know it, meaning the unrecognized one, the one outside any accepted norms and rules.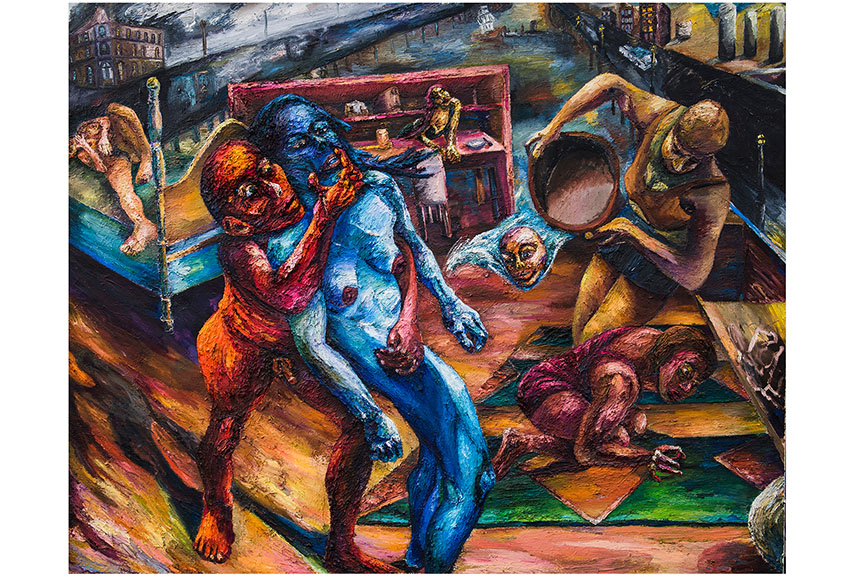 A New York Outsider
After the death of Robert Kippur, the City of New York took custody of his possessions, including all of his artworks. The collection of those was then revealed to a private network of art dealers, in conjunction with the sale of his apartment. The large paintings, some measuring up to 16 feet in width and 9 in height, depict a disturbing internal torment, one that cannot get any more real than we see it represented. The viewer is not merely a spectator to the macabre, but also immersed as a direct participant, as the artist himself must have been. His nightmares, painted in such vibrant colors, soaked in purples, greens and pallid yellows to showcase distorted orgies of dual mutation and ecstasy. Lured into this agony and pain, we can't help but partake and share it all with the author, and the feeling of horror becomes almost palpable.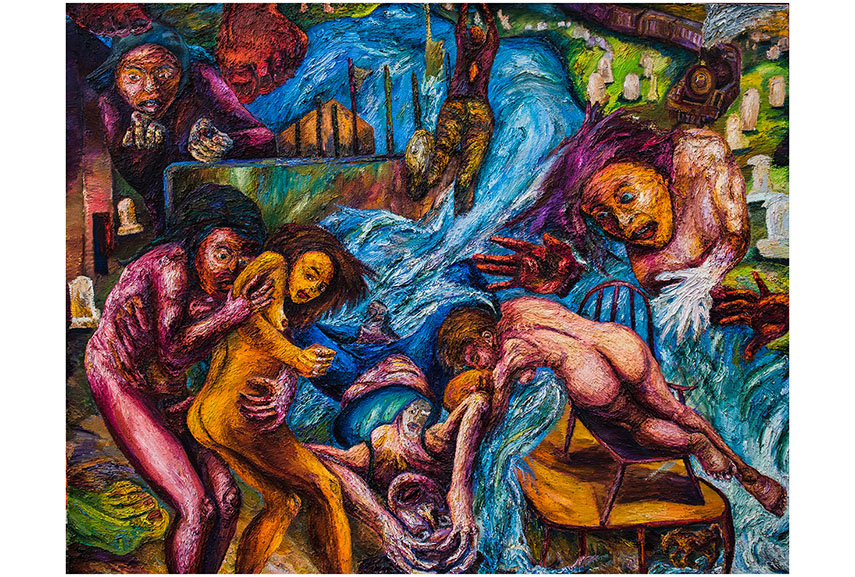 A Visual Diary of a Turmoil
An art school reject, Robert Kippur was completely self-taught, which is something we cannot conclude from the remarkable painting skill the paintings at RIVAA Gallery put on display. The thick brushstrokes remind us of the School of London artists such as Leon Kossoff and even Frank Auerbach - except Kippur painted exactly what drove him away from the art world itself and society at large. The way he managed to transfer a deep personal ordeal onto canvas perhaps brings him to the oeuvre of Henry Darger, the quintessential outsider of the early 20th century Chicago, yet it calls to our minds the similar ability of other great masters, both in vision and technique. The artworks become pages from a visual diary, stories of their own, items of memory we are almost compelled to touch.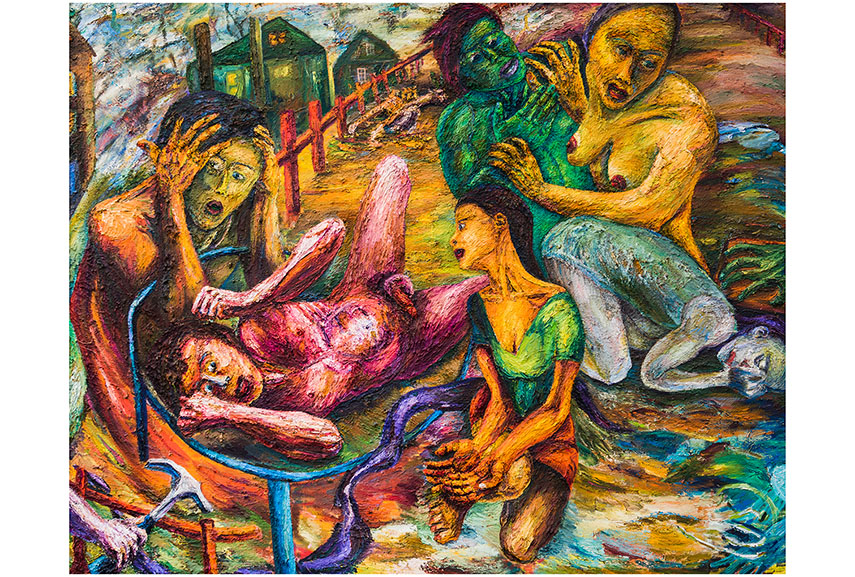 Robert Kippur Art at RIVAA Gallery
These newly discovered pieces of art come as the perfect fit for the Humbaba Fine Art, named after the monster who guards the cedar forest in the Epic of Gilgamesh, known to be cruel, yet misunderstood monster. Robert Kippur: A New York Outsider will be on view at the RIVAA Gallery in New York City, USA, from February 8th through 25th, 2017. The opening reception is scheduled for February 8th, from 6.30pm to 9.30pm.
All images courtesy Stephen Romano.