This November, Gallery 1957 will be presenting a collaborative project between the fantasy coffin maker Paa Joe and the performance artist Elisabeth Efua Sutherland. This show, which coincides with Paa Joe's 70th birthday and the 40th anniversary of his coffin-making practice, will explore both traditional and contemporary funerary customs in Ghana. The exhibition will be centered around the joint installation titled Akԑ yaaa heko || One does not take it anywhere.
Born in Akwapim, Paa Joe is one of the preeminent coffin makers in Ghana. By creating what he describes as fantasy coffins, he sheds light on both the lifestyle and the afterlife of the deceased, decorating the funerary objects with depictions of everything from wild animals to mobile phones.
Elisabeth Efua Sutherland is a performance and visual artist who lives and works in Accra, the city where the upcoming show will be taking place. On the rising trajectory for years, this young artist's practice is increasingly becoming more appealing to the public, something the next show at Gallery 1957 will certainly prove.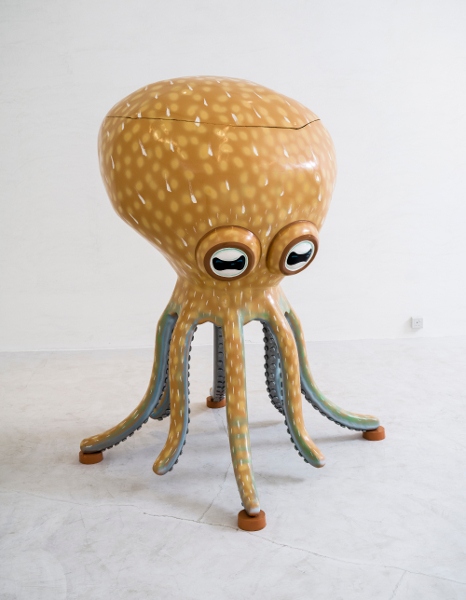 Funerary Customs in Ghana
Akԑ yaaa heko || One does not take it anywhere is an installation work that allowed Paa Joe and Elisabeth Efua Sutherland, two artists with vastly different artistic techniques, to mutually explore the specific funeral practices of Ghana, particularly focusing on the Ga and Fante communities (two coastal societies to which the artists in question belong). The entire show will present the fictional passing of a young girl whose afterlife journey is mediated through water.
The title of the artwork is taken from the Ga proverb akԑ yaaa heko (one does not take it anywhere) that describes the limits of wealth and power as neither of those are available to us after the moment of our death.
The exhibition will highlight Paa Joe and Elisabeth Efua Sutherland's shared interrogation of the attitudes and motivations found behind material cultures and afterlife ideas of the Ga and Fante peoples.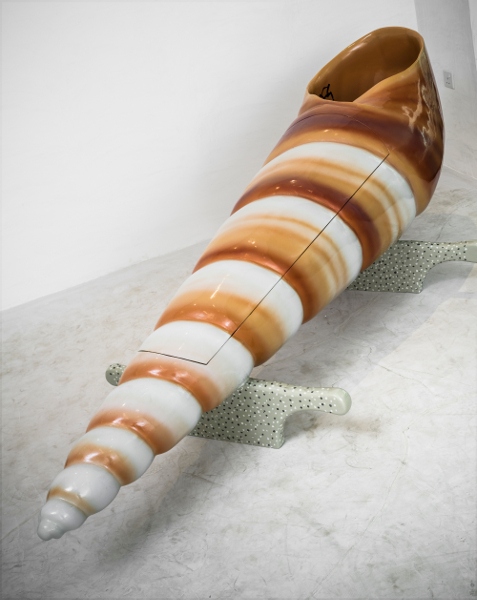 What Will Be Displayed
Paa Joe, aided by his son and apprentice Jacob Tetteh Ashong, prepared six fantasy coffins for this occasion, each inspired by the seascape.
These incredible works of art will be activated by Sutherland's performance involving twelve people dressed in traditional costumes that will re-enact elements of Ga and Fante funerals. Video projections featuring conversations between the performers will be included as well.
The visitors can also expect to see banners inspired by the frankaa or Asafo flags for which the Fante people are well-known. The highlight of this section will be Sutherland's banners that display deconstructed shapes and symbols of dissolvement within traditional identities.
Furthermore, the upcoming show will be accompanied by an interesting publication.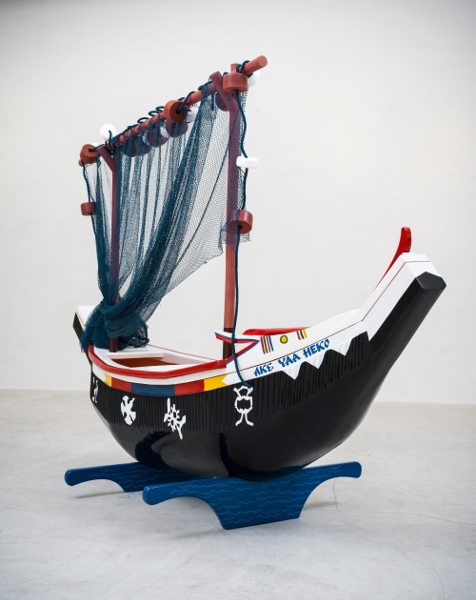 Paa Joe and Elisabeth Efua Sutherland Art Exhibition at Gallery 1957
The upcoming show will be a definite must for anyone interested in exploring the characteristics of both the traditional and contemporary funerary customs in Ghana, a country that has one of the richest and most vibrant cultural legacies in the world.
Akԑ yaaa heko || One does not take it anywhere, an installation made by Paa Joe and Elisabeth Efua Sutherland, will be on view between the 21st of November, 2017 and the 10th of February, 2018 at Gallery 1957 in Accra, Ghana.
Featured images: Portrait of Paa Joe, Photo courtesy of the artist; Elisabeth Efua Sutherland, Sui Generi, taken at Chale Wote Street Art Festival, Jamestown, Accra. 2015, Photo by Desire Clark. All images courtesy of Gallery 1957 / Installation images by Ric Bower. All images courtesy the artist and Gallery 1957.