With as many as seven locations around the world and the kind of roster of artists that encompasses a great deal of the recent history of art, Pace Gallery has been one of the most important contemporary art galleries of our time. Given a program that includes not only quality exhibitions, but an array of projects, public initiatives, collaborations with significant cultural venues, curatorial researching and writing as well, it is fair to refer to it as an institution. The's opening of their brand new eight-story, 75,000-square-foot space in Chelsea can only confirm such a statement.
And what better way is there really to celebrate one's 60th anniversary in the business? Although the actual date is coming up in 2020, Pace's grand flagship gallery at 540 West 25th Street has already set the celebrations in motion. Over the course of the next year there will be exhibitions across the entirety of the new global headquarters, developed by Weinberg Properties and designed by Bonetti / Kozerski Architecture.
For instance, all 3600 square feet of the first floor will be occupied by none other than Alexander Calder with a kind of a mini retrospective created in close collaboration with the artist's Foundation and featuring everything from his mobiles to wire portraits and abstract oil paintings. The second floor will belong to Loie Hollowell, with a debut show of large-scale paintings exploring sexuality, birth, conception and motherhood. A new 24-panel panoramic drawing and four additional individual drawings by David Hockney can be found on the third floor of Pace's Chelsea space.
While these indoor, column-free, well-lit galleries already catch our attention, it is the last two floors that perhaps come as the cherry on top indeed. An outdoor space offering a breathtaking view of the Manhattan skyline, the sixth story is designed specifically for large-scale sculptural installations. Here we can again encounter a monumental Calder piece, accompanied by those of Joel Shapiro and Tony Smith. Finally, the seventh floor, one to be dedicated to live performances, new media works, and public programs, puts on display Fred Wilson's Murano glass chandelier sculptures, hanging beautifully from the gallery's 19-foot-high ceilings.
As we go behind the scenes of this ambitious project just in time for the opening on September 14, we are joined by CEO and President of Pace Gallery, Marc Glimcher, whose role in it was certainly not small.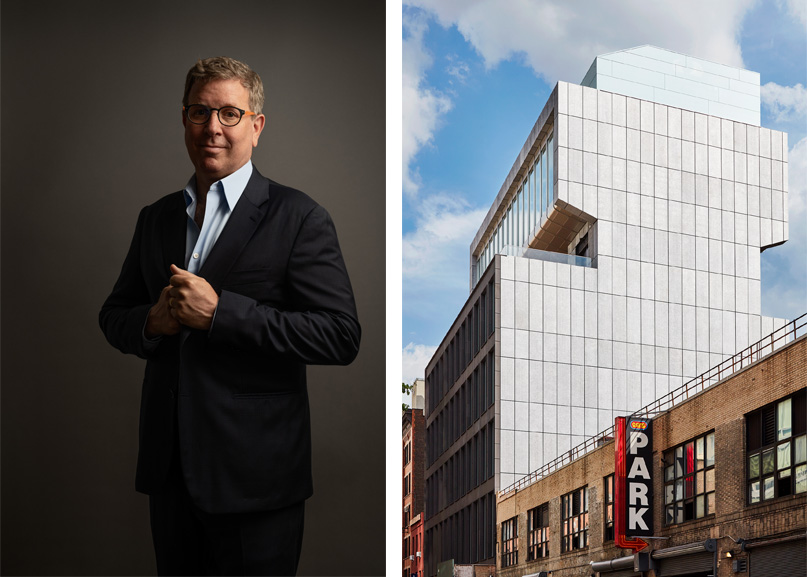 Pace Gallery, 540 West 25 Street, Chelsea
Widewalls: Pace's new flagship gallery will spread across approximately 75,000 square feet! How did the idea to open something like this come to be?
Marc Glimcher: We're really excited to open the new home and global headquarters of Pace Gallery at 540 West 25 Street. As we set out on this project, we wanted to create a space that unifies the many functions of a gallery into a dynamic and integrated environment and that can showcase the broad range of practices and media that our artists work in.
We really began this project to continue to serve our artists and innovate as a gallery, as we approach our 60th anniversary.
Widewalls: What can the visitors expect from spaces dedicated to performance, new media works, and public programming? Why was it important to include these in the project?
MG: The new building spans eight stories and measures over 75,000 square feet. It features five distinct spaces, both indoor and outdoor. Each of these spaces allows for a broad range of installation and media. As a result, our approach to exhibition programming needed to be re-examined.
I'm working closely with our Chief Curator Andria Hickey and our Curatorial team to activate the spaces. The seventh floor will house 'Pace Live' and is dedicated to new media, live performance and public programming led by Andria and Mark Beasley. That space features a polished concrete floor, a flexible layout and a special acoustical treatment, optimized to create dynamic audience experiences.
Widewalls: With a vast new space dedicated to exhibitions, can we look forward to some reinvented way of showing artworks of different media and sizes?
MG: Yes absolutely, that's one of my long-term goals. We have prioritized the spaces to be experimental for our artists. For example, the entire sixth floor of the new space is devoted to outdoor exhibitions that can accommodate monumental sculptural installations.
Widewalls: What does the Chelsea neighborhood mean for Pace?
MG: The neighborhood has changed a lot in the past ten years, and we're thrilled to be part of this community of great galleries. While we have spaces internationally (we were the first Western gallery to open in mainland China, this was in 2012 to coincide with the Olympics), New York has been our home base since 1963 and we've been part of the arts community in Chelsea since 2001.
Becoming, and Staying, (at the right) Pace
Widewalls: Looking back at the gallery's six-decades-long history, how would you describe its journey? What has changed, evolved, improved?
MG: Like my father has said when quoting Eric Fischl, the difference between opening a gallery in 1960 and today is that then, my parents were living in the art world; now, dealers and artists alike are living in the art market. The sense of a small, interdependent community has passed, but our ethos has been consistent.
I think it's fair to say that Pace has pioneered the "museum sensibility" gallery exhibition. Historical exhibitions we staged include Je suis le cahier: the Sketchbooks of Picasso and a series of Rothko's exhibitions including The Last Paintings and A Painter's Progress: The Year 1949 for example. With this new space, we intend to continue and expand on this ambition.
Widewalls: What does being an art gallery, and Pace Gallery at that, mean in the 21st century?
MG: In the 70s, we were told that painting was dead and that the leading edge of art was being advanced by artists who referred to their work as phenomenological. A lot of this was circulating among Robert Irwin's students at CalArts. Galleries didn't respond to this at the time and painting came back in a big way in the 1980s.
I'm using this analogy because today, Pace needs to respond to artists who push boundaries through experiential art, like moving images and new media. And large audiences are hungry for it.
Pace executive vice president Peter Boris came to me about five years ago and showed me the work of artists including teamLab, Studio Drift and Random International, and I was blown away. This is the next chapter for Pace, exploring perception through the work of the most innovative artists and picking things up from Rauschenberg and Turrell.
Featured images: Pace Gallery, 540 West 25th Street, New York. Photography by Thomas Loof, courtesy Pace Gallery; Architectural renderings of the southeast façade, the ground floor, the third floor, and the seventh floor gallery of 540 West 25th Street, New York. Courtesy of Bonetti / Kozerski Architecture. All images courtesy Pace Gallery.