I would describe Joan Robledo-Palop as half science and half soul. In 2016, the Spanish-born art dealer transitioned from the world of art research and academia into the world of private art sales.
His company Zeit Contemporary Art is headquartered slightly off the beaten path in Midtown Manhattan. From a certain perspective it might seem like any other ordinary art gallery - it hosts exhibitions and rents booths at art fairs with the express purpose of selling art. What sets it apart is the culture Robledo-Palop and his team are striving to create. Zeit proposes that the real wealth generated by the collecting of art is not financial: it's cultural.
"The art market is just a very small part of what we call art," Robledo-Palop says.
The gallery's current online exhibition is a case in point. Titled Painting Abstraction: 197X—Today, the curation spotlights an unexpected pairing of abstract painters (as is typical for the gallery), which is extraordinarily diverse in terms of nationality, race, gender, age, and aesthetic approach.
Historic works by Blue Chip legends like Gerhard Richter, Imi Knoebel, Sol LeWitt, Helen Frankenthaler, Günther Förg, and François Morellet are shown in conversation with works by mid-career and emerging artists like Peter Halley, Juan Uslé and Nelo Vinuesa; as well as works by young artists Adebunmi Gbadebo, Alteronce Gumby, Julia Rooney, and Ashanté Kindle (who is still in school).
Painting Abstraction: 197X-Today
The power of texture as content is expressed by the juxtaposition of a breathtaking painting made with human hair by Gbadebo with two Roll-a-Tex paintings by Halley. Meanwhile, a delicate watercolor from Richter and a 16-layer Ukiyo-e woodcut from Frankenthaler introduce us to vastly under-explored aspects of the practices of two legends.
Also notable are the two works from Förg and Knoebel, which both happen to be from 1990. The untitled Förg painting projects weight, meditative stillness, and a painterly love for its medium, while the calligraphic scrawl of SCHWARZES BILD NR. 23 by Knoebel reaches deep into a subconscious realm of angst and lost youth. That these works were made during a decade in which the art field was heralding a glorious return to figuration is particularly remarkable.
What innumerable treasures must await us in the archives of abstraction; overlooked in their time, perhaps, because the market was focused on trends that promised fast economic returns.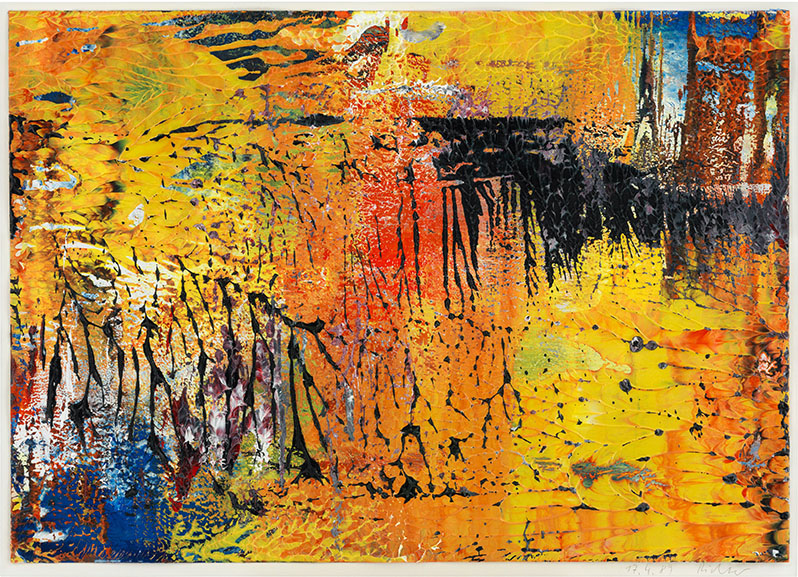 Abstract Masters at Zeit Contemporary Art
The works in Painting Abstraction: 197X—Today center the potential for much longer-lasting, and much more widely disseminated, cultural returns. Each artist in the exhibition not only puts forward a unique position within the overall field of abstraction; each also confidently represents an idiosyncratic intellectual approach towards the field of painting.
This, I believe, is the most noteworthy aspect of what Robledo-Palop and his team achieve with their overall curatorial approach—they make intentional choices that expand the historical canon, while simultaneously arguing for the limitless future abstraction foretells.
Painting Abstraction: 197X—Today is on view online at Zeit Contemporary Art through 31 March 2021.
Written by Phillip Barcio.
Featured images: Helen Frankenthaler - Japanese maple, 2005; Nelo Vinuesa - Camp Kit. Ullal, Gola and Llac, 2020. Oil on paper, 160 x 120 cm each; Peter Halley - Black Cell, 1988. Images courtesy of the artist and Zeit Contemporary Art, New York.