Pakui Hardware is a collaborative duo formed by Neringa Cerniauskaite and Ugnius Gelguda - two Lithuanian artists who have been exploring the relationship between materiality, technology and economy since 2014. Their body of work questions how technology is shaping current economy and physical reality itself - including the human body. In relation to the velocity of technological development, the matter becomes both an obstacle and a vehicle.
Pakui Hardware recently exhibited their works at venues like the National Gallery of Art in Vilnius, the Viennese mumok and Tallinner Kunsthalle. In the following interview, Pakui Hardware discuss automation, aesthetics and the complex ideas behind their ravishing installations.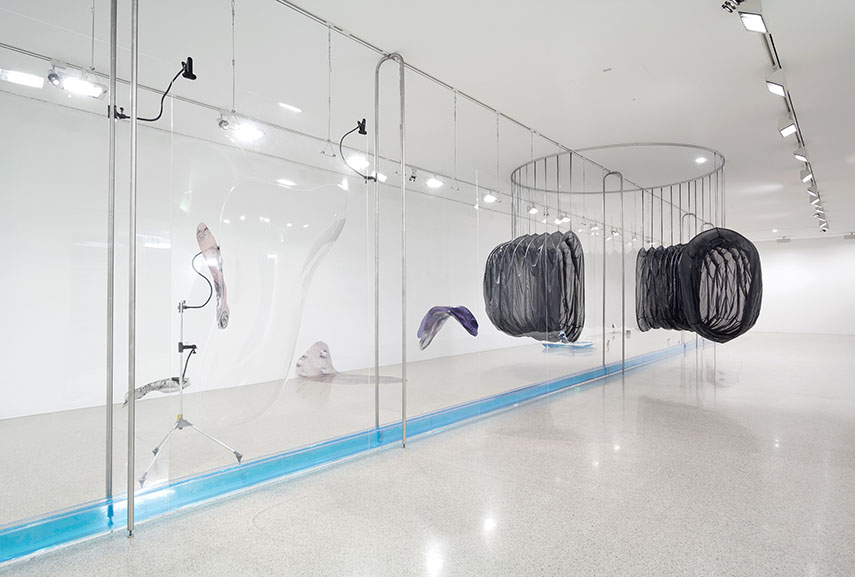 Pakui Hardware and the Hesitant Hand
Amar Priganica and Marie-Claire Gagnon: You recently collaborated with ABB Robotics at the National Gallery of Art in Vilnius, Lithuania - how did that cooperation come in place? Can you tell us more about the ideas behind the installation and share your thoughts on the automation processes of our private lives and industrial engineering?
Pakui Hardware: The installation Hesitant Hand was created specifically for a group exhibition named CityNature: Vilnius and Beyond. The curators were inviting artists to collaborate with scientists and specialists of other fields to produce new work and to expand the boundaries both of art and other disciplines. At that time, we were very interested in how automation is rapidly changing our environment and our relationship to work in general. Therefore, we asked the curators of the National Gallery of Art if they could approach some robotic company, and ABB Robotics Lithuania was incredibly open and generous for this collaboration. They provided us with the robotic arm, specialists and all other necessary equipment to make the installation self-sustainable. This is the story behind Hesitant Hand.
As all our practice spans around the relationship of body-technology-capital, we're particularly interested in what is happening and going to happen to the organic bodies that are now working in the fields that will soon be automated. We'll have an unemployable class too big for social benefits and any established norms of 'healthy' employment statistics. Automation requires us to completely rethink our social values, such as work/employment, productivity, efficiency and skills. No one is protected from automation, not even artists or curators. Therefore, it is both a moment full of new potentials, and a moment full of anxiety if not taken seriously and quickly by governments. One cannot simply rely on technology to solve complex social issues; it is first of all a matter of politics.
In addition, we are also keen on exploring the 4th technological revolution because it a fusion of technologies that is blurring the lines between the physical, digital, and biological spheres. We are speculating what the specificity of our organic embodied minds, with all their shortcomings, could bring to the table and how constant interaction with technologies transforms these embodied minds.
Amar Priganica and Marie-Claire Gagnon: What projects are you currently working on and what are the topics that interest you at the moment? The two of you started collaborating under the label Pakui Hardware in 2014 and you've been producing a large body of work over the last years. Since everything is moving really fast nowadays: What are some of your interests today that you didn't know of three years ago? What has changed and where do you see yourselves going?
Pakui Hardware: Currently, we are preparing for a few upcoming group and solo shows, including a group exhibition Ungestalt at Kunsthalle Basel, solo show at Exile gallery, Berlin, and Sic space in Helsinki, for which we continue to explore the theme of organic bodies in the context of automation and try to translate these ideas via different materials and technologies. Three years ago, we weren't aware of the scale of the rapid automation of the industry or our environment in general. As news of these now hit popular media, it is obviously more than a matter of just a few industries.
It is hard to say where we'll be in a couple of years, but it is clear that our main focus will still remain similar: How bodies are transformed, relied upon and disposed by new developments, materials and capital itself; which bodies are privileged to be enhanced, to reinvent, to enjoy the prosperity brought by technologies and what is considered to be irrelevant and replaceable.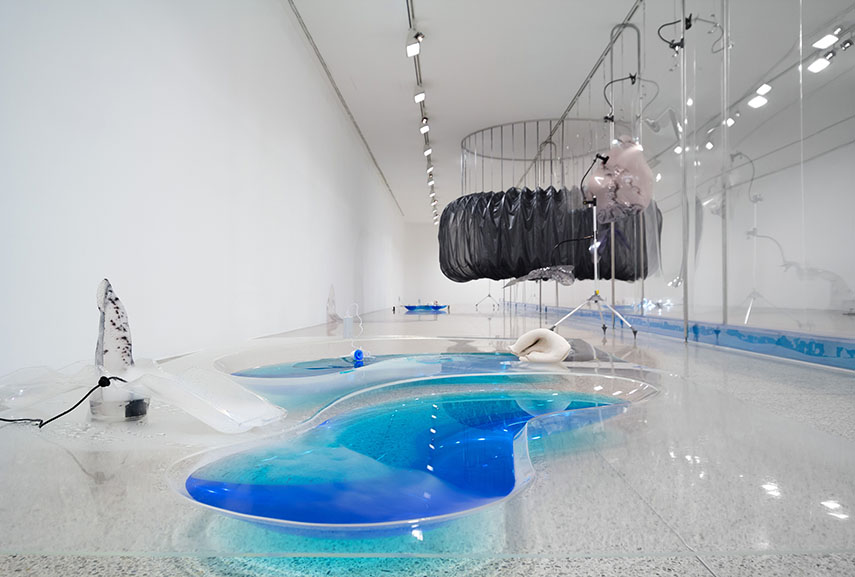 The Question of Technology
Amar Priganica and Marie-Claire Gagnon: The installation design of your work is site specific and you construct your own complex realities within these spaces. Current technologies like VR gadgets have given artists the opportunity to create their own vision without being constrained to "real life" space and time. How do you feel about these innovations in general and are you interested in working with them?
Pakui Hardware: Thanks for describing our work in such a beautiful and accurate way! We actually try to construct exhibitions as realities-in-themselves. Sometimes they might be uncanny, frustrating or impenetrable. We haven't explored VR technologies so much. It seems that in the 90s, feminist art practices employed this technology in a much more powerful way. Speaking about the potentials, it opens up various possibilities in terms of crossing the boundaries of gender, body and social contracts. Today, VR appears to be just a part of capitalist realism like any other, commodified and not as disruptive as it could be. It is also relatively rare media, so any piece in VR seems like a little miracle: there are still no tools to assess it properly--to distinguish a great or weak piece--like one could do with painting or a sculpture. That's just the impression we have now. Maybe we're completely wrong and that is totally fine.
Amar Priganica and Marie-Claire Gagnon: Your work speaks to a variety of people, ranging from art students to scientists. Do you think it's necessary to experience your work in a rather intellectual way to get the idea of your concepts? Should one be able to "get" your work without being super tech-savvy? Also: how would you explain your work to an 80-year-old conservative art aficionado who has only been confronted with traditional media like paintings?
Pakui Hardware: We sincerely hope our work is not just for tech-savvy viewers! With the separate objects and installation design in general, we try to build a specific kind of environment, a feeling if you wish. Maybe the viewer cannot tell what the works are exactly speaking about, but they can definitely grasp the context and the mood the works communicate. It could be very general, such as "uncanny", "hybrid", "transitory" etc. Actually, sometimes the 80-year-old conservative visitors appear to be much more open than young art students because they have much more experience both in life and in art. They have a specific kind of knowledge and wisdom that we don't have yet, and we can learn from them as well. Curiosity is key here and it doesn't have an age-limit.
Amar Priganica and Marie-Claire Gagnon: When dealing with technology - be it in fine art or popular culture - it's very interesting to look back on future visions people once had. Do you get inspired by old school Sci-Fi movies and literary fiction?
Pakui Hardware: Of course, we are really interested in Sci-Fi films and literature, mostly because they offer alternative scenarios of our being. Often they are dystopian scenarios, which mainly highlight and push further the already existing social and environmental issues, and too often they are also too human-centered as well. But the ones that offer alternate states of being are of our biggest interest: The ones that inquire an anthropocentric point of view, patriarchy and capitalism. Feminist Sci-Fi is particularly generous here!
Amar Priganica and Marie-Claire Gagnon: A lot of people would say that they find your works visually pleasing. Are the aesthetics of your installations as important to you as the ideas behind them? How crucial is the concept of creating beauty for you?
Pakui Hardware: Perhaps "beauty" is not the word or the concept we're trying to communicate. We do employ certain aesthetics as a tool to create appeal at first glance, but, at the same time, we create impenetrable environments that are alluring and frightening, just like technology itself. It's a double-edged sword: It can be liberating for some, whereas oppressive for others, and it is just as full of potentials as it is of perils. The combination of various organic and inorganic, synthetic materials is crucial in our installations. Sometimes certain materials themselves provoke us to think of new works, as if they're forcing us to communicate their message through our words and objects!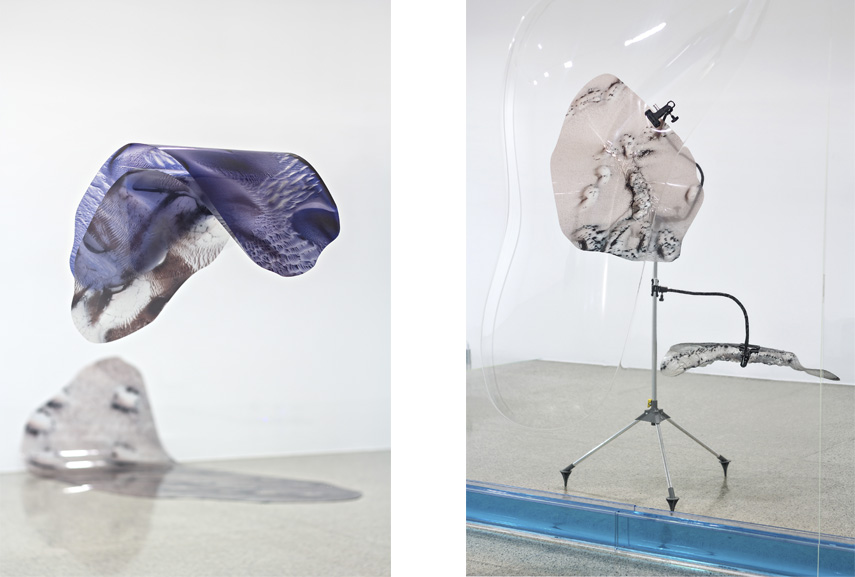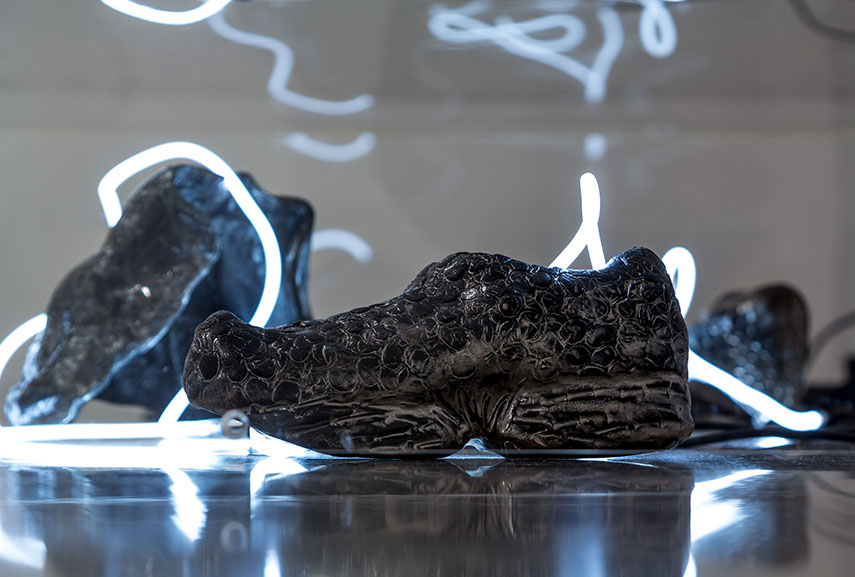 Featured images: Pakui Hardware - Hesitant Hand, 2017. CityNature: Vilnius and Beyond exhibition view at the National Gallery of Art, Vilnius.