The most important photography fair in the world is about to take over the Grand Palais for the 19th time. Paris Photo 2015 comes back with more than 140 leading galleries from 33 countries worldwide, as well as 27 publishers and specialized art book dealers, for yet another brilliant showcase of historical and contemporary photographic works. As per usual, the event will provide an extensive program filled with talks and discussions, this year focusing on the topics of the collection, photography after the crisis, and the medium's relation to the book. Also returning, for the 4th time, are the annual Paris Photo-Aperture Foundation Photobook Awards. For their latest edition, Paris Photo is introducing a new curated exhibition sector in the Salon d'Honneur, featuring a selection of large formats and serial works.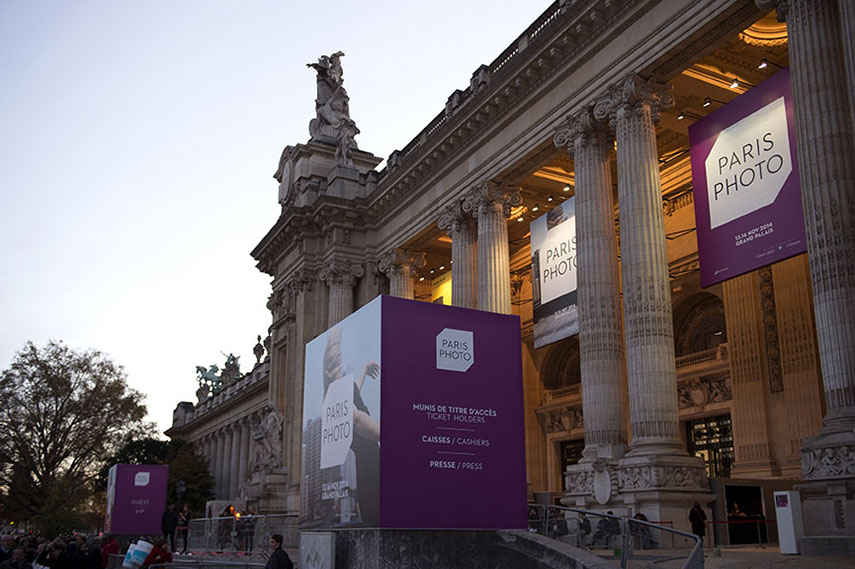 The Program
Under the direction of Christoph Wiesner, the new Salon d'Honneur gallery sector will give Paris Photo visitors a unique opportunity to see exceptional photographs in all their large-scale glory, as well as works produced in series. Taking part in this program will be 10 international spaces, each presenting a photographer in a solo show. Among them, Daido Moriyama, presented by Akio Nagasawa and Jean Kenta Gautier, Nobuyoshi Araki with Taka Ishii, and Manuel Alvarez Bravo, Garry Winogrand, Lee Friedlander and Walker Evans with Thomas Zander. As part of the usual gallery solo shows, there will be a spectacular choice of artists, from Jacques Henri Lartigue (with Alain Gutharc), Nick Knight (with Christophe Guye), Brassai (Karsten Greve), Guy Bourdin (Louise Alexander), Bernd and Hilla Becher (Spruth Magers) and many more. Galerie Lelong will showcase the images of Jean-Baptiste Huynh, who is exploring the double theme of nudes and plants from France and Vietnam, and young Chinese photographer Maleonn will exhibit at Galerie Magda Danysz.
The Platform, Paris Photo's discussion platform, will present a series of talks dedicated to three topics: The collection, with a focus on J. P. Morgan's exhibition for the fair; After the Crisis, about the medium's evolution and problems, and The relationship between the book and photography, discussing the possibilities of the dissemination of images today. Also on view there will be over 1000 photographs from the Collezione Enea Righi, featuring the likes of Cy Twombly, Nan Goldin, Hans-Peter Feldmann and many more. The 2015 Paris Photo-Aperture Foundation Photobook Awards will be given out for First Photobook ($10,000), Photobook of the Year and Photography Catalogue of the Year, also showcasing 35 shortlisted titles.
To accompany the program, there will be official partner exhibitions (Acqua #6 presented by Giorgio Armani, On Time JPMorgan, featuring photos and films by 13 artists taken from the JPMorgan Chase Art Collection, and Coup de Foudre / At First Sight by Natasha Caruana, presented by BMW Art & Culture), associate partner exhibitions (J'Etais La, presented by Leica, Li Wei's Vision, presented by Pernod Ricard), as well as the Paris Photo Agenda, established in 2013 with Leica to select the best of photography throughout the year from more than 200 galleries and institutions around the world.
List of Exhibitors
Exhibiting Galleries
An incredible gallery line-up once again at Paris Photo, looking to repeat the success of the Los Angeles edition earlier this year. A total of 147 galleries from 33 countries including two new (Estonia and Slovakia). Thirty percent of them are from France, 19% from the USA, 10% from Germany and the UK. Among the exhibitors: Bryce Wolkowitz, Daniel Templon, David Zwirner, Gagosian and Stephen Bulger.
Location of Paris Photo 2015 - Grand Palais
Paris Photo 2015 - Practical Visitors Information
The Paris Photo 2015 in Paris will be held from November 12th through 15th at Grand Palais. On November 11th there will be the preview opening from 11am to 2pm, the VIP opening from 2pm to 5pm, and the opening for press and invitations only from 5pm to 9.30pm. Fair hours will be from 10.30am to 12pm for guests and VIP private access, and from 12pm to 8pm for general public (till 7pm on closing day). Ticket prices range from 30€ for general admission and 15€ for students. Entry is free for children under 12. Guided visits can be purchased at 20€. For more information, visit the official website.
For more fairs worldwide, sign up for My Widewalls!
All images courtesy of Paris Photo.