One of the most famous artists from Korea and a member of Dansaekhwa movement Park Seo-Bo will start the year of 2017 by feature his recognizable minimalist paintings at White Cube gallery. Park Seo-Bo art was influenced both by the Western abstract painting tradition and the Korean calligraphy technique resulting in a unique blend that has become the artist's trademark style. The upcoming exhibition will feature his acclaimed Ecriture pieces and particularly the part of the series known as the zigzag paintings that was in the focus of the artist's explorations between mid-1980s and early 1990s. Though paintings from this period will represent the roster of the show ZIGZAG: Ecriture 1983-1992 exhibition will also feature several of Park Seo-Bo's more recent pieces.
Park Seo-Bo's Ecriture Series
Park Seo-Bo began to work on his Ecriture series back in the late 1960s and hasn't stopped since then. The artworks that have their origin in Taoist and Buddhist philosophy are inseparably connected with the Eastern comprehensions of time, space, and matter. At first, the artist used pencil or a pen to inscribe his writings into a wet, layered and mono-chromatically painted surface. Later, Park Seo-Bo introduced a new element to his pencil on canvas work by adding hanji, a handmade paper traditionally produced in Korea from mulberry tree which he applied to the canvas. Park Seo-Bo discovered mulberry paper when he moved to the Western region of Korea where it is often used as a material for flooring the houses.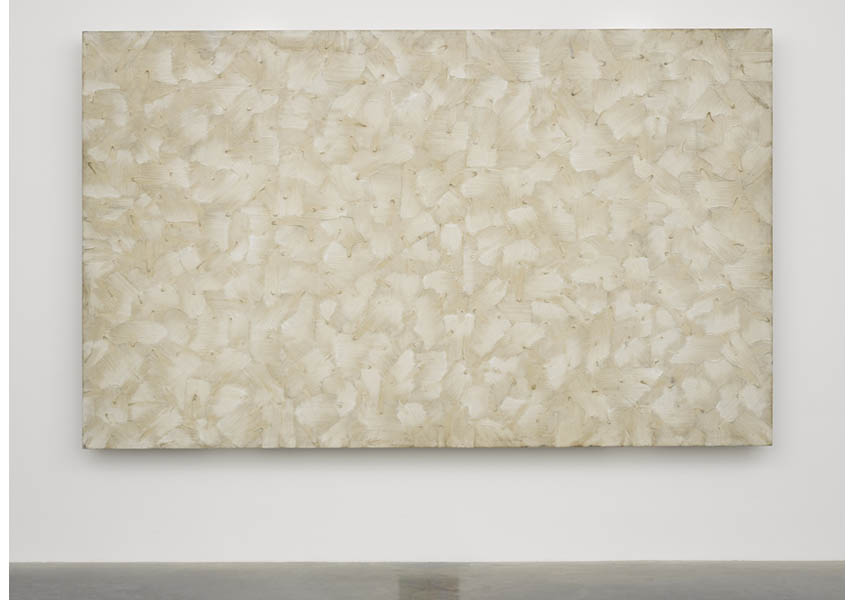 ZIGZAG: Ecriture 1983-1992 at White Cube Mason's Yard in London
Inspired by the paper's spiritual elements Park Seo-Bo started embellishing his 1980s artworks with layers of paper strips that were immersed in color and inserted to the canvas while the paint was still wet. After applying the paper strips the Park Seo-Bo would use metal or wooden sticks and at times his own hands to create complex and repetitive shapes reminiscent of calligraphy that would move the pulp in the paper, thus resulting in the unique texture of his canvas masterpieces. But the paper wasn't the only material Park Seo-Bo used to achieve the original patina in his artworks. In his monumental Ecriture No. 870907 artwork created in 1987, he used a special powder made by crushing thousands and thousands of seashells to give his canvas artwork a characteristic finish.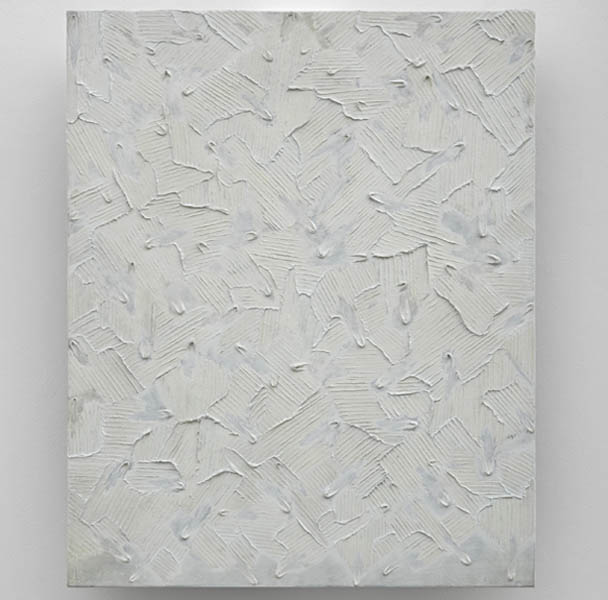 Curated by Katharine Kostyál
ZIGZAG: Ecriture 1983-1992 will also feature an array of painter's most recent artworks made in the mid 2010s including several of his pieces created in 2016. Recurrent use of bright colors is noticeable in his later canvas works that distinguish them from the artist's earlier, dominantly gray, white and black pieces. This shift is particularly visible in two of his paintings from 2014 and 2016 that feature bright red pigment and vertical lines to vitalize the surface of the paintings. But whether monochromatic or with a trace of color, artworks by Park Seo-Bo have always represented a result of fine technical skill and uninterrupted focus applied within a limited amount of time. ZIGZAG: Ecriture 1983-1992 solo show by Park Seo-Bo will be curated by Katharine Kostyál. The exhibition will be on view from January 20th till March, 11th 2017 at White Cube Mason's Yard in London.
Featured image : Park Seo-Bo - Ecriture No 88120, 1988 ; Images courtesy of White Cube gallery