New Jersey based Parlor Gallery has announced an exciting new joint exhibition, which will feature the works of Max Kauffman and Jesse Reno. The forthcoming show, curated by Parlor Gallery Directors Jill Ricci and Jenn Hampton, will go by the name Beautiful Squalor and will be exhibited in Gallery 1 at the Asbury Park location. Beautiful Squalor will be the first time the two artists have exhibited together, both producing a range of new works for the joint show which has been years in the planning. Both Kauffman and Reno are widely respected and collected artists, the new show at Parlor Gallery offering the perfect chance to catch two rising art stars with their stunning creations, which somehow complement each other's styles perfectly. Parlor Gallery recently presented the nineteen artist group show Spell Check.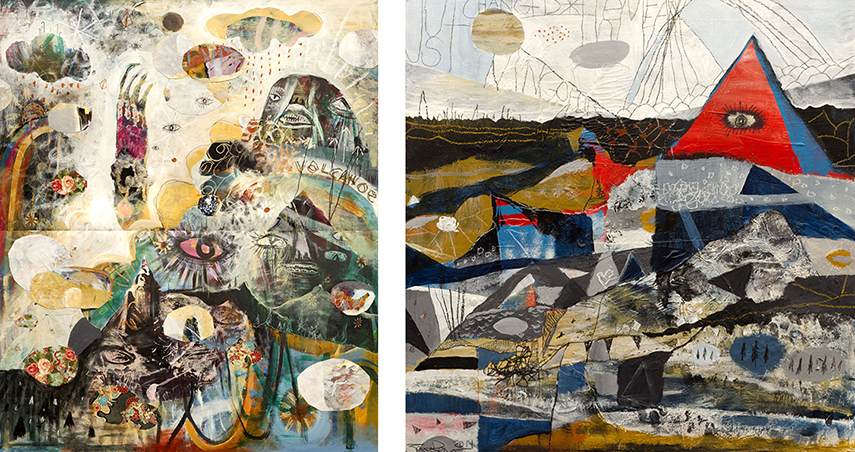 Beautiful Squalor at Parlor Gallery
Beautiful Squalor at Parlor Gallery brings together the fascinating minds of Max Kauffman and Jesse Reno, with both of the artists presenting beautifully fragmented views of the world. The artists have created a stunning new body of works for their debut show together, including paintings, mixed media collages, prints and sculptures. Beautiful Squalor reveals the on-going exploration of the human condition by Kauffman, particularly the idea that we try to find peace away from the chaos we create, even though we are dependent on that chaos. The beautiful paintings reflect Kauffman's views on the duality of existence, the new works moving between subconscious and conscious mark making, some veering towards abstract gestures while others more in the style of folk drawing. Self-taught mixed media painter Jesse Reno brings themes of fragments and feelings to Beautiful Squalor, working on instinct rather than logic to create emotions within his work. Reno states that he wants his work to ''convey the chaos of volcanoes, the collapse of an avalanche and the weight of an anchor''. Check out the recent joint exhibition of Max Kauffman and Brian Robertson in Meta Structures.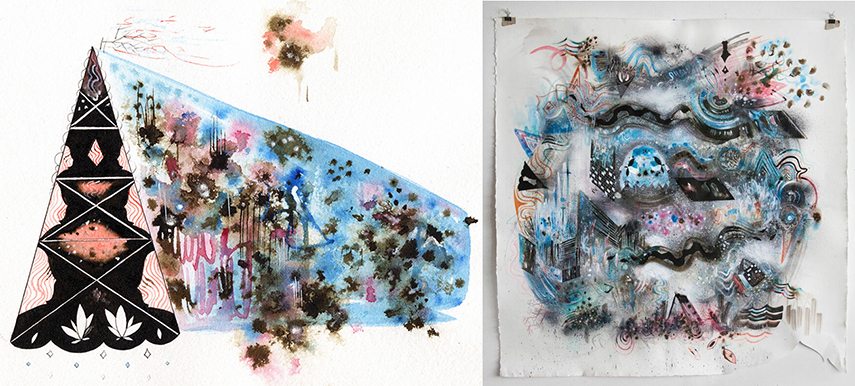 Max Kauffman and Jesse Reno
Oakland based Max Kauffman and Portland based Jesse Reno both offer unique and beautiful insights into the world surrounding us. Though both have their own unique style of working, the themes are intrinsically linked, both working in some kind of intuitive way to create their mark making and offer some explanation of the world around us. Kauffman views his artworks as a kind of meditation, a release from the chaos of the world, his landscapes and houses that appear to be vanishing into dreams offer a magical sanctuary away from the noise of everyday life. His way of working has a plan, but one that is open to possibilities and working with the feelings of unknown potential. The prolific Jesse Reno, who has created over 3000 paintings in just 12 years, relies very much on intuitive actions and the interpretations of the creations resulting from those actions. Though his imagery is made up of fragments, the objects, animals, shapes and forms that present themselves all play an important role within the stories conveyed. The artworks are rich in symbolism, with his images often incorporating themes involving shaman, tentacles, primitives, forest spirits and totems. Beautiful Squalor at Parlor Gallery invites you into the wonderfully constructed worlds of Kauffman and Reno, with a chance to get lost in these magical sanctuaries. You may also enjoy the work featured in Platinum Blend and The Ballasted Frequencies.
Beautiful Squalor by Max Kauffman & Jesse Reno opens at Parlor Gallery, New Jersey, on 13th June, 2015 and runs through until 22nd July, 2015. Opening reception is on Saturday, 13th June, 2015 7-11pm.
For all the latest exhibition news sign up to My Widewalls today.
Featured slider images: Jesse Reno -Tsunami. Acrylic, oil pastel and pencil on wood / Max Kauffman - Beautiful Squalor Exhibition.
All images courtesy of Parlor Gallery.