An insatiable nude woman is coming after you, yuppie! She's blue! I know it's funny, but you better run, 'cuz she's so, sooo bad. This would be an attempt to humorously sum up the contents of the latest series of works made by Parra, whose solo exhibition is opening tonight at Jonathan LeVine Gallery. Entitled Yer So Bad, the second display of Parra with the New York gallery will include a release of a limited edition zine, available at the space and Printed Matter at 10th Avenue.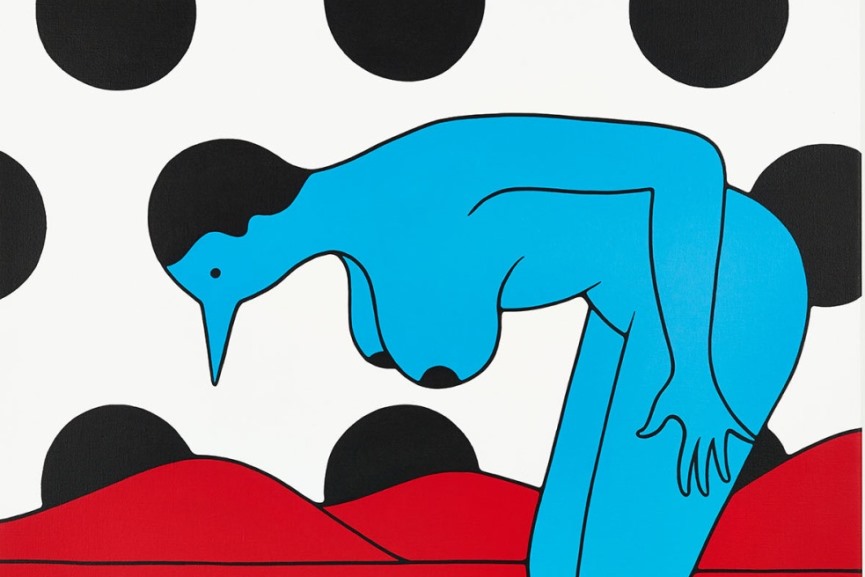 The Bad Girl Cliche by Parra
Playing with the notion cliche, while repeating his recognizable post-pop imagery, Parra devised a narrative to support his exhibition. It derives from the title, taken from a Tom Petty song Yer So Bad, which tells the tale about a girl who marries a yuppie and then takes all of his money, but is still unhappy, divorced, although the said yuppie ends up the worse. The show at Jonathan LeVine showcases Parra's signature figures in a usual, basic chromatic range of red, blue, black and white. Along with the imagery, the exhibit includes some of the artist's free-from typography on both canvas and paper. Aesthetically, Parra still leans on the same Pop art sources of the 60s, Roy Lichtenstein and Keith Haring, exploring the graphic possibilities, building upon the visual foundation they've set.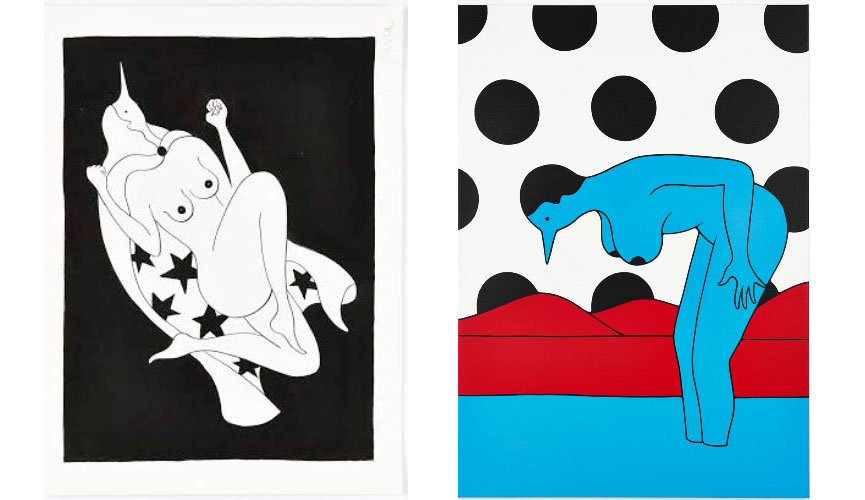 Parra's Visual Language
Besides an obvious inspiration found in the Yer So Bad song, Parra employs scenes easily related to everyday life and various embarrassing or unpleasant situations. His works are done quickly, free in style, but consistent with the artist's expression. As always, the contour is strong, carrying the figurative scene, lines are thick and graphic, highlighting the movement of characters, the situation. Color is there only to guide the eye, while it's absence testifies to its secondary importance. Strong contrasts of warm red and cold blue make a pop-artistic impression. What is one of the most intriguing elements of Parra's work is the eroticism, constantly present, often as the central idea. These obscenities are, however, hardly offensive, as they are meant to examine, unravel and even ridicule occurrences in modern society, ranging from satirical to personal, from bold to absurd.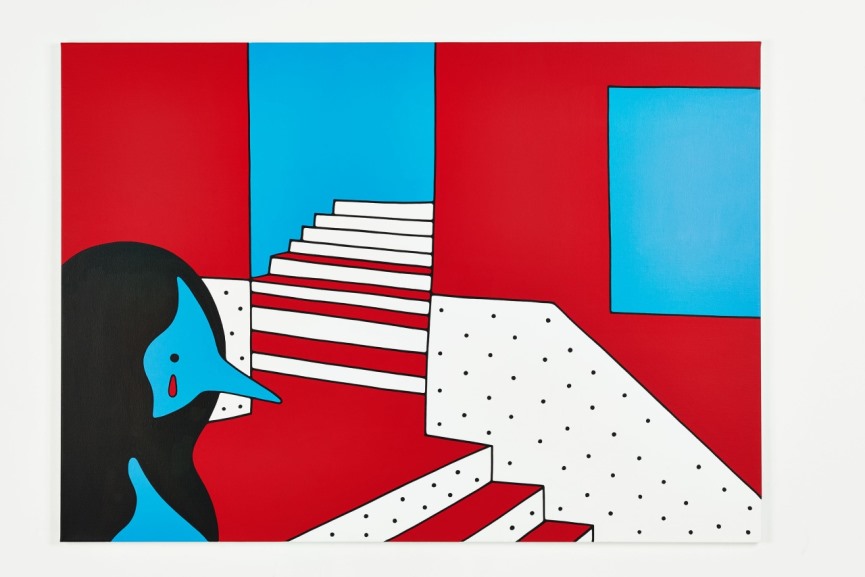 Exhibition at Jonathan LeVine
Viewing Parra's painting, we cannot overlook his archetypal subject - a curvy, often blue, bird-like woman, a predator and a danger. This danger is not threatening, as we are only to witness her bad deeds. Leaning on the narrative of the song, Parra creates a series of works that together might resemble a loose comic book, although each individual piece is packed with suggestive matter. The fact Parra draws so much from a song is hardly surprising, as the artists began his career by drawing flyers and posters for music venues in Amsterdam in the 1990s, and today is a member of an electronic music band. Knowing that Tom Petty's Yer So Bad was released in 1989, the idea, the inspiration and the fact that world is gone mad allows us to appreciate novel Parra's pieces even more.
Yer So Bad exhibition by Parra is opening today, on January 8, 2015 at Jonathan LeVine gallery in New York. The show will run through February 7, 2015.
Parra's show Same Old Song provides more insight into his ideas and aesthetics.
Enjoy Parra, Jonathan LeVine concept or urban art in general? Sign up for My Widewalls and be a part of the scene!