In the increasingly fleeting world of street art, paste-ups are quickly becoming the "go to" medium for communication. Many street artists today choose to use these pre-prepared images that can be taken down, thereby avoiding a vandalism charge. By allowing them to use detailed images and rather quickly, the technique influenced the creation of provocative content, statements of political nature or satire of present-day subject. To celebrate the medium that has been making head roads into our everyday life, Well Hung Gallery has brought together eight famous paste-up artists in a group exhibition titled Stick em up. Featured artists A.CE, Ben Rider, Donk, Hin, LUAP, My Dog Sighs, Pablo Delgado and Shuby have all been creating a huge buzz in the street art world with their provocative imagery that could be seen all around London. Work included in the show features neon artworks emblazoned with their unique trademark imagery and bold iconography.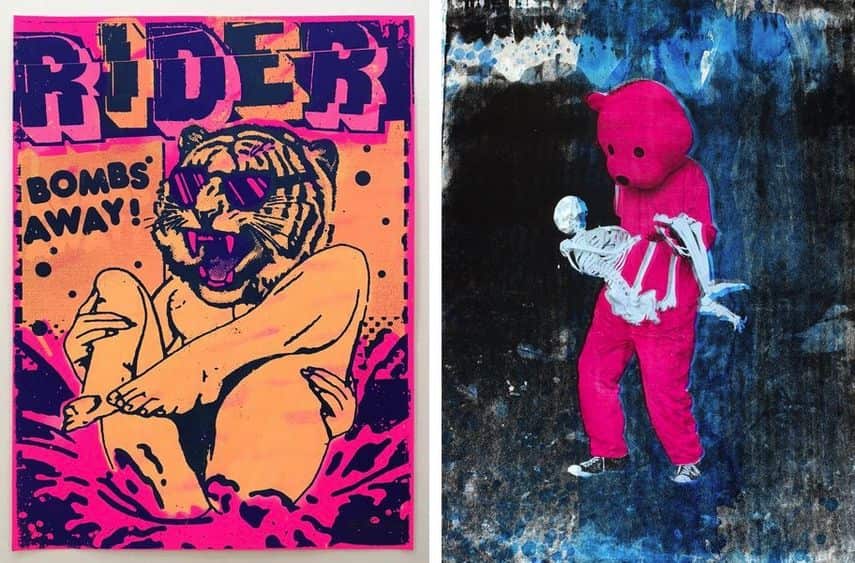 A.CE, Ben Rider, Donk, and Hin
A London-based artist, A.CE draws inspiration from Dada collage and classic Pop art. Intuitively selecting, blending and remixing a raw presentation of nostalgic imagery, he creates new narratives that reflect the absurdities of popular culture and contemporary consumer society. Specializing in rough, raw pinky image making that bursts with energy and loud graphics, Ben Rider uses his practice to stick a middle finger to the increasingly homogenized slick corporate world that is being sold to us. Combining photography, printmaking and hand-finishing techniques, Donk creates strong evocative images that reference urban history and culture through playful connections between universal themes of human strength, space, fantasy and vulnerability. On the other hand, Hin is a diverse creator known for his "contradiction art", trying to both preserve his inner child and acknowledge the truth of the cruel reality in life.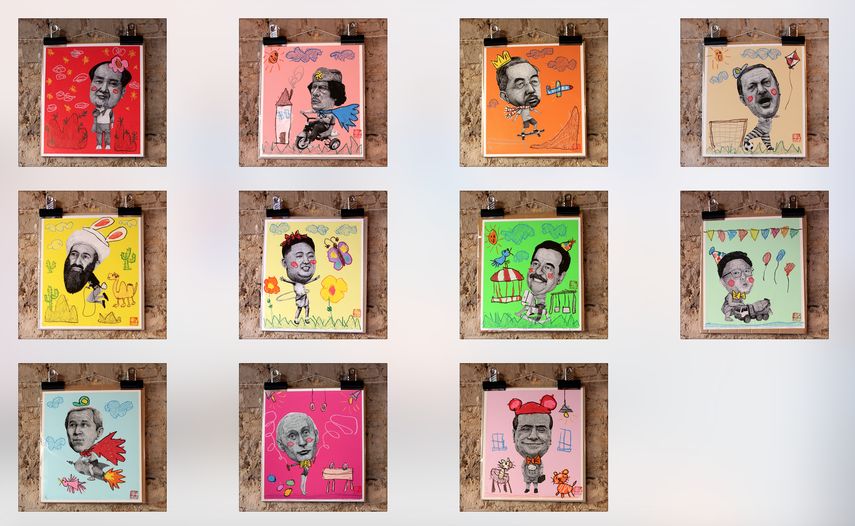 LUAP, My Dog Sighs, Pablo Delgado and Shuby
Also known as Paul Robinson, LUAP is best known for his striking motif existing between reality and make-believe -  a pink teddy bear that came to life and has been placed in the world, acting as a metaphor for discovery and exploration. Best known for his Free Art Friday project, My Dog Sighs combines melancholic and often naive portraiture with the use of found materials. Coming from Mexico, Pablo Delgado meticulously incorporates people, animals and objects into miniature, detailed narrative scenes, creating different layers of meaning.  Finally, Shuby is best known for her banana and bunny motif inspired by the singer and dancer Josephine Baker, illustrator Martin Sharp and Busby Berkley's Lady In The Tutti Frutti Hat. Becoming a naughty but innocent calling card, this motif is instantly recognizable and intrinsically humorous.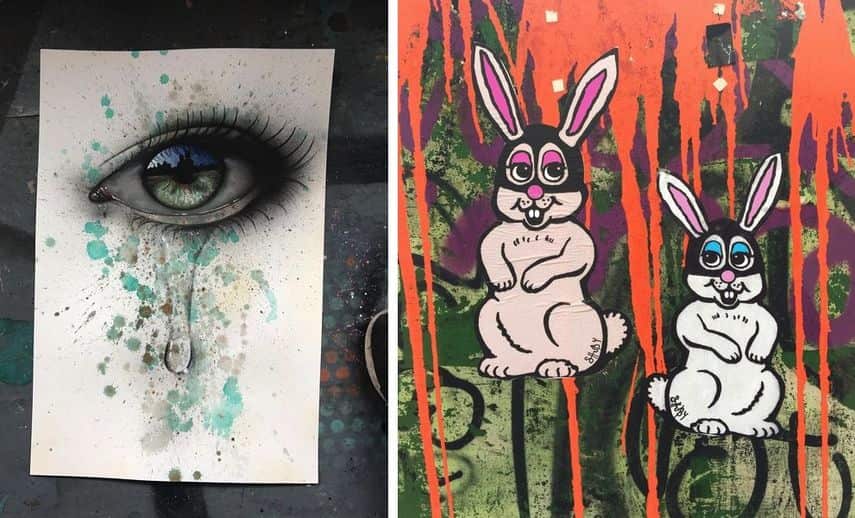 Paste-Ups at Well Hung Gallery
Fostering a unique approach to popular culture and mass media imagery, all of these artists appropriate this common language to create art that is current and relevant, as well as through-provoking and visually intoxicating. The exhibition Stick em up will be on view at Well Hung Gallery in London from October 26th until November 25th, 2017. The private view will be organized on Thursday, October 26th, from 6 to 9:30 p.m. Exclusively for the show, all of the featured artists will cover the gallery windows with glorious paste-ups.
Featured images: My Dog Sighs, wall; Shuby - World Without Shame; Luap - Bear G, Print Edition. All images courtesy of Well Hung Gallery.