An Australian artist, Patricia Piccinini explores how contemporary ideas of nature, the natural and the artificial are changing the society we live in. Addressing concerns about biotechnology, she creates weird and grotesque mutant sculptures out of silicone, fiberglass and human hair that present a possible future species that will interact with humans.
Piccinini's work has been introduced to the Estonian public for the first time in a show that opened the 2021 exhibition season at Kai Art Center. The instruments of Life brings together fourteen of her hypothetical life forms, born out of the possibility of genetic cross-breeding.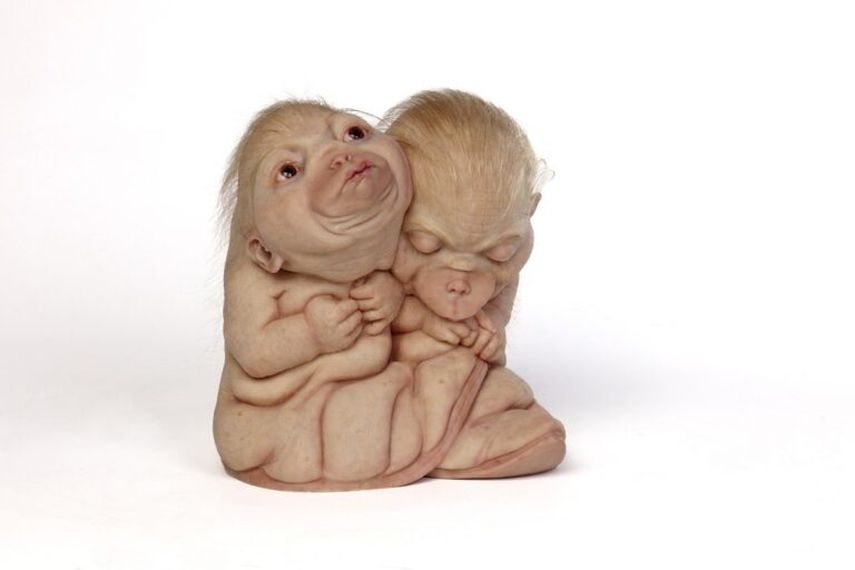 The Practice of Patricia Piccinini
After studying economics and philosophy, Patricia Piccinini came to art through drawing exhibits in collections of medical and science museums. With an ambivalent attitude towards technology, her artistic practice addresses concerns about biotechnology such as gene therapy and the mapping of the human genome, as well as humans' responsibility in conducting scientific research.
Taking approximately one year to complete, her hyperrealistic sculptures are made from silicone, fiberglass and human hair, appearing visually uncanny. Through her practice, she explores themes of fecundity in the broadest sense – the potential of life, empathy and the connection between species.
Equally cute and grotesque, these sculptures remind us how genetically close humans are to other species, how greatly we depend upon one another and the responsibility we have for everything we create.
The Works on View
The exhibition will bring together sculptures created between 2005 and 2019 and her new video work The Awakening (2020), dedicated to the body as a site of production, exploring themes like rebirth and renewal.
Created in 2019, the work Shadowbat references the flying fox, a large bat native to Australia that is increasingly falling victim to climate change. Piccinini's creature has a genetically engineered a skin-like umbrella – hanging by a hook consisting of fingers – to shade the creature. Similarly, Eulogy from 2011 is a tribute to and celebration of the blobfish's life that the artist described as "a quiet work" that is "not histrionic."
The artist's new video work The Awakening speaks about rebirth and the potential of life with the accompanying soundtrack of an irregular heartbeat. Featuring a pulsating, fleshy, and gently 'smiling' creature with an eye-like hole within the bodily folds, from which periodically an egg-like form pops out, it is a celebration of the body as a site of production.
Patricia Piccinini at Kai Art Center
Curated by Anna Mustonen, the exhibition The instruments of Life will be on view at the Kai Art Center in Tallinn until April 25th, 2021.
Expressing her excitement about being exhibited for the first time in Estonia, Piccinini said she hopes that "lots of great discussions and experiences result out of the exhibition."
Featured image: Patricia Puccinini - Cleaner, 2019. Courtesy of the artist. Photo: Mari Volens. All images courtesy Kai Art Center.