Three artist will be exhibiting soon at the New Image Art gallery presenting their visions of urban life and all the chaos and difficulties the lifestyle implies. The show is titled This Crazy Life and it will encompass work by Gregory Bojorquez, Patrick Martinez, and Michael Vasquez. Their artwork shares a common ground found in the local urban "hoods", portraying all the crudeness and disarray of the harsh locally oriented surroundings. Subjects of their paintings are predominantly portraits and still lives, through which each of the creatives expresses his personal vision of the urban hazardous dwelling.
This Crazy Life opens on April 26 at New Image Art in LA and it will remain on display through May 23, 2014.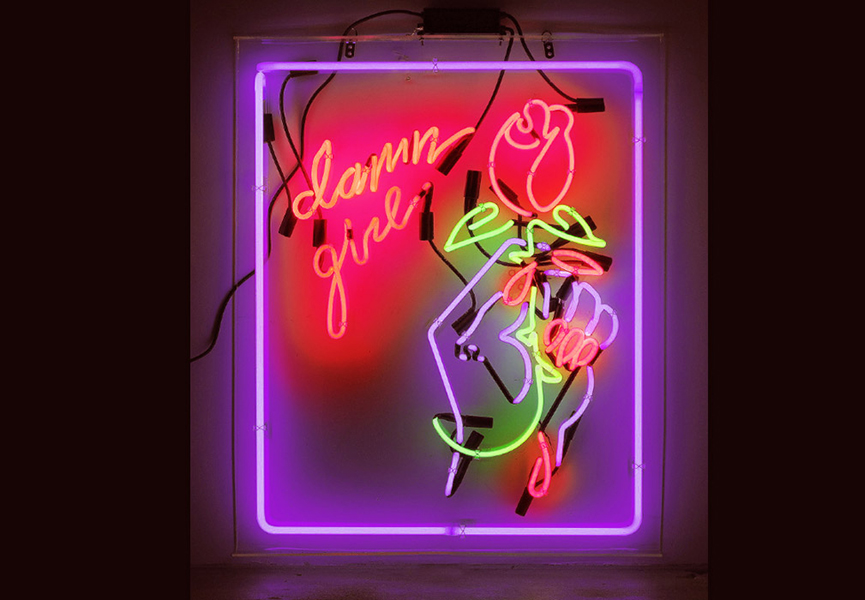 Patrick Martinez
Patrick Martinez is a Los Angeles based artist who is best known for work related to neon lighting, fused with the more traditional painting medium. The very unique technique serves the artist to depict a variety of subjects, which range from classical still lives often enriched with images of firearms, to neon signs which resemble those found in shop windows, but Martinez' signs convey a radically different message. Part of his figurative scenes executed with neon is inspired by club scene, often containing suggestive phrases in both English and Spanish. As his works unite two unexpected techniques, as well as the ultramodern and the traditional imagery, the implication of a double meaning is not surprising. Patrick Martinez' pieces exude a healthy dose of humor along with fine cynicism, frequently handling inter-cultural topics related to his hometown of Los Angeles.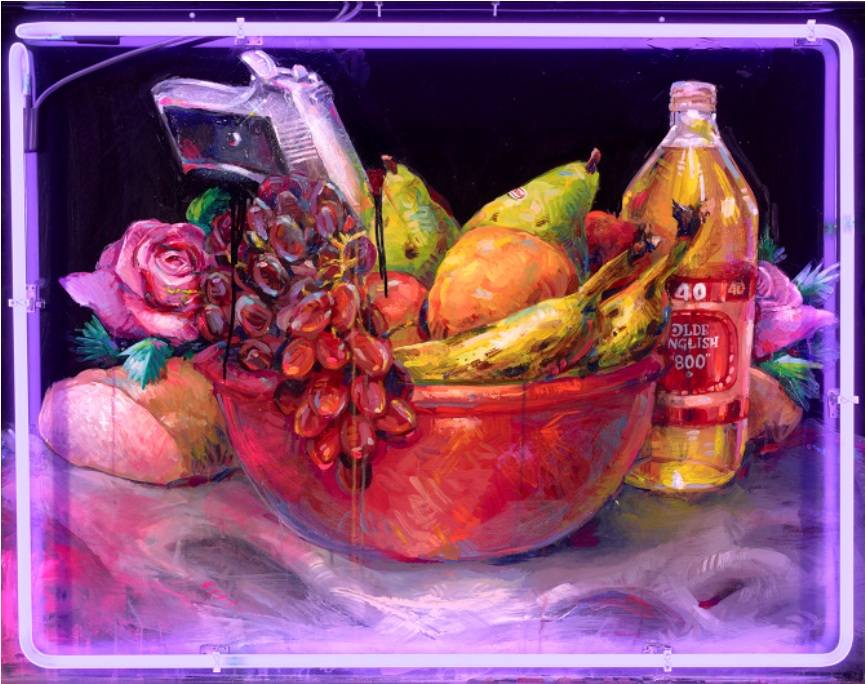 Gregory Bojorquez
From the hood to the stars, who also come from the hood. This is the shortest possible description of the photographic work of Gregory Bojorquez, another creative from the City of Angels. His work is down to earth, real portrayal of LA subjects, many of which are world known celebrities. His images are often musician portraits, and each speaks the correct language of rock n' roll, hip hop or other. This Crazy Life will showcase a rare large collage piece titled Eastsider Collage, an exhaustive narrative of characteristic scenes and portraits of the "hood" related "homies".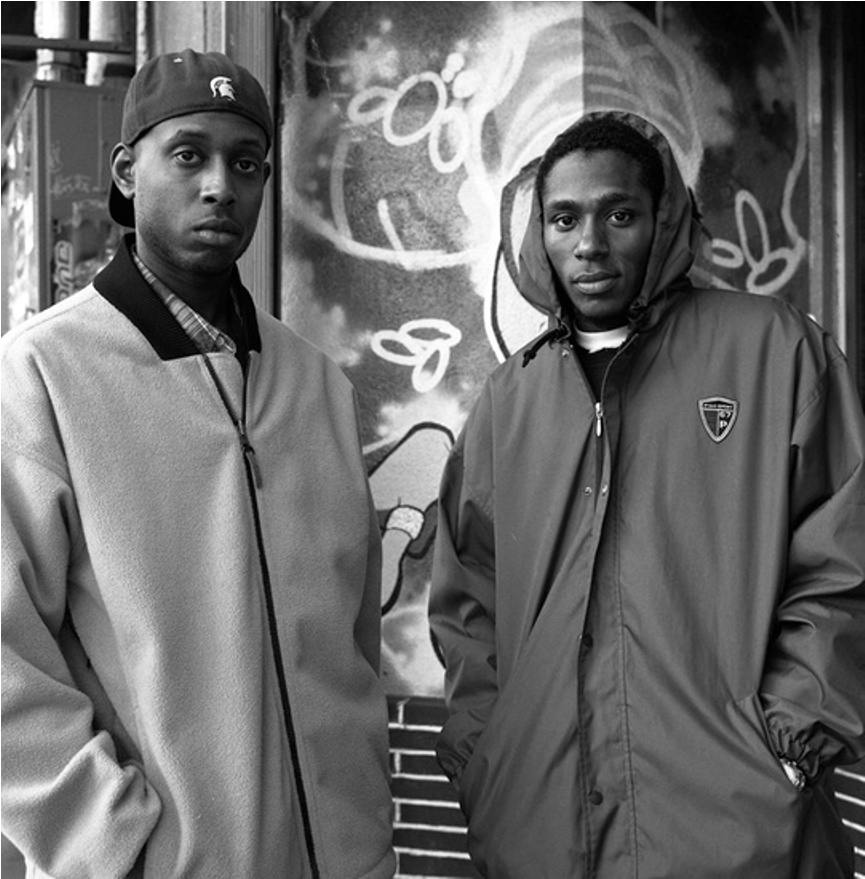 Michael Vasquez
Power and glory is the undertone of Michael Vasquez' gang member portraits, which takeover his entire body of work. Figures in paintings of this Miami based artist are tough, dangerous, not to be messed with, important and larger than life. The portraits are expressive, color rich, modelled with bold strokes, all of which contributes to the drama of each composition. Depicting an array of apparently mean characters from the hood in a very painterly way, the artist conjures up a symbolic art series that focuses on pursuit for balance in a microcosm defined by clashes and violence.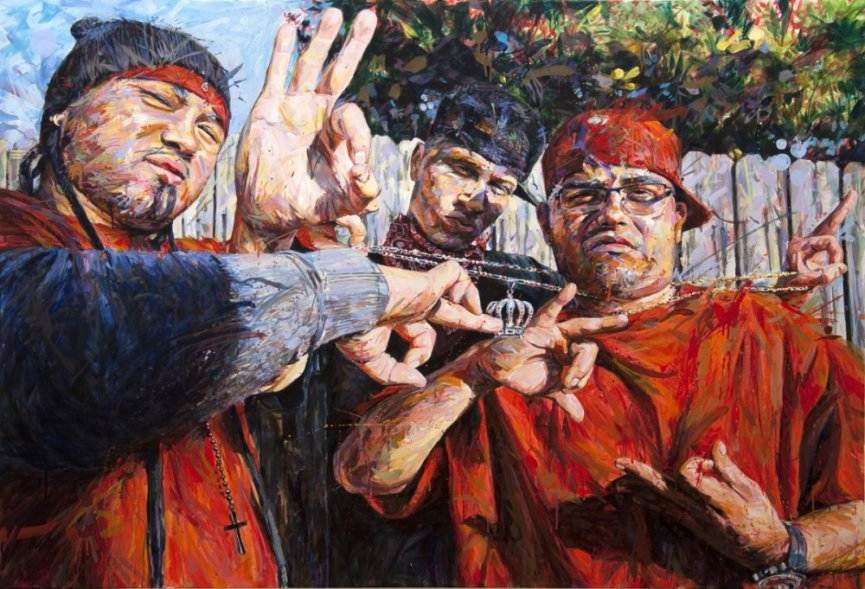 About New Image Art
Founded in 1994, New Image Art in Los Angeles emerged as a subversive experiment, oriented on showcasing performance art, painting and sculpture. The gallery started focusing on skate and surf art over time. New Image Art is dedicated to helping young creatives develop their careers.