A white girl from Ohio, Patti Astor took over New York City and changed the art world forever. Moving into the East Village in the 1970s, she quickly immersed herself in the underground culture and became a fixture on the local scene. At the time, CBGBs was just the neighborhood bar and Blondie and the Talking Heads were its house bands. Soon after, the artists stampeded into the area and everything changed rapidly.
During the 1970s, Astor was a key actress in New York City underground films, such as Unmade Beds, Rome '78, The Long Island Four, and Snakewoman. Yet, her best known role was in Charles Ahearn's legendary hip-hop epic, Wild Style, where she played a roving reporter who encounters the rap and graffiti culture uptown, and introduces it to the downtown art world - a role she went on to perform in real life.
Indeed, her life would take a totally new direction when she met FAB 5 FREDDY in 1981 at Duncan Smith's party, after the screening of her landmark low-budget flick Underground U.S.A. at St. Marks Cinema. "The Queen of Downtown had met the King of Uptown," she described the encounter in an interview. "FAB said I was 'Down By Law' and the art world would never be the same."
The art world would never been the same, as this was the seminal moment that led to the foundation of the FUN Gallery, the iconic venue that introduced graffiti into the art world.
Patti Astor and FUN Gallery
FUN Gallery, a New Place in the East Village
Born in Ohio in the 1960s, Patti Astor first moved to New York in 1968 and became an anti-war revolutionary and Black Panther sympathizer, indie film actor, and general scene-kid. When she moved to the East Village in 1975, the neighborhood was a place that was seen as dangerous by outsiders, but home to those who lived here. It was a place where rents were cheap and parties were wild.
Omnipresent in the scene, Astor befriended artists, musicians, and filmmakers early on. It was FAB 5 FREDDY, whom she accidentally met at a party, who introduced her to a host of fellow graffiti artists and hip hop musicians. As she explains, the hip hop culture and the downtown punk rock culture were evolving separately, but had one thing in common. "We both lived in completely burned out neighborhoods in horrible tenement apartments. We were both outcasts from culture so we made up our own," she says.
I think the artists realized I had a genuine respect for the work and like a good toy, I kept my mouth shut and my ears and eyes open. Plus I was always up for a good adventure.
As she recalled in many interviews, the actual gallery was a total accident. She was throwing a party in her apartment on 3rd Street between 2nd Avenue and the Bowery, while FUTURA was creating a mural on her apartment wall. After this BBQ and installation turned into a major event in the neighborhood, attracting many movers and shakers of the art world, her friend Bill Selling offered a tiny basement storefront he had at 229 East 11th Street for a gallery. He asked her if she knew any artists, and at this point, Astor knew quite a few. As the rent was only $125, they decided to take that chance.
It was 1981 and it was the beginning of the groundbreaking FUN Gallery, the first art gallery in East Village, which later moved to a space at 254 East 10th Street until it closed in 1985. Although its tenure was brief, it was a space that would change the art world forever. An alternative to the pretentious lower Manhattan art scene, it was a place where art, graffiti, hip hop and breakdancing came together, attracting New York's hippest and coolest and capturing the zeitgeist.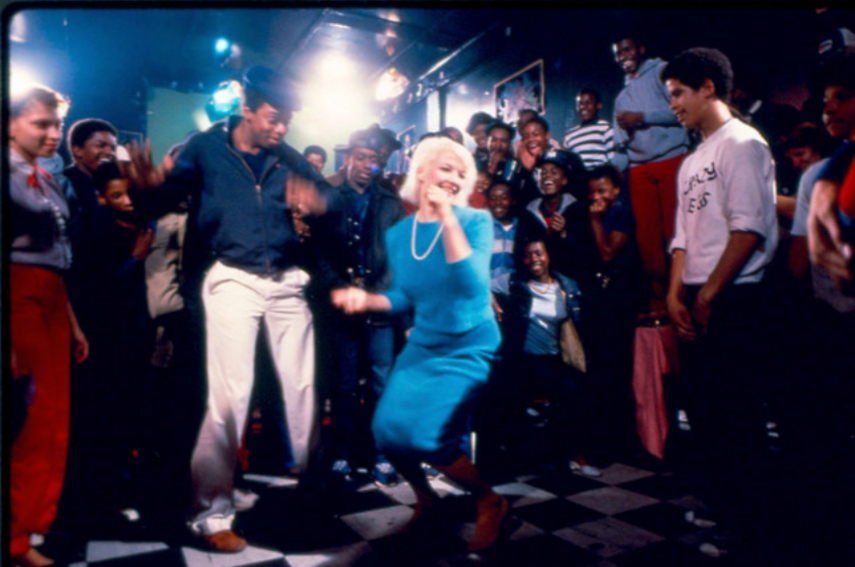 Seminal Exhibitions
FUN Gallery was the first gallery that gave graffiti artists one-man shows, becoming instrumental in reintroducing this underground art form into the mainstream art world in the early 1980s. It also led the way for dozens of other galleries that later appeared throughout the neighborhood. Astor did not differentiate between graffiti and art. As she explained, she saw the gallery as an opportunity to show the work of all the artists she knew who were doing very exciting things, but to also introduce Black and Latino people into the art world.
The first event was a solo show of Astor's ex-husband and artist Steven Kramer and it sold out quickly. The next was Kenny Scharf, for whom it was the first one-man show, and then FAB 5 FREDDY. Initially, the gallery took on a new name for each show, but it was Scharf who proposed the name FUN Gallery for his show, and it stuck. Soon after, the limos and collectors started making the scene, mingling with artists, b-boys, rock, film and rap stars. As Astor explained, the idea of the gallery "was to take the art back from the business people and make it just be about the art again," showcasing works that could be enjoyed without an art degree. She gave the artists free rein over the gallery, facilitating the growth and development of their work without compromising of their street credibility.
I want everyone who walks through that door to feel, yes I can make a difference here.
ZEPHYR, REVOLT, Lady Pink, Rammellzee, A-ONE, CRASH, DAZE, ERO, DELTA, STASH, SEEN, Dondi White, Lee Quinones, Martha Cooper and Henry Chalfant are just some of the names that showcased their work with the gallery. As she recalled, Basquiat was homeless when she first met him. His show with the gallery was the only formal show where he got to be really free, and, as she claims, was his best show ever. She formed a strong bond with the artist as his career emerged, took shape, and then took off. She met Keith Haring for the first time near the Astor Place Cube. He had a little camera with him and asked if he could take her picture. She smiled and posed, and soon after, he had an amazing show with the gallery, painting the entire gallery walls with LA2, even Astor's outfit.
In 1983, Citibank art advisor Jeffery Deitch wrote in People Magazine that the Fun Gallery was "One of the hottest galleries in the city."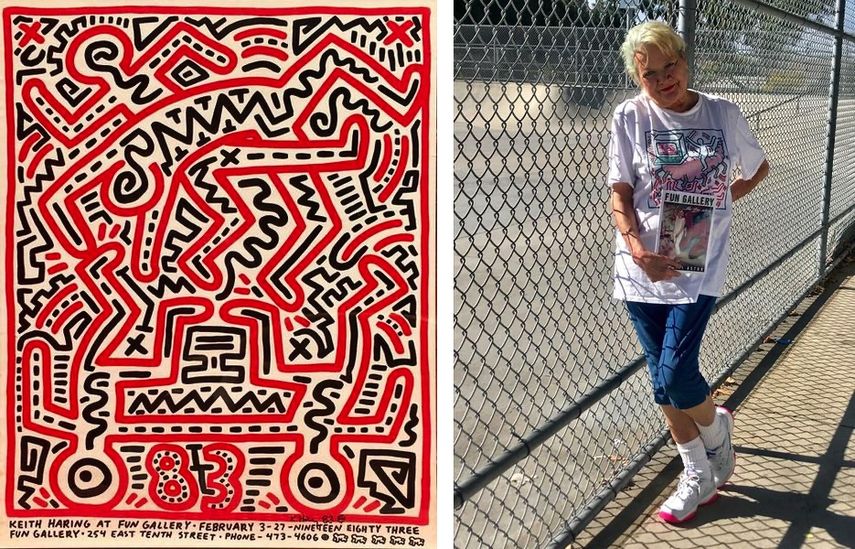 Patti Astor Continuing the Legacy of the Gallery
In 1985, Stelling had already left the gallery a year before, the East Village began gentrifying, the art establishment moved in and galleries were investing a lot of money to renovate the buildings down the street. Astor couldn't compete with that and she didn't want to. At the same time, the AIDS epidemic took a toll on her motivation to keep the gallery open. In 1986, she moved to L.A. to follow up her acting career and many East Villagers followed.
Today, Astor still lives in L.A. as the East Village had changed too much for her liking. Everything that was underground got monetized and marketed. As she recalled, she knew everything "went to shit when the St. Marks Cinema became a Gap." She's not planning on opening another FUN Gallery in L.A., because, as she explains, she's never "gonna have Keith and Kenny and Jean-Michel walk into my life again."
During her days at FUN, she made sure that the artists were properly respected and she's still at it some 30 years later. She recently published a book FUN Gallery...A True Story, chronicling her life, the creation and the scene in general.
I feel I owe it to Dondi and A-One and Rammellzee and Keith and Jean-Michel, and the list goes on. I owe it to those guys because I made them a promise that I would always represent them in the way they wanted to be seen. Just because they're not here anymore doesn't mean I don't still have the responsibility.
Over the years, she hosted several graffiti exhibitions, including the 2011 retrospective at MOCA, Art in the Streets. In 2017, she reopened FUN in a pop-up show at Urban Art Fair in New York, presenting fourteen artists who were featured at the iconic venue, accompanied by original flyers, videos, music and photographs.
Reminiscing her days with the gallery, she recalls the words that SHARP inscribed in her catalog at the Guernsey's graffiti auction, "Thank you for giving me my first exhibition. You changed my life. Love Aaron." As she says, she couldn't ask for more than that.
Featured image: The FUN Gallery in its second location at 254 East 10th Street, between 1st Ave and Ave A. All images used for illustrative purposes only.