Mixed media merges well with street art when it comes to studio work, as can bee seen at The Guerneville Goose exhibition by Paul Chatem. Hosted by the Shooting Gallery in San Francisco, this solo exhibition of uniquely assembled kinetic paintings was opened on January 11, and it is still on view, till February 1, 2014.  All the assemblage artwork is created through a clever blend of materials consisting of old wood, acrylic paint and rugged-looking details. The moving parts provide a particular dynamics to the works, inviting the observer to interact and enter into the comic-like world of Chatem's imagination.
The Guerneville Goose
Paul Chatem is a desert-loving artist whose art exudes a number of references to ethnic art and gravel n' dirt environment. His drawing resembles early animated cartoons of Max Fleischer, emitting the pristine expression of personified emotion. Vitalized by a deep and rich warm palette, his whimsical, vintage-like characters enliven the difficulties of survival in the barren lands, as they struggle to escape the burning fields. The dynamics and the momentum of the scenes is introduced through rotating wooden gears, complementing the dramatic composition. As the wheels turn, they do not seem to aid the panicky characters in their run, but they are rather returning them to the same disaster over and over again. Chatem's new series is an allegory of a man, whose plan to make it is going terribly wrong, as he is being chased by an archetypal goose, without a promise of a golden egg ever being laid.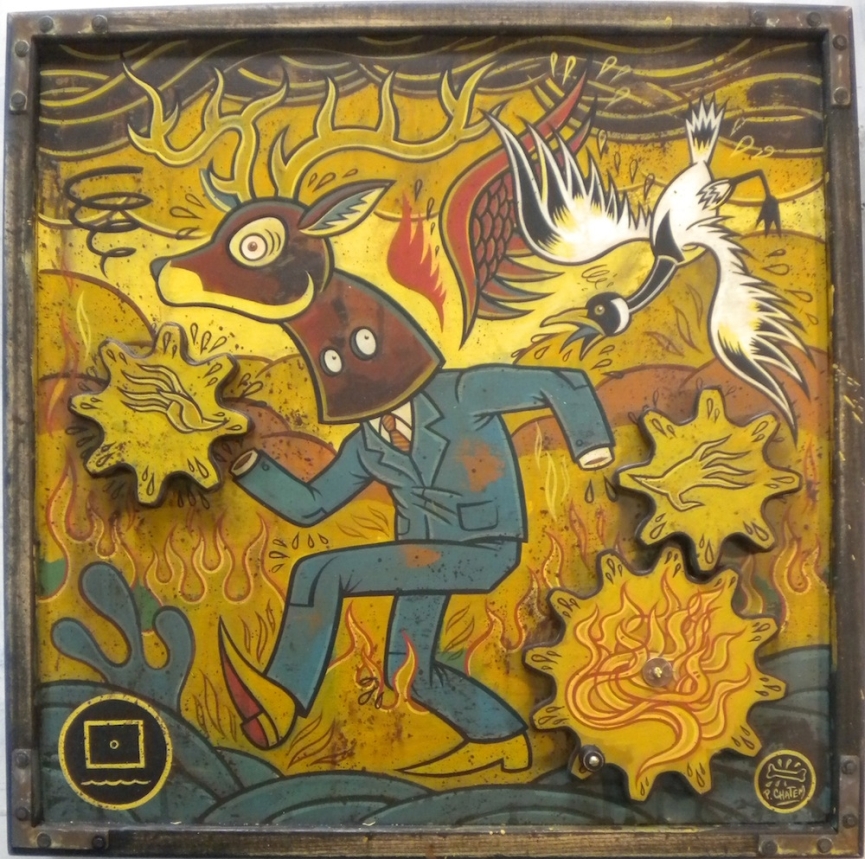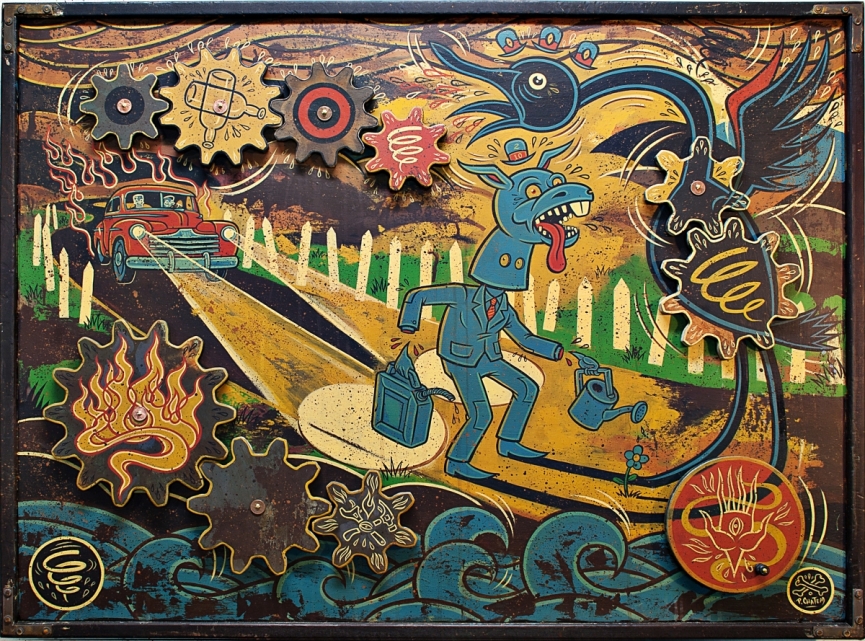 Chatem's Animal Masks
Through use of funny animal heads as masks, the artist tackles the question of identity, as characters are deliberately hiding their faces. The inspiration for this visual element came from ritual and ceremonial mask tradition, transformed through Chatem's personal experience of losing himself in repetitive reinventions of self, having to travel the country and work in as array of different crafts and situations. The paintings in this show represent the idea of chasing something new, getting lost in the process, and finding something out about oneself that was never expected, he explained.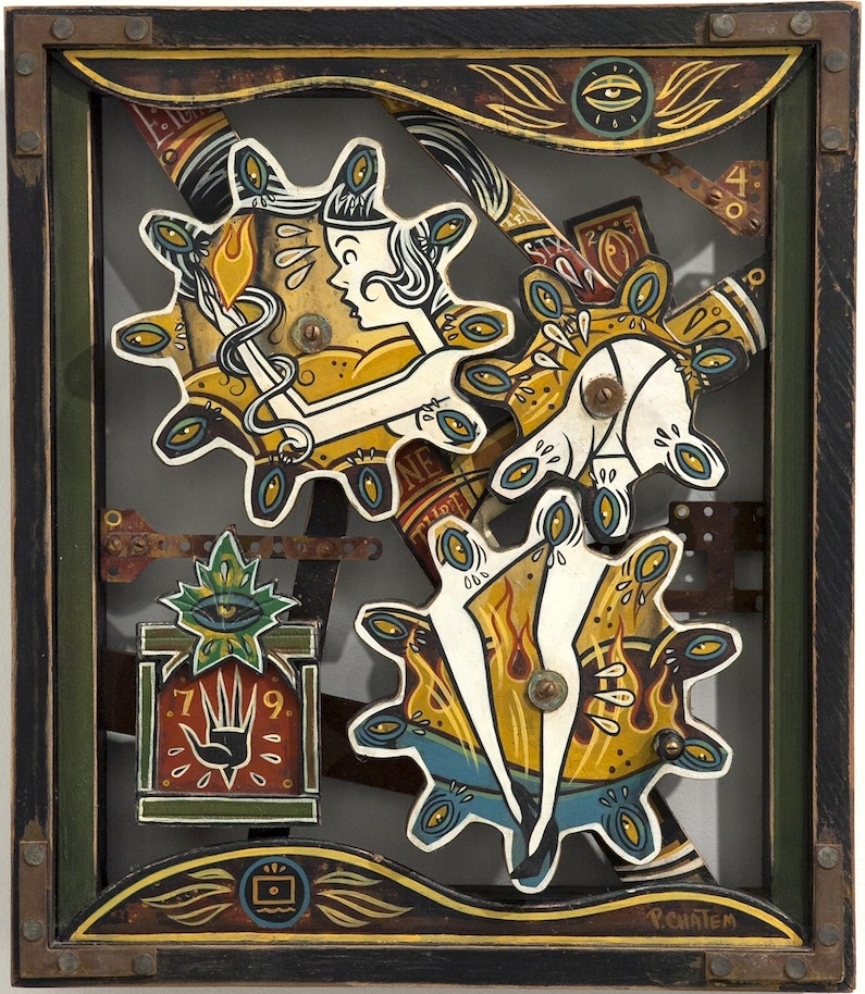 Paul Chatem - Background
Born in Bellevue, Washington, Paul Chatem moved to California, where he grew up in La Crescenta on the periphery of LA. He was fascinated by snakes, scorpions and exploration of abandoned, ruined ranches, slums and sanctuaries, as well as with punk music and culture movement.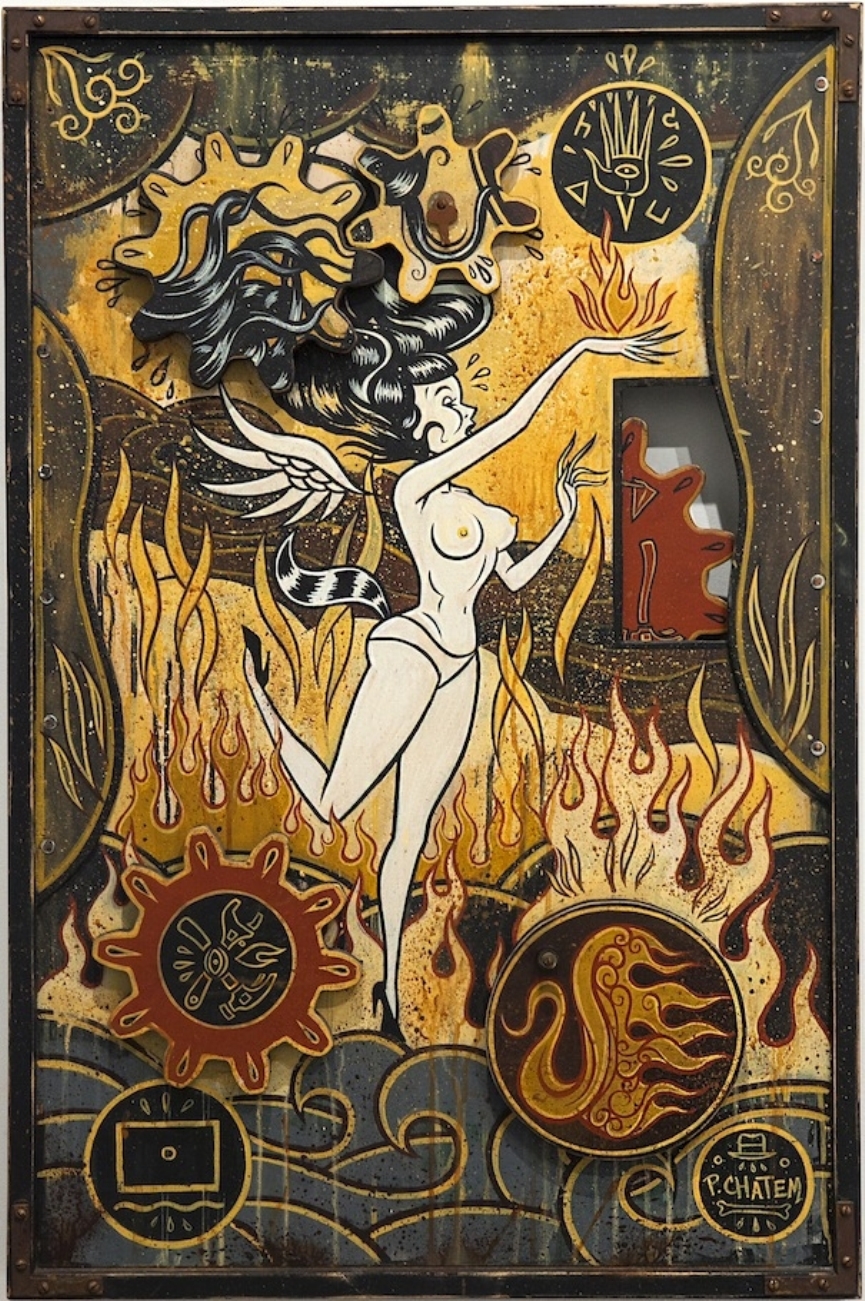 Growing up, Chatem has been a witness to the impoverished areas often being wiped out in order to situate a new golf terrain or a mall. As a result of this injustice, his talent of depicting the gap between rich and poor flourished, emphasizing the opposing characters of the chief and the laborer within his illustrative, disquieting mixed media street art influenced work.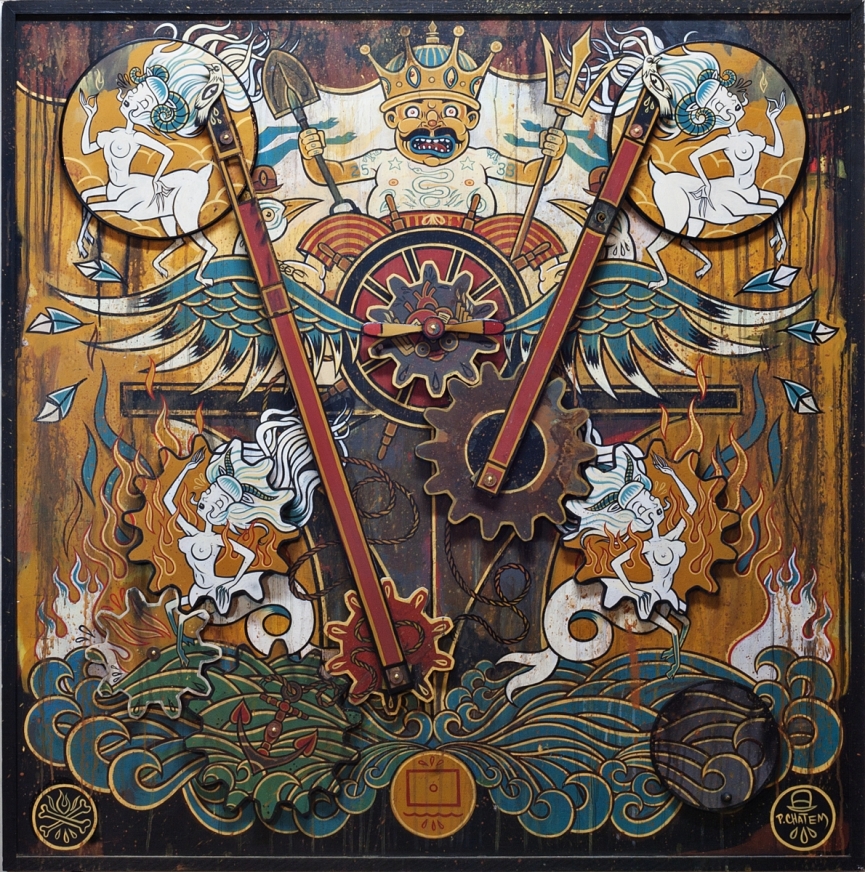 Shooting Gallery
Shooting Gallery was established in 2003, overtime becoming dedicated to providing lowbrow artists with an exhibiting space. Today, the gallery presents mixed media street art, outsider art and pop art exhibitions, participates in art fairs globally and supports charity causes.